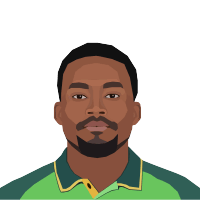 Andile Phehlukwayo
South Africa
Age
March 3, 1996 (25 years)
Batting Style
Left Handed
Bowling Style
Right-arm fast medium
24-year-old Andile Phehlukwayo is an answer to South Africa's prayers for an effective white-ball bowler. With his obvious penchant for taking wickets, he could prove to be a star in all three formats.
Team played
South Africa, Dolphins, KwaZulu Natal, South Africa A, South Africa Under-19, Jo'burg Giants, Vancouver Knights, Cape Town Blitz, Durban Heat, AB's Eagles
Test Career
Andile Phehlukwayo played his first Test match against Bangladesh at Potchefstroom in September 2017. He took 1/18 to help bowl out Bangladesh after South Africa had scored 496/3 declared. Chasing 424 to win, Bangladesh collapsed to be 90 all out in their second innings during which Phehlukwayo bowled only one wicketless maiden over. In the next match at Bloemfontein, he helped South Africa to an innings victory by taking 3/36 to bowl Bangladesh all out for 172 in their second innings. In December 2017, figures of 2/12 and 2/13 achieved by Phehlukwayo at Port Elizabeth against Zimbabwe helped South Africa score yet another innings victory. Despite his reasonably good performances in the few matches played, Phehlukwayo has not been considered for selection again. In 4 Test matches, Phehlukwayo has taken 11 wickets at an average of 13.36 with the best bowling figures of 3/13.
ODI Career
Phehlukwayo played his first ODI at Benoni against Ireland in September 2016. He took 0/22 in a match that South Africa won. In the first match of a series against the visiting Australians at Centurion, Phehlukwayo scored a match-winning 4/44. After that, he was regularly among the wickets and became a constant in the South Africa lineup with some memorable performances, including a match-winning 4/40 at Paarl against Bangladesh in October 2017.  He had even better figures of 4/22 in Dubai against Pakistan in January 2019. In the 2019 World Cup, Phehlukwayo ended up with 11 wickets at an average of 30.54 in nine matches played. In a competition that did not go well for South Africa, Phehlukwayo had a couple of match-winning performances: 2/18 against Afghanistan and 2/22 against Australia. In his last match played in March 2020 at Potchefstroom, the bowler took 1/49 off seven overs in a high-scoring game that South Africa won. In 58 ODI matches, Phehlukwayo has taken 65 wickets at an average of 31.17 with his best bowling figures of 4/22. He has also scored 563 runs at 29.63 with the best batting performance of 69 not out.
T20I Career
Phehlukwayo took 0/23 in his first T20I against Sri Lanka at Centurion in January 2017, in a match that South Africa won. However, he was also wicketless in the remaining two matches of the series that Sri Lanka won. In his short career, he has had some match-winning performances, including 3/19 at Auckland in February 2017 helping bowl out New Zealand for 107 as they chased 186 to win. His figures of 3/36 at Johannesburg against Pakistan in February 2019, kept Pakistan down to 181/7 in their chase of 189 to win. His 3/35 against Sri Lanka at Cape Town in March 2019 ended in a tied match that South Africa won in a one-over eliminator. He registered his best performance of 4/24 at Johannesburg against Sri Lanka. Batting first, South Africa made 196/6. Phehlukwayo helped bowl out Sri Lanka for 137. In his last match held in February 2020 against the same rivals, Phehlukwayo took 1/35 in a match that South Africa lost. In 27 T20I matches, Phehlukwayo has taken 35 wickets at an average of 19.94 with the best bowling figures of 4/24.
This player is currently a member of these teams: