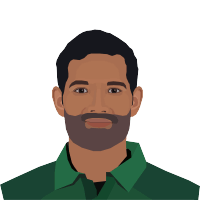 Asad Shafiq
Pakistan
Age
January 28, 1986 (35 years)
Birth Place
Karachi, Sind
Batting Style
Right Handed
Asad Shafiq is a Pakistani international cricketer born on 28th January 1986 in Karachi, Pakistan. He bats right-handed in the middle order for Pakistan and also bowls right-arm off break. He played a lot of matches in Pakistan's domestic cricket and showed his class in first-class as well as List A matches. He is highly rated in the Pakistani cricket circles for his ability to score big innings. He consistently performed well in his domestic career but has not been able to maintain the same consistency in his international career, going through many ups and downs.
Team played
Pakistan, Balochistan, Habib Bank Limited, Karachi Blues, Karachi Whites, Karachi Dolphins, Karachi Zebras, North West Frontier Province Panthers, North West Frontier Province, Pakistan A, Pakistan International Airlines, Punjab Pakistan, Sui Northern Gas Pipelines Limited, Sind Dolphins, Sindh, Sindh Knights, Quetta Gladiators, Pakistanis, Multan Sultans
Rise to Glory
Asad started his career while playing domestic leagues in Pakistan in 2007. He played 153 first-class matches and scored 9379 runs in 255 innings. He scored 23 centuries and 49 fifties in the first-class career and also took 9 wickets. While playing List A cricket, in 127 matches, Asad Shafiq scored 4631 runs at an average of 41.34 with 9 centuries and 32 fifties.
After performing consistently in the domestic arena, Asad finally got his international call-up to represent Pakistan in 2010. That was a rather bad period for Pakistan cricket as many players were getting banned for behavioural issues. Asad earned his spot in the ODI team against Bangladesh in the Asia Cup. He scored just 17 runs in his first international match. Again, he struggled a lot to get into the international squad in the next series. Finally, during the England tour,  with many Pakistani players banned, Asad got his spot in the squad again. He scored a fifty in his 2nd ODI against England in that series.
Asad Shafiq was a part of Pakistan's 15-man squad for the 2011 Cricket World Cup. He played only 2 matches – against Zimbabwe and Australia. He scored 78 runs against Zimbabwe and 46 in a successful run chase against Australia in a match that became Australia's first loss in a World Cup since 1999. However, he came into the limelight in the series against South Africa in 2013. While Pakistan's top order struggled in front of Dale Steyn and Morne Morkel, Asad stood firm with Younis Khan and saved his team by putting up a partnership of 219 runs on board for the fifth wicket. That was the beginning of Asad Shafiq's rise to glory in the international arena. He played a total of 60 ODIs and scored 1336 runs from 58 innings with 9 fifties. 
In November 2010, Asad also made his Test debut against South Africa. He scored 61 runs in the second innings of that match while other Pakistani batsmen were struggling against South African pace. Asad scored his 1st Test ton against Bangladesh in 2011. He scored 104 runs in that innings.
Asad has played a total of 77 Test matches for Pakistan and has scored 4460 runs from 128 innings at an average of 38.29. He has also scored 12 centuries. He made his T20 International debut against Bangladesh the same year but he struggled while performing in T20 Internationals. He has played just 10 matches in his T20 career so far, scoring just 192 runs.
This player is currently a member of these teams: