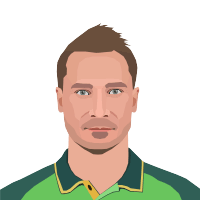 Dale Steyn
South Africa
Age
June 27, 1983 (38 years)
Batting Style
Right Handed
Bowling Style
Right-arm fast
Steaming in at full tilt, getting the ball to curve away from a right-hander at extreme pace and consistently beating the bat, taking the edge and knocking the stumps over. Dale Steyn made that a habit. Over the last decade and a half, the South African fast bowler was one of the best and most feared bowlers in world cricket, especially in Test cricket. He will certainly go down as one of the greatest fast bowlers South Africa and the world have seen in the modern era.
Team played
South Africa, Africa XI, Essex, Glamorgan, Hampshire, Northerns, South Africa A, Titans, Warwickshire, Royal Challengers Bangalore, Deccan Chargers, Cape Cobras, Brisbane Heat, Melbourne Stars, Sunrisers Hyderabad, Jamaica Tallawahs, Gujarat Lions, Islamabad United, Cape Town Knight Riders, Cape Town Blitz, Glasgow Giants
Batting Career Summary
| | | | | | | | | | | | | |
| --- | --- | --- | --- | --- | --- | --- | --- | --- | --- | --- | --- | --- |
| | M | Inn | NO | Runs | HS | Avg | BF | SR | 100 | 50 | 4s | 6s |
| ODI | 125 | 51 | 12 | 365 | 60 | 9.36 | 562 | 64.95 | 0 | 1 | 35 | 9 |
| T20I | 45 | 11 | 5 | 16 | 5 | 2.67 | 24 | 66.67 | 0 | 0 | 1 | 0 |
| Test | 93 | 119 | 27 | 1251 | 76 | 13.6 | 2825 | 44.28 | 0 | 2 | 124 | 36 |
| IPL | 93 | 36 | 14 | 167 | 19* | 7.59 | 160 | 104.38 | 0 | 0 | 14 | 3 |
Bowling Career Summary
| | | | | | | | | | | | | |
| --- | --- | --- | --- | --- | --- | --- | --- | --- | --- | --- | --- | --- |
| | M | Inn | B | Runs | Wkts | BBI | Econ | Avg | SR | 4W | 5W | 10W |
| ODI | 125 | 124 | 6256 | 5087 | 196 | 6/39 | 4.88 | 25.95 | 31.92 | 4 | 3 | 0 |
| T20I | 45 | 45 | 967 | 1099 | 63 | 4/9 | 6.82 | 17.44 | 15.35 | 2 | 0 | 0 |
| Test | 93 | 171 | 18608 | 10077 | 439 | 7/51 | 3.25 | 22.95 | 42.39 | 27 | 26 | 5 |
| IPL | 93 | 93 | 2128 | 2439 | 93 | 3/8 | 6.88 | 26.23 | 22.88 | 0 | 0 | 0 |
In a career that has spanned for nearly 16 years, Steyn has played 265 international matches across the three formats. He has picked up a staggering 699 wickets. He averages 23.37 and strikes at 37.0 in international cricket (all three formats combined). Moreover, Steyn has picked up 29 five-wicket hauls in his career.
Steyn has retired from Test cricket but is still playing the shorter formats in a bid to prolong his career.
Background
Born on 27 June 1983 in a small town Phalaborwa, Steyn didn't represent South Africa at the national level in age-group cricket but he was an early bloomer. He made his debut for the Titans in the 2003 – 2004 season in which he played just two games. However, in the 2004 – 2005 season, Steyn wreaked havoc in the South African domestic circuit. A series of strong performances meant Steyn pushed for a case in the Test squad and he was rewarded with one against the touring England side in the 2004 – 2005 home summer.
However, the young speedster didn't really enjoy a great start as he took eight wickets in three games. Steyn was subsequently dropped from the side. He flew to England for a season of county cricket and came back as a better bowler. He once again performed well in domestic cricket in South Africa and was called up for the series against New Zealand at home. He took the opportunity with both hands and has never looked back since.
Until the time he retired Steyn was the heart of the South African pace attack. Irrespective of the conditions, he had the ability to run through sides and make a mockery of the opposition batting lineups.
Test Career
It was in December 2004 that Steyn first took the field in international cricket. It was a Test match against England at the St George's Park in Port Elizabeth and Steyn sent Michael Vaughan's off-stump cart-wheeling and made the world sit up and take notice. He didn't have a big debut season as he played three Test matches against England and took eight wickets.
He came back the next season and grabbed his chances when he was picked for the New Zealand Test series at home. Steyn picked up 16 wickets in three Test matches and since that series, he became a crucial part of the Test side. He was constantly back despite a few inconsistent performances. In 2006, Steyn played six Test matches and returned with 24 wickets.
It was in 2007 that the tide turned. Steyn picked up 44 wickets at an average of 17.48 and a strike rate of under 30. These were his numbers in just seven Test matches in 2007. In 2008, he took that to another level, scalping 74 wickets at an average of 20.01 as he picked up a wicket every six overs. In the following years, Steyn went on a rampage and his rise to the top was as quick as his outswinger. He took 22, 60, 28, 39, 51 and 39 in the respective years that followed.
In fact, in just eight years (2007 – 2014), Steyn took a stunning 357 wickets in Test cricket. He averaged 21.37 in this period. Irrespective of the opposition or conditions, he invariably picked up wickets. Be it a dead, docile or a flat track, Steyn could crank up the pace and hurry batsmen up, generate reverse and make the batsmen dance to his tunes. On green or bouncy tracks, he could use his skill to outsmart the batsmen.
Steyn was at the peak of his powers and could do no wrong. He was a lethal bowler in Test cricket and could make any red ball in the world talk and dance to his tunes.
In fact, it was in 2015 that he scaled the 400-wicket mark and it looked like he would whizz past the South African record of Shaun Pollock (421 wickets) and even threaten Glenn McGrath's tally of 563 wickets. However, from 2015, a series of injuries was hampering his career. Every time he came back and played a handful of Test matches, another new injury-related layoff awaited him.
Since the start of 2016, Steyn played just 11 Test matches. In 2017, he did not play a single Test match. Eventually, in 2019, it was time for him to hang up his Test boots. However, in those 11 games in his last four years, he went on to become South Africa's leading wicket-taker in Test cricket and retired from the game after playing 93 Test matches. He took a staggering 439 wickets at an average of 22.95 and a strike rate of 42.39. Moreover, Steyn has 26 five-wicket hauls and barring Bangladesh, New Zealand and the UAE, Steyn has at least one five-wicket haul in every Test-playing country that he has played in. In fact, he has a Test five-wicket haul against every team he has faced in Test cricket.
ODI Career
There has always been a lot of talk about Steyn the Test match bowler. However, Steyn's ODI numbers are really good as well. He was slow to get off the blocks in the 50-over format. He made his ODI debut in 2005, representing Africa XI who played against Asia XI. He played two games in that series and took two wickets.
It was only in 2006 that Steyn first played ODI cricket for South Africa. He featured in a couple of VB series games in Australia and was very expensive. In 2007, Steyn played one game each in four different series before finally getting more opportunities in 2008 as the likes of Shaun Pollock and Makhaya Ntini had retired from international cricket.
In the year 2008, Steyn played 12 ODIs (more than what he played in the last three years put together) and returned with 14 wickets. That was just the beginning of Steyn's dominance in ODI cricket. Since 2008, Steyn has picked up 10 ODI or more wickets in a calendar year eight times in a row (until 2015) and out of these, he picked up more than 20 wickets in five calendar years.
By the end of 2015, Steyn had already accumulated 175 wickets in the 50-over format. Like Test cricket, it looked like he could scale bigger heights but injuries had the last laugh. All Steyn has played are 13 ODIs since the start of 2016. He has picked up 21 wickets in this time period. Steyn hasn't announced his retirement from ODI cricket yet.
The Phalaborwa-born fast bowler played four ODIs in 2019 and was a part of the South African squad for the 2019 World Cup as well. However, injuries kept him out and eventually ruled him out midway through the tournament. In 2020, Steyn hasn't played ODI cricket yet.
Overall, he is on the brink of 200 wickets. He has 196 scalps from 125 ODI matches. He averages 25.96 and strikes at 31.92 with an economy rate of 4.88. He has three five-wicket hauls and a best of 6/39 which came against Pakistan in 2013.
T20I Career
Just like with his ODI career, not a lot of people talk about Steyn's T20I career and record. He has some excellent numbers in the shortest format as well.
Steyn made his T20I debut after the 2007 T20 World Cup. On debut, he dismissed Scott Styris and returned with figures of 1/17 from his four overs. In his very second game which came against the West Indies, Steyn wreaked havoc. He picked up 4/9 in three overs. In 2008, Steyn played just one T20I and took 2/18 against Bangladesh.
From 2009, Steyn was a lot more regular and consistent in the T20I squad for South Africa. He was the spearhead of the pace attack. However, with Steyn gaining experience and his worth increasing,  it was the T20I format that bore the brunt. With Steyn spearheading the South African pace attack in all three formats, the Proteas preserved him more for ODI and Test cricket. Hence, the amount of T20Is that Steyn played was eventually lesser.
However, overall, he has played 47 T20Is and has returned with 64 wickets. He averages 18.36 and has a strike rate of 15.86 in the shortest format of the game. He has only two four-wicket hauls to his name in T20Is and his best bowling figures are 4/9 which he got in his second T20I against the West Indies in 2007.
After retiring from Test cricket, Steyn wishes to prolong his career by playing a lot more T20 and white-ball cricket. In fact, T20I is the only format that Steyn has featured in international cricket in the last 12 to 18 months.
World Cup Career
Steyn has featured in only two World Cups so far. He played in 2011 and 2015. He was a part of the 2019 event as well as did travel with the South African side. He was ruled out due to injury and missed the entire tournament. In the 2011 World Cup, Steyn took 12 wickets in six matches. He had an average of 16.00 and a strike rate of 23.08 in that tournament. In 2015, his numbers and performances were a bit inconsistent. He took 11 wickets at an average of 31.45.
Overall, Steyn's World Cup numbers read 23 wickets from 14 matches at an average of 23.39 and a strike rate of 30.0. When it comes to T20 World Cups, Steyn has played five of them i.e. from 2009 to 2016. In 23 matches, he has 30 wickets to his name and has an average of 19.30. Add to that, an economy rate of 6.96.
IPL Career
Steyn has been a big part of the Indian Premier League (IPL) from its very first season. He was bought by the Royal Challengers Bangalore (RCB) in 2008 for a sum of $325,000. He played for RCB for three seasons, took 27 wickets and was one of the premier fast bowlers for them.
In 2011, Steyn moved to the Deccan Chargers. The 2009 IPL champions bought him for a whopping sum of $1,200,000. Steyn played a couple of seasons for them and returned with 32 wickets. In 2013, he moved to Sunrisers Hyderabad (SRH) as Deccan Chargers were terminated. He was with the SRH side for three seasons as he picked up 33 wickets in 37 games.
In 2016, the ace South African fast bowler was picked up by Gujarat Lions (GL) but an injury brought an early end to his season. He had remained on the sidelines for nearly three years before RCB roped him in once again, this time as a replacement player. Steyn played a couple of games in the 2019 season and made a big impact on his team's result, taking four wickets.
However, Steyn was let go in the auction once again only to be re-bought by RCB for his base price of INR 2 crore. In 2020, he is all set to play for RCB for the fifth season.
Records and Awards
After picking 86 wickets in 14 matches at an average of 18.10, Steyn was named the ICC Player of the Year in 2008. He has been included in the ICC Test Team of the Year as many as eight times (2008, 2009, 2010, 2011, 2012, 2013, 2014 and 2016) and out of those, seven came in succession. The South African speedster has featured in the ICC ODI Team of the Year twice as well (2011 and 2014). In 2014, Steyn was the Wisden Cricketer of the Year and in 2013, he was one of the Wisden Leading Cricketers.
This player is currently a member of these teams: