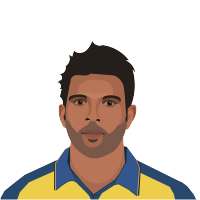 Dilruwan Perera
Sri Lanka
Age
July 22, 1982 (39 years)
Batting Style
Right Handed
Dilruwan Perera is a 38-year-old all-rounder who bats right-handed and bowls right-arm off-spin. He has played international cricket for Sri Lanka.
Team played
Sri Lanka, Basnahira South, SL Clubs XI, Chilaw Marians Cricket Club, Colts Cricket Club, Central Province, Panadura Sports Club, Ruhuna, Sri Lanka A, Sri Lanka Academy, Sri Lankan Invitation XI, Young Sri Lanka, Sri Lanka Under-19, Basnahira, Ruhuna Royals, Rest of Sri Lanka, Ruhuna Reds, Southern Express, Colombo, Kandy, Hambantota Troopers, Sri Lankans, Kegalle District, Dambulla
Test Career
Perera has scored 1208 runs in 41 Tests at 18.58. He has also taken 156 wickets at 35.33. He scored 95 in his first Test innings, playing against Pakistan in Sharjah in January 2014, in a match that Pakistan won by 5 wickets. In July 2014, in the second Test of a series on South Africa's tour of Sri Lanka played in Colombo, Sri Lanka batted first and scored 421. Batting at number eight, Perera scored 16 runs. When South Africa batted, Dilruwan returned bowling figures of 5 for 69, accounting for the wickets of Elgar, De Villiers, De Kock, Philander and Morkel. Sri Lanka gained a handy first-innings lead of 139 runs. They scored 229/8 in their second knock before declaring and setting South Africa a target of 369. In the fourth innings of the match, Perera took 3/60 as the visitors battled for survival. His victims included Elgar, Amla and Duminy. In a tense finish, South Africa managed to hold on long enough to enforce a draw with the scorecard frozen on 159/8. In a Test held in Galle against Bangladesh in March 2017, Perera scored 51 in a first innings score of 494. When Bangladesh batted, Perera took 3/53 to help dismiss them for 312. He scored 33 in Sri Lanka's second knock of 274/6 declared before grabbing 2/66 to help bowl out the tourists for 197 in the fourth innings. Arguably his greatest performance in a Test came in Galle against Australia in August 2016 when he got a 10-wicket haul in the match. Batting first, Sri Lanka made 281 with Perera contributing 49. Then he took 4/29 to help dismiss Australia for 106. He went on to score 35 out of Sri Lanka's second innings score of 237 before grabbing 6/70 to bowl out the guests for 183 to help Sri Lanka to a 229-run win. He last appeared in a Test against Pakistan in Karachi in December 2019.
ODI Career
Perera has played 13 ODIs and scored 152 runs at 12.66. He has also taken 13 wickets at 31.46. He opened the innings and scored 30 runs in his first match against England in Colombo on 13 October 2007. He shared a stand of 45 runs for the first wicket with Sanath Jayasuriya and a 31-run stand for the second wicket with Sangakkara. Sri Lanka scored 211 before bowling out England for 104. On 1 April 2017, playing against Bangladesh in Colombo, Sri Lanka batted first and scored 280/9. Perera contributed 15 off 11 balls. He was involved in a partnership of 45 runs with Thisara Perera. When Bangladesh batted, they were bowled out for 210, enabling Sri Lanka to win by 70 runs. Perera scored 25 on his last appearance in an ODI against Bangladesh in Dubai on 15 September 2018. The effort came in a lost cause as Sri Lanka were bowled out for 124 in reply to Bangladesh's score of 261.
T20I Career
Perera has played 3 T20I matches and taken 3 wickets at 24.00. He played his first game against Australia in Pallekele on 6 August 2011. In that game, Sri Lanka batted first and scored 198/3 in their allotted overs. When Australia batted, Perera returned figures of 3/26, responsible for the wickets of Shaun Marsh, David Hussey and Craig White, to help restrict Australia to 163/8, enabling Sri Lanka to win by 35 runs. Although Sri Lanka won the next match of the series held on 8 August 2011, Perera had no role to play in the win. He took for none for 26 in the three overs he bowled when Australia batted. The visitors were able to manage only 149/9 in response to Sri Lanka's score of 157/9. Perera last appeared in a T20I against Pakistan in Abu Dhabi on 25 November 2011. In that game, Sri Lanka batted first and scored 141, to which Perera contributed only one run. Pakistan chased down the target with 5 wickets and 3 balls to spare. Perera bowled three overs in Pakistan's innings and gave away 20 runs without taking a wicket.
This player is currently a member of these teams: