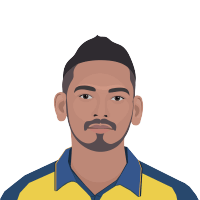 Dushmantha Chameera
Sri Lanka
Age
January 11, 1992 (29 years)
Batting Style
Right Handed
Bowling Style
Right-arm fast
Born on 11 January 1992, Dushmantha Chameera is a right-handed fast bowler who has represented Sri Lanka in all three formats of the sport. Chameera entered the limelight in 2012 with some fine performances in domestic cricket. He made both his List A as well as first-class debut that year.
Team played
Sri Lanka, Sri Lanka Emerging, Nondescripts Cricket Club, Sri Lanka A, Rajasthan Royals, Wayamba, Nagenahira Nagas, Sri Lanka Cricket Board President XI, Yaal Blazers, Colombo, Galle, Galle Guardians, Sri Lankans, Matara District, Team Srilankan Cricket, Delhi Bulls, Colombo Kings
Biography
His impressive performances in domestic cricket did not go unnoticed and he was soon called up to the national squad. Dushmantha Chameera then went on to make his debut in all three formats over the course of the year 2015. Though his tremendous pace and incredible precision are great assets, Chameera has also been on the unfortunate end of a lot of injuries which have hampered his career's natural progression. So far, he has played over 50 games in international cricket for his country.
Test
Dushmantha Chameera made his Test debut against Pakistan in June 2015. Since then, he has played 9 Tests for Sri Lanka. The 29-year-old has picked up 25 wickets and has an average of 41.48. He has also managed a five-wicket haul and his best bowling figures read 5 for 47.
ODI
Chameera made his ODI debut against New Zealand in 2015. He has gone on to play 23 ODI matches, picking up 19 wickets at an average of 41.89. Chameera also has an economy rate of 5.34 in ODI cricket.
T20I
Having made his T20I debut against West Indies in November 2015, Chameera has played 19 T20I matches. He has 16 dismissals to his name from those 19 matches and has an average of 35.88. He also has an economy rate of 8.55 in the shortest format of the sport.
Records and Facts
Dushmantha Chameera's first international wicket ended up being New Zealand's Ross Taylor. Though he was selected in the squad for the 2015 ICC World Cup, Chameera did not play the first few matches. He ended up playing the game against Scotland where he registered figures of 3 for 51, a match which Sri Lanka won. Dushmantha Chameera is the 129th cap for Sri Lanka in Test cricket and Zulfiqar Babar was his first Test victim.
Chameera was picked up by Rajasthan Royals in the 2018 season of the IPL and in 2020, he was selected to play for Colombo Kings in the Lanka Premier League. Chameera has taken 90 wickets in first-class cricket and he has 69 wickets in List A cricket.
This player is currently a member of these teams: