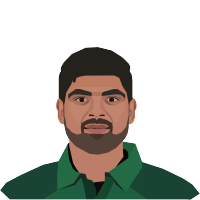 Haris Sohail
Pakistan
Age
January 9, 1989 (32 years)
Birth Place
Sialkot, Punjab
Batting Style
Left Handed
Bowling Style
Slow left-arm orthodox
Pakistani middle-order batter Haris Sohail was born on 09 January 1989 in Sialkot. He is a left-handed batsman and bowls left-arm orthodox spin.
Team played
Pakistan, Zarai Taraqiati Bank Limited, Balochistan, Federally Administered Tribal Areas, Karachi Whites, Pakistan Inv XI, Punjab Pakistan, Sialkot Stallions, Sialkot, Pakistan Under-23, Punjab Badshahs, Lahore Qalandars, Peshawar Zalmi, Pakistanis
Sohail is currently playing for Lahore Qalandars in the PSL (Pakistan Super League). His international debut was in July 2013.
ODI Career
In total, Sohail has played in 41 ODIs, scoring 1614 runs at an average of 46.11 and a strike rate of 85.17, with 2 hundreds and 13 fifties. His ODI highest score is 130. He has scalped 11 victims in ODIs at an average of 55.72, economy rate of 5.72 and a strike rate of 58.3.
Test Career
Sohail has appeared in 14 Tests and scored 819 runs at an average of 37.22, with 2 hundreds and 3 fifties. His highest Test innings score is 147. He has bagged 13 wickets in Tests at an average of 21.15 and a strike rate of 45.6.
Centuries
Sohail has clobbered 2 hundreds and 3 fifties in Tests, 2 centuries and 13 fifties in ODIs. He has also recorded 13 hundreds in first-class games and 3 centuries in List A matches.
Progress of Sohail's Career
In 2012, Haris made it to Pakistan T20I squad for their Sri Lanka tour. He was then selected to join their Test squad during the South Africa tour in 2013. He made his ODI debut in July 2013. Sohail scored an unbeaten 85 to be awarded the Man of the Match in the first ODI versus the Kiwis in 2014.
In the second game, he cracked a fast 39 in 28 deliveries and took 3/45 to help Pakistan score a 147-run victory. A top-scorer for Pakistan, he made 235 runs in the 5-game series and scalped 6 wickets.
Sohail played his first Test for Pakistan in September 2017 versus Sri Lanka, scoring 76 and 34. He cracked his first Test hundred in October 2018 versus the Aussies in the UAE. In March 2019, Sohail recorded his first ODI hundred, clobbering 101 not out playing against Australia in the UAE. He starred in the 2019 ODI World Cup group match, knocking 89 in 59 balls versus South Africa to claim the Player of the Match award. He had a decent world cup start but failed to develop it into a big success.
Sohail has played well in ODIs, clobbering 6 fifties in 8 innings in the period from March 2015 to January 2018. The Pakistani middle order is packed with talented players such as Babar Azam, Shoaib Malik and Mohammad Hafeez, which makes it hard for Sohail to find a permanent place in the line-up. There is no doubt, he should focus on converting fifties into hundreds to cement a long-term spot.
Sohail also shows great performance bowling left-arm orthodox spin. He took 3 wickets for 1 run in a day-night Test versus Lanka in Dubai. This achievement gives him the record for the best figures achieved by a bowler who delivered only 1 over in a Test innings. In the PSL, Sohail has also played for Peshawar Zalmi. In September 2019, Sohail was appointed skipper of the Balochistan team for the Quaid-e-Azam tournament in 2019 – 2020.
This player is currently a member of these teams: