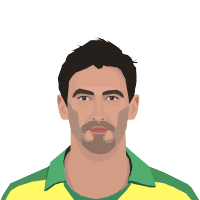 Mitchell Starc
Australia
Age
January 30, 1990 (31 years)
Birth Place
Baulkham Hills, Sydney, New South Wales
Batting Style
Left Handed
Bowling Style
Left-arm fast
Described as the world's best white-ball bowler by Justin Langer, Mitchell Starc once wanted to be a keeper. Then a talent-spotting coach decided that with his tall and lanky frame the left-hander would make an ideal fast bowler. The rest is history.
Team played
Australia, Australia A, Yorkshire, Royal Challengers Bangalore, Kolkata Knight Riders, New South Wales, Australia Under-19, Australian XI, Sydney Sixers, Australians, Welsh Fire
Batting Career Summary
| | | | | | | | | | | | | |
| --- | --- | --- | --- | --- | --- | --- | --- | --- | --- | --- | --- | --- |
| | M | Inn | NO | Runs | HS | Avg | BF | SR | 100 | 50 | 4s | 6s |
| ODI | 100 | 56 | 21 | 428 | 52* | 12.23 | 490 | 87.35 | 0 | 1 | 32 | 11 |
| T20I | 49 | 15 | 7 | 75 | 14 | 9.38 | 71 | 105.63 | 0 | 0 | 4 | 2 |
| Test | 57 | 86 | 18 | 1463 | 99 | 21.51 | 2208 | 66.26 | 0 | 9 | 142 | 39 |
| IPL | 27 | 12 | 5 | 96 | 29 | 13.71 | 98 | 97.96 | 0 | 0 | 10 | 0 |
Bowling Career Summary
| | | | | | | | | | | | | |
| --- | --- | --- | --- | --- | --- | --- | --- | --- | --- | --- | --- | --- |
| | M | Inn | B | Runs | Wkts | BBI | Econ | Avg | SR | 4W | 5W | 10W |
| ODI | 100 | 99 | 5098 | 4373 | 195 | 6/28 | 5.15 | 22.43 | 26.14 | 13 | 8 | 0 |
| T20I | 49 | 49 | 1091 | 1355 | 60 | 3/11 | 7.45 | 22.58 | 18.18 | 0 | 0 | 0 |
| Test | 57 | 109 | 11807 | 6637 | 236 | 6/50 | 3.37 | 28.12 | 50.03 | 13 | 12 | 1 |
| IPL | 27 | 26 | 580 | 693 | 34 | 4/15 | 7.17 | 20.38 | 17.06 | 1 | 0 | 0 |
His ability to swing the ball and deliver toe-cutting yorkers has made the Australian one of the most feared new-ball operators on the international arena. His pacey swinging yorkers combined with the hunger for success define the man. Starc has been the delight of every captain he has served because of his special ability to provide a breakthrough when a team gets frustrated by a long partnership. With his proven ability with the bat, it's a wonder Mitchell Starc is not considered an all-rounder. At the same time, it can be regarded as a compliment that tells us about the man's value to his team as a bowler.
Mitchell Starc's ODI Career
Providence played its part at the beginning of Mitchell Starc's international career. In 2010, Starc was brought in to replace Josh Hazlewood on Australia's tour of India. Though he was not considered for the Test matches, he got his ODI debut at Vishakhapatnam. Starc had a lacklustre start to his international career, with no wickets to show for his effort. Despite the fact that he did well (4/27) in another ODI of his played that year against Sri Lanka, Starc did not play a single ODI in 2011.
In 2012, two great performances against Pakistan (5/42 and 4/51) set the tone for a great year that was to follow. 2013 definitely turned out a year to remember. He registered a string of brilliant performances, taking 15 wickets in 8 matches at an average of 18.40 with the best bowling figures of 5/20 against the West Indies at Perth, a haul that helped skittle out the rival batsmen for 70 runs and won Starc the Man of the Match award.
After a relatively quiet 2014 in which he had just the one outstanding result of 4/32 against South Africa at Canberra, Starc began 2015 in style, with 4/42 against England at Sydney followed by 6/43 against India at Melbourne, in the Carlton tri-series. This was just a warmup the bowler needed for the ODI World Cup held a month later. In the league match against New Zealand, Starc returned his best-ever figures of 6/28 though it was not enough to prevent the Kiwis from chasing down a modest target of 152. Starc took revenge in the final when his 2/20 helped dismiss the Kiwis for 183 in 45 overs, before Australia chased down the target to lift the cup. Earlier, in the semi-final against India, Starc's 2/28 was instrumental in guiding India to a 95-run defeat after Australia set them a target of 329. The first of those wickets was that of Rahane, who began to look threatening. From a relatively good position of 178/4 in the 37th over, India slipped to 233 all out within the 47th. Deservingly, Starc was named Man of the Tournament after taking 22 wickets at the rate of 10 runs a wicket while conceding fewer than 4 runs an over. Starc ended the year as the number one ODI bowler in the ICC rankings.
In the 2019 World Cup, Starc finished with 27 wickets setting a record for the most wickets ever taken by a bowler in a World Cup. He also had three "fifers," the most achieved by any bowler in a World Cup. In the league match against the West Indies, Starc got his 150th wicket in his 78th ODI, setting a record for taking the fewest matches to accomplish the feat.
Even though Starc is the Australia frontline bowler, he is no joke performing with the bat as he proved recently in the 2019 World Cup. In fact, he has seven ODI fifties and his low batting average of 11.59 is mainly due to his position in the batting order.
As of date, Mitchell Starc has taken 178 wickets in 91 matches, averaging nearly two wickets every match. Just 30 years of age, the left-hander surely has a few good years left at the highest level, and could yet prove key to Australia's fortunes in the 2023 ODI World Cup.
Test Career
Mitchell Starc got his Test cap against New Zealand at the end of 2011. Two wickets each in matches at Brisbane and Hobart were not enough to justify his inclusion in the series against India that followed. However, Cricket Australia opted to replace Nathan Lyon's spin with Starc's pace in the third Test at Perth where he took four wickets, including the prize scalp of Sachin Tendulkar. During the 2012-13 season, a brilliant performance of 6/154 in South Africa after he had been selected to play the third Test of the series could not prevent Australia from losing. A decision to play county cricket for Yorkshire in England proved to be critical to Starc's Test future. He was a changed bowler after the experience.
Unfortunately, though, he was often getting injured in 2013 – 2014. A decision to play only in important games helped the bowler recover his Test career and a great performance in the 2015 Ashes series in England, where he picked 18 wickets, brought back his confidence.
Starc had a brilliant couple of years in Test cricket in 2016 and 2017. He took 24 wickets in 3 matches on a tour of Sri Lanka, including 11/94 at Galle and followed it up with 14 wickets from three matches against the touring South Africans, with an identical 14 wickets from three matches against the touring Pakistan team. The icing on the cake came in the 2017 – 2018 Ashes with Starc grabbing 22 wickets in 4 Tests to cement his credentials as a world-class new-ball operator. That performance included eight wickets for 137 runs at Adelaide. In fact, Starc scalped 50 wickets during 2016, more than any other bowler.
A Man of the Match award after a haul of 9/109 in the first of an away Test match series in South Africa was followed by a national contract from Cricket Australia for the 2018-19 season. A couple of stellar series performances against India and Sri Lanka that season resulted in 13 wickets against India and a series-winning 10-wicket showing against Sri Lanka.
As a batsman, Starc was no tailender. He gave further evidence of his batting credentials on the tour of India during the 2012–13 season when he scored 99 falling short of the coveted three-figure mark by a solitary run. In the third Test match, he played 100 deliveries in each innings, becoming the first player to accomplish the feat while playing at 9, 10 or 11 in the batting order. In the same season, Starc scored a Test fifty off 32 balls against the visiting South Africans, making it the second-fastest half-century made by an Aussie.
Mitchell Starc has played 57 Test matches and taken 244 wickets at an average of 26.47, including 13 five-wicket hauls with best figures of 6/50.  He also has 1515 runs at an average of 22.27.
Mitchell Starc IPL Career
Bought by RCB ahead of the IPL 2014 season, Mitchell Starc featured in all 14 league matches. Starc took 1/33 and 2/21 respectively to help RCB to victories against DD and MI. Then came three losses in a row to KKR, RR, and KXIP, though Starc did well to get two wickets each against KKR and RR. Another good performance by the bowler brought RCB a welcome win against Hyderabad. After that came three successive losses in matches during which Starc managed to snare just two wickets while conceding 105 runs. The left-hander took 2/26 in the next game against DD to get RCB back to the winning path. Though he resulted wicketless (0/23) in the next match against CSK, Starc's economy helped his side to score another much-needed win. By this time, RCB had registered just five wins with three matches to go. They needed to win all three of the remaining matches to stay in contention. In the end, they lost all three, with Starc getting just a solitary wicket against 96 runs conceded. To his credit, Starc was never too expensive that season, barring one match in which he gave away 43 runs in his allotted four overs.
By now, he established himself as the main strike bowler, with a penchant for getting an early breakthrough. However, the Aussie left-hander missed the first three matches of the 2015 IPL season, of which RCB managed to win just one. Returning to the IPL action against CSK, Starc took 1/24 in a lost cause. With three losses in four games, the season seemed to be slipping away from RCB. That was when Starc began to showcase his abilities. Brilliant spells of 3/22 against RR and 3/20 against DD by the bowler helped his side to score well-earned wins. A rained-out match with RR was followed by another win, this time against KKR, with Starc getting 1/15 in two overs in a rain-curtailed game. Starc's 3/24 in the next match could not prevent CSK from winning a close match. However, a spell of 4/15 ensured victory against KXIP who were bundled out for 88 while chasing 227 to win. Playing against MI in the next match, Starc returned figures of 1/41 which was enough to stop Rohit Sharma's men who were chasing a mammoth target of 236. That lone wicket came in the 19th over, as MI lost by 39 runs. Starc's returns of 1/21 and 1/26 against KXIP and SH in rain-shortened games gave RCB a win against SH. With the last match (against DD) rained off, RCB managed to reach the playoffs, first time since entering the final in 2009. Starc's 1/22 in the eliminator helped his side see off RR. After a batting failure in the qualifier against CSK, RCB ended up with 139/8. Thanks to some tight bowling in which Starc contributed 1/27, CSK could not reach the target until the penultimate ball.
Though Starc opted out of the 2016 and 2017 seasons, his brilliant performance in the 2015 IPL season granted him a lucrative contract with KKR in 2018. Unfortunately, an injury kept the Aussie new-ball bowler out of the tournament that season and he decided not to take part in the 2019 season either.
Mitchell Starc's performance was just as impressive in the BBL, where he captured 20 wickets in 10 games at an average of 14.90 and an economy rate of 6.92 while winning the Player of the Match award on two occasions.
T20I Career
With his exceptional ability to bowl, Mitchell Starc is an ideal bowler to have in a T20 team which he has amply proved with the feats accomplished in the IPL 2015 season. In 31 T20I matches, he has taken 43 wickets at an average of 18.65, with best bowling figures of 3/11, and an economy rate of 6.91, which deserves praise considering that the new-ball bowler usually operates during powerplays. The fact that Starc has gone wicketless in only five of his 31 T20Is is a telling stat that underscores Starc's consistent wicket-taking ability. Debuting against Pakistan in Dubai in September 2012, Mitchell Starc ripped the Pakistan innings apart with 3/11 in his second match. That was followed by a stellar showing in the T20 World Cup held at Colombo with figures of 2/20, 3/35, 1/27, 3/20, and 1/32 against Ireland, the West Indies, India, Pakistan and the West Indies respectively.
Current Teams
At some point of his career, Mitchell Starc has played for one or more of the following teams: Australia, Australia A, Australian XI, Kolkata Knight Riders, New South Wales, Australia Under-19, Australian XI, Royal Challengers Bangalore, Sydney Sixers, Australians, Welsh Fire, Yorkshire. He currently represents Australia, New South Wales and Sydney Sixers.
This player is currently a member of these teams:
Sydney Sixers / BBL (Big Bash League)