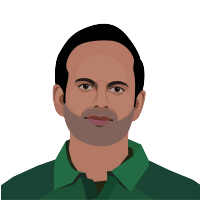 Nauman Ali
Pakistan
Age
October 7, 1986 (35 years)
Birth Place
Sanghar, Sind
Batting Style
Left Handed
Bowling Style
Slow left-arm orthodox
Nauman Ali is an all-rounder player from Pakistan who is a left-handed batsman and a left-arm slow orthodox bowler. He was born on 7 October 1986 in Khipro which is a subdivision of Sanghar in the Sindh province of Pakistan. He has a huge experience in Pakistan's domestic cricket and had to play until the age of 34 in the domestic arena before making his first appearance at the international level in 2021 in the home series against South Africa. This made him one of the few players to make a debut for Pakistan in their 30s. Nauman also played for Multan Sultans in Pakistan Super League. Other teams he has represented are Hyderabad (Pakistan), Hyderabad Hawks and Khan Research Laboratories.
Team played
Pakistan, Hyderabad Hawks, Hyderabad Pakistan, Islamabad, Khan Research Laboratories, Sindh, Multan Sultans, Northern
Test
After playing almost 80 first-class games, Nauman Ali finally got his opportunity to represent Pakistan's International Test team at the age of 34 against South Africa in January 2021. That's about 14 long years after making the first-class debut back in 2007.
He surprised all with his brilliant bowling skills. In the first innings of the first Test match against South Africa, he has taken 2 wickets for 38 runs. In the second innings as well, he demonstrated his skills to dismantle Africa's batting by taking his first 5-wicket haul for 35 runs only. This made him one of the few Test debutants to take a 5-wicket haul.
With his brilliant performance in this Test match, Pakistan managed to beat South Africa at home comfortably after it seemed, for a session or two, that Pakistan might have lost this Test. He also scored important 24 runs in the first innings. By taking a five-wicket haul in his first Test only, he became the 12th bowler for Pakistan to take a five-wicket haul on Test debut.
ODI
Nauman Ali hasn't picked up for Pakistan's ODIs squad yet.
T20I
Nauman Ali is yet to make his T20I debut for Pakistan's team.
Records and Facts
Though Nauman Ali made his international debut at the age of 34, he had a wonderful first-class and List A career in Pakistan. In 80 first-class matches he played, he scored 2128 runs with the bat and took 292 wickets with his brilliance in left-arm orthodox bowling with 16 four-wicket hauls as well as 19 five-wicket hauls. In his list A career, he took 107 wickets in 81 matches with 1 five-wicket haul to his name.
Nauman also played 41 domestic T20s and took 39 wickets in those matches. He also participated in the Quaid-e-Azam Trophy, one of the major tournaments in Pakistan, and was named the Player of the Tournament in the 2019-20 season for taking the most number of wickets (54) in 10 matches in a single season.
This player is currently a member of these teams: