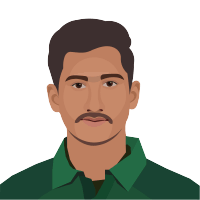 Rohail Nazir
Pakistan
Age
October 10, 2001 (20 years)
Batting Style
Right Handed
Rohail Nazir is a 19-year-old right-handed wicket-keeper-batsman from Islamabad, Pakistan. Rohail played his first T20 match in November 2017 when he represented Islamabad in the 2017–18 National T20 Cup. A month later, PCB included him in the Pakistan squad for the U-19 World Cup. The same month, Islamabad United signed up Nazir for the upcoming 2018 season. Rohail found himself in the Balochistan squad in April 2018 for the Pakistan Cup.
Team played
Pakistan, Islamabad, Pakistan Emerging, Pakistan Under-19, Islamabad United, Multan Sultans, Northern, Pakistan Shaheens
Biography
In September 2018, he began his first-class career with Islamabad. The same month, he also played his first List A game for Islamabad in the Quaid-e-Azam One Day Cup. Northern included Rohail in their squad for the Quaid-e-Azam Trophy competition in September 2019. Selected to play for Pakistan in the 2019 ACC Emerging Teams Asia Cup in Bangladesh, Nazir was made vice-captain of the side. PSL franchise Multan Sultans signed up Nazir as an emerging player in December 2019 ahead of the 2020 season. The same month, PCB named him captain of the Pakistan squad for the U-19 World Cup. After 10 members of the Pakistan squad had tested positive for covid, Nazir was named in the national squad for the tour of England in June 2020. In October 2020, the PCB included Rohail in their list of 22 probable players for selection to play against the visiting Zimbabwe team. In November 2020, he travelled to New Zealand as a member of the 35-man Pakistan squad. In December 2020, PCB identified Nazir as a candidate for the Men's Emerging Cricketer of the Year award.
Test
Rohail is yet to play Test cricket.
ODI
Nazir has not yet made his ODI debut.
T20I
Rohail Nazir has not played T20I cricket yet.
Records and Facts
Rohail scored a century (130) on his first-class debut for Islamabad versus Habib Bank Limited in the Quaid-e-Azam Trophy in September 2018. Nazir was the highest scorer of the 2019 ACC Emerging Teams Asia Cup competition with 302 runs in five games, including a match-winning ton in the final. In 11 first-class games, Nazir has scored 741 runs at 39.00 with 2 tons and 4 fifties, including the top score of 130. In 20 List A matches, Rohail has scored 843 runs at 46.83 with 2 tons and 6 fifties, including his top score of 113. In 31 T20 games, Rohail Nazir has scored 364 runs at 17.33, with the highest score of 56 not out, his only half-century.
This player is currently a member of these teams: