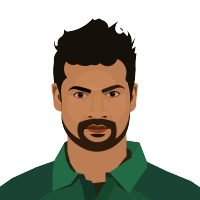 Sohail Khan
Pakistan
Age
March 6, 1984 (37 years)
Birth Place
Malakand, North-West Frontier Province
Batting Style
Right Handed
Bowling Style
Right-arm fast medium
Sohail Khan is a Pakistani fast bowler who was born on 6 March 1984 in Malakand in the North-West Frontier Province. In his maiden first-class season in 2007, he attracted the spectators' attention by recording the best first-class bowling figures by any player in Pakistan.
Team played
Pakistan, Federally Administered Tribal Areas, Islamabad Leopards, Islamabad, Karachi Blues, Karachi Whites, Karachi Dolphins, Karachi Zebras, North West Frontier Province Panthers, Pakistan Inv XI, Peshawar, Sind Dolphins, Sindh, Sui Southern Gas Corporation, Khyber Pakhtunkhwa, Port Qasim Authority, United Bank Limited, Sindh Knights, Dhaka Platoon, Quetta Gladiators, Karachi Kings, Lahore Qalandars, Pakhtoons, Pakistan Cricket Board Whites
Biography
Sohail's robust upbringing in the Khyber Pakhtunkhwa region was credited with his lively pace. In his childhood, he developed strong muscles by swimming and throwing stones in streams and rivers in the mountains. Sohail's brother Murad was also a first-class cricketer.
Sohail attracted attention in his youth by winning a speed contest organised by former Pakistani cricketer Sikander Bakht. This triumph opened the doors to the cricketing world for him. Former Pakistan skipper Rashid Latif was impressed by Sohail's talent and offered to coach him at his academy.
Test
Sohail made his Test debut versus Sri Lanka in Karachi in February 2009. His last Test was against Australia in Melbourne in December 2016.
In total, Sohail has starred in 9 Tests in which he has picked up 27 scalps at a 41.66 average and a 67.7 strike rate with 2 five-fors. Sohail's best figures in a Test innings are 5/68.
Sohail also shone with the bat in Tests, cracking 252 runs at a 25.20 average and a 76.82 strike rate with 1 fifty. He recorded the highest Test innings score of 65.
ODI
Sohail made his ODI debut versus Zimbabwe in Faislabad in January 2008. His last ODI was played against the West Indies in Abu Dhabi in October 2016.
Sohail has starred in 13 ODIs in which he has claimed 19 wickets at a 31.42 average, a 5.37 economy rate and a 35.0 strike rate with 1 five-for. Sohail's best ODI figures are 5/55. He has taken 3 catches in ODIs.
T20I
Sohail made his T20I debut versus Canada in King City (NW) in October 2008. His last T20I was against the World XI in Lahore in September 2017.
Sohail has featured in 5 T20Is in which he has grabbed 5 scalps at a 24.60 average, an 8.20 economy rate and an 18.0 strike rate. Sohail's best figures in a T20I game are 2/13.
Records and Facts
In 2007, Sohail broke Fazal Mahmood's Pakistani record of best bowling figures in a first-class game, which was 15/76, by recording 16/189.
Pakistan Super League (PSL) Achievements
In the 2016 PSL draft, Karachi Kings bought Sohail for $25,000. That season, he grabbed 4 scalps in 6 games, but the team management kept faith and retained him for the next year's edition. In 2017, Sohail bagged 16 wickets in 9 games to claim the best bowler award for the season. He helped his team win many vital matches.
First-Class
As of February 2021, Sohail has featured in 113 first-class games in which he has snared 486 scalps at a 24.74 average and a 43.0 strike rate with 36 five-fors and 7 10-wicket game hauls. Sohail's best figures in a first-class innings are 9/109.
List A
Sohail has appeared in 81 List A matches to date, claiming 144 wickets at a 24.70 average, a 5.32 economy rate and a 27.8 strike rate with 6 five-fors. Sohail's best List A figures are 6/44.
This player is currently a member of these teams: