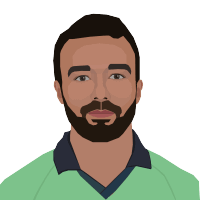 Stuart Thompson
Ireland
Age
August 15, 1991 (30 years)
Birth Place
Londonderry, Ireland
Batting Style
Left Handed
Bowling Style
Right-arm medium fast
Stuart Thompson is one of the promising talents of Irish cricket. He bowls right-hand fast-medium and is an elegant left-handed middle-order batsman. He has represented Ireland in all three formats of the game and was one of the nineteen players awarded with a full-time central contract in 2020.
Team played
Ireland, Ireland A, Ireland Under-19, Ireland XI, North West Warriors, Ireland Wolves, Belfast Titans
Stuart Thompson was born on 15 August 1991 in Londonderry, Northern Ireland. He was selected for the 2012 T20 World Cup after his impressive performances in Ireland U-19 and domestic competitions. Having failed to make it to the playing XI, he eventually made his international debut in ODIs against Scotland in 2013. He was also part of XI that played in Ireland`s first-ever Test match.
Thompson has played a combined tally of 64 international matches in all three formats. He has 620 runs in the international arena with a fifty in Test and T20I format and a combined tally of 40 wickets so far. Undoubtedly, he will be a vital member of the Ireland team in the future as a genuine all-rounder.
ODI Stats
Matches: 20
Runs: 228
Average: 16.28
Strike rate: 90.83
Highest score: 39
Wickets: 12
Economy: 5.25 RPO
Best figures: 2/17
T20I Stats
Matches: 41
Runs: 328
Average: 14.90
Strike rate: 129.17
50s: 1
Highest score: 56
Wickets: 18
Economy: 8.28 RPO
Best figures: 4/18
Test Stats
Matches: 3
Runs: 64
Average: 10.66
Strike rate: 32.98
50s: 1
Highest score: 53
Wickets: 10
Economy: 2.98 RPO
Best figures: 3/28
This player is currently a member of these teams: