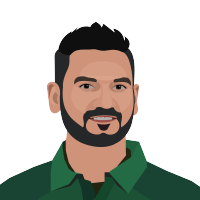 Tabish Khan
Pakistan
Age
December 12, 1984 (37 years)
Birth Place
Karachi, Sind
Batting Style
Right Handed
Bowling Style
Right-arm fast medium
Born on 12 December 1984, Tabish Khan is a big name in the domestic circuit. He plays for Sindh and made his debut when he was just 17 years old in the Quaid-e-Azam competition in 2001-02. He soon made a name for himself in the domestic circuit with his ability to pick quick wickets.
Team played
Pakistan, Karachi Blues, Karachi Whites, Karachi Zebras, Pakistan A, Pakistan Television, State Bank of Pakistan, Sindh, Sui Southern Gas Corporation, Hyderabad Pakistan and Karachi, Sindh Knights, Karachi Kings
Biography
Tabish has played more than 100 first-class matches and has over 500 wickets to his name but is yet to make an international debut. He was, however, named for Pakistan's Test series against South Africa in January 2021.
Other major teams that he has played for include Pakistan A, Karachi Whites, Karachi Region Blues, Karachi Kings, Karachi Blues, Karachi Zebras, State Bank of Pakistan, Karachi Urban, Karachi Dolphins and others.
Tabish has incredible first-class figures and his stats in white-ball cricket are decent as well. In 43 domestic T20 matches, Tabish has 42 wickets taken at an economy of 7.84 and a strike rate of 21.7. In List A matches, he has taken 73 wickets at an economy of 5.51 and a strike rate of 35.7.
Despite good performance with the white ball, he is tagged as a red-ball specialist. And this is something that has been working against him in winning a place in the national side.
Talking about his batting skills, Tabish has 5 half-centuries in first-class cricket and one half-century in List A.
Test
Tabish hasn't played a Test match yet. However, he was one of the 8 uncapped players named by Pakistan selectors for the Test series against South Africa (starting January 2021).
ODI
The player hasn't played an ODI yet.
T20
The player hasn't played a T20 International yet.
Records and Facts
In first-class cricket, Tabish topped the bowling charts for six years.
He is among the few bowlers in Pakistan's first-class cricket to take more than 500 wickets.
Tabish's strike rate of 45.8 is among the best for any Pakistani fast bowler in first-class cricket.
In Pakistan, there is no other fast bowler who has taken so many first-class wickets but still hasn't played international cricket.
In the 2019 Quaid-e-Azam trophy, Tabish with 25 wickets was the highest wicket-taking fast-bowler and fifth overall.
On 7 occasions, he has taken 10 or more wickets in a first-class match, while he has taken 5 or more wickets on 38 occasions.
With an impressive first-class record and over eighteen years of hard work, Tabish surely deserves a place in the national side. One likely reason why selectors have been overlooking him is his lack of consistency in T20 cricket. However, he has made rapid strides across all formats in the last few years. He was even picked for the 2018 PSL season after remaining unsold in the previous season.
Tabish is 36 now and may not have much cricket left being a fast-bowler, but he looks determined to continue chasing his dream to play for the national side.
This player is currently a member of these teams: