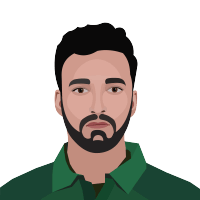 Zafar Gohar
Pakistan
Age
February 1, 1995 (26 years)
Birth Place
Lahore, Punjab
Batting Style
Left Handed
Bowling Style
Slow left-arm orthodox
Zafar Gohar is a 25-year-old slow left-arm orthodox spin bowler from Lahore, Pakistan. Gohar gained national recognition when PCB picked the young bowler to represent Pakistan in the U-15 World Championship hosted by the West Indies in 2008. He was named in the Pakistan U-19 squad four years later. Following Zafar's performance in the U-19 World Cup, Zarat Taraqiati Bank Limited, one of Pakistan's largest departmental squads, signed him up to skipper their U-19 team. From there to the senior team was a short step up that allowed him to play alongside such players as Yasir Hameed, Abdul Razaq and Saeed Ajmal. He made his first-class debut in 2013 for Zarat Taraqiati Bank Limited versus Water and Power Development Authority. After that, teams such as the State Bank of Pakistan and Sui Southern Gas Corporation sought Zafar's services.
Team played
Pakistan, Zarai Taraqiati Bank Limited, Balochistan, Federally Administered Tribal Areas, Islamabad Leopards, Islamabad, Lahore Blues, Lahore Eagles, Lahore Whites, Pakistan A, State Bank of Pakistan, Sui Southern Gas Corporation, Pakistan Under-19, Khyber Pakhtunkhwa, Pakistan Under-23, Khyber Pakhtunkhwa Fighters, Islamabad United, Lahore Qalandars, Central Punjab
Biography
He played his first ODI in November 2015 against England. Central Punjab named Gohar in September 2019 in the squad to represent them in the 2019–20 Quaid-e-Azam Trophy tournament. They retained the young bowler for the next domestic season. PCB named Gohar in October 2020 in a list of 22 probables for the home series versus Zimbabwe. A month later, he found himself in the 35-man squad to tour New Zealand. In December 2020, he got his Test debut versus New Zealand when he replaced the injured Shadab Khan in the first Test match of the series. The PCB named Gohar in January 2021 in the T20I squad to play in the home series versus South Africa.
Test
In the only Test match that he played, Gohar returned figures of 0/159. Incidentally, he also scored 71 runs at 35.50 with the highest score of 37.
ODI
In one ODI, Zafar took 2 wickets at 27.00 with the best bowling figures of 2/54.
T20I
Zafar Gohar is yet to play a T20I game.
Records and Facts
Zafar took 4 wickets in 5 matches in the U-19 World Cup in 2012. He did even better in the U-19 World Cup in 2014, grabbing 8 wickets. In 40 first-class matches, Gohar has taken 144 wickets at 29.67 with the best bowling figures in an innings of 7/79 and the best bowling figures in a match of 11/133. In his debut first-class game, Zafar grabbed 3/60 in the first innings and followed it up with figures of 1/77 in the second. Proving that he is no rabbit with the bat, Gohar, who bats left-handed, has scored 1154 first-class runs at 22.19 with one ton and 5 fifties, including his top score of 100 not out. In 57 List A games, Gohar has taken 86 wickets at 27.43 with the best bowling figures of 5/56. He has also scored 501 runs at 13.91 with the highest score of 53, his only fifty. In 53 T20 matches, Zafar has taken 64 wickets at 20.93 with the best bowling figures of 4/14. He has also scored 235 runs at 15.66 with the highest score of 32 not out.
This player is currently a member of these teams: