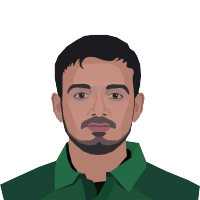 Ahsan Ali
Pakistan
Age
December 10, 1993 (28 years)
Birth Place
Karachi, Sind
Batting Style
Right Handed
Born on 10 December 1993 in Karachi, Pakistan, Ahsan Ali has represented Pakistan in T20I and also played many domestic matches in Pakistan. He is primarily a right-handed batsman and also bowls leg-breaks. With Yuvraj Singh as his cricketing hero, Ahsan has already shown his calibre in domestic matches.
Team played
Pakistan, Karachi Whites, National Bank of Pakistan, Rawalpindi, Sindh, United Bank Limited, Larkana Bulls, Quetta Gladiators
Ahsan Ali played his initial cricket for Pakistan's Under-15 and was also picked for the Under-19 World Cup in New Zealand. He performed well in his Under-19 career and showed his skills to impress selectors. Ahsan made his domestic debut in 2013. He played 38 List A matches and scored 1045 runs at an average of 28.24. He scored 1 century and 4 fifties. Along with List A matches, he played first-class matches also, scoring 1114 runs in 23 matches at an average of 27.85 with 3 centuries and 1 fifty. 
After performing well in a domestic cricket session of Pakistan, finally, in January 2020, he was named in Pakistan's Twenty20 International squad in a series against Bangladesh. He made his T20I debut against Bangladesh. He played 2 T20Is in that series and scored 36 runs with a strike rate of 92.30. He has been also bought by Quetta Gladiators in the Pakistan Super League.
This player is currently a member of these teams: