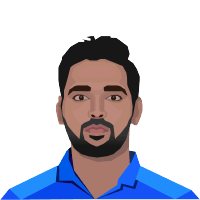 Bhuvneshwar Kumar
India
Age
February 5, 1990 (32 years)
Birth Place
Meerut, Uttar Pradesh
Batting Style
Right Handed
Bowling Style
Right-arm medium
Bhuvneshwar Kumar (Bhuvi for short) is a talented medium-fast bowler who has excelled in all 3 formats of the game in international cricket. Born on 5 February 1990, he represents Sunrisers Hyderabad in the IPL (Indian Premier League) and Uttar Pradesh (UP) in first-class games.
Team played
India, Central Zone, India A, India Blue, Royal Challengers Bangalore, Uttar Pradesh, Pune Warriors India, Sunrisers Hyderabad
Bhuvnesh Kumar: A Lethal Pacer in All Formats
Bhuvi can swing the ball late both ways to confuse even the best batters and is a talented lower-order batsman who adds some useful runs to a team's score. He made an immediate impact on the game's course in his maiden international match, taking 3 wickets versus Pakistan in a T20I in December 2012. Furthermore, he has set a record of being the first bowler from India to take fifers in all 3 cricket formats.
Early Life
Bhuvi's birthplace is Meerut in UP. At an early age, he was encouraged by his sister Rekha to take up cricket. When Bhuvi turned 13, Rekha took him to a cricket coaching centre for advanced training.
Domestic Career
Bhuvi was just 17 when he took part in his maiden first-class game which was played against Bengal. In the Duleep Trophy semi-final, he masterly scored 128 runs and was awarded the Player of the Match. Bhuvi is the first bowler in domestic cricket to get Sachin Tendulkar out for a duck. He achieved this feat in the 2008 – 2009 Ranji final.
IPL Career
Bhuvi's impressive performance in the 2008 – 2009 domestic season caught the eye of the selectors of Royal Challengers Bangalore (RCB) and they invited him to play for their team. In the 2011 IPL, he played for Pune Warriors and in 2014 he was selected by Sunrisers Hyderabad. Bhuvi had excellent IPL years in 2014, 2016 and 2017.
In 2016, he helped Sunrisers win the IPL title. He took 23 wickets that season and received the Purple Cap as the best wicket-taker. Bhuvi also starred in the 2017 edition, picking up a fifer versus Kings XI Punjab. He bagged 26 wickets that year which again granted him the Purple Cap.
In 2018, Sunrisers named Bhuvi the vice-captain of the team. He helped the team get to the final supported by excellent bowling performances from Sandeep Sharma and Rashid Khan.
Test Career
Bhuvi's first Test series was versus Australia in 2013 and he picked up 6 wickets in 4 games. Together with MS Dhoni, he set a record for the ninth wicket in the first Test. In that game, Bhuvi made the highest score of 38 runs ever achieved by an Indian number 10 on debut.
In his maiden test, Bhuvi received the test cap from his fellow fast bowler Ishant Sharma. However, he did not have much success with the ball in his first Test as the pitch was friendlier towards spin bowlers. During the second Test, Bhuvi bagged a few important Aussie wickets in the second innings to make his mark.
Bhuvi has been improving skills and developing his own playing style gradually over the years and has become a lethal bowler in swinging conditions. He bowled well against Sri Lanka and South Africa in Tests. His Test career suffered a setback when he got injured in mid-2018 just before the tour of England. The Indian team were disappointed as Bhuvi's expert swing bowling could have turned the series in their favour, considering beneficial English conditions.
As of June 2020, Bhuvi has played in 21 tests and taken 63 wickets at a bowling average of 26.09. He has claimed fifers 4 times and his best bowling figures in an innings are 6-82.
ODI Career
Bhuvi was part of the Champions Trophy squad in 2013. Later, he performed impressively during the Tri-Nation tournament in which he claimed stunning figures of 4-8 versus Sri Lanka. He made the maximum number of bowling dismissals in that tournament to win the Player of the Series award.
After that, Bhuvi toured New Zealand and South Africa as part of the ODI squad. However, he did not have much success as his effectiveness was reduced in his attempt to bowl faster. However, he showed great results in the away Test series in 2014 in England, picking up the most wickets for India.
India had high hopes for Bhuvi in the 2015 ODI World Cup. However, injuries hampered him and he played just one match against UAE. Bhuvi chose not to give up and worked hard on his shape and even developed new skills. He became one of the bowling spearheads of India and formed an incredible partnership with Jasprit Bumrah in the 2017 Champions Trophy.
Bhuvi added new weapons to his arsenal: the yorker and reverse-swing. This made him more effective throughout the innings, bowling with the old ball rather than only with the new one. Bhuvi took his hundredth ODI wicket in January 2019, playing against Australia. He was part of the Indian team in the 2019 ODI World Cup but missed many matches because of a leg injury.
As of June 2020, Bhuvi has played in 114 ODIs, picking up 132 wickets at an average of 34.60. His best figures in an innings are 5-42.
T20I Stats
As of June 2020, Bhuvi has appeared in 43 T20Is, bagging 41 wickets at an average of 26.53. His best figures in an innings are 5-24.
Interesting Facts about Bhuvi
Bhuvi's father, Kiran Pal Singh, is a sub-inspector of the UP police.
As a child, Bhuvi wanted to join the Indian Army and serve his nation. Needless to say, his cricketing dreams proved to be stronger.
Bhuvi is rather shy and doesn't talk much. He lets the ball do all the talking.
Bhuvi loves AR Rahman's music and his favourite film is '3 Idiots' starring Aamir Khan.
His favourite international cricketer is AB de Villiers of South Africa.
Caribbean big-hitter Chris Gayle is, however, not a tough nut for Bhuvi to crack as he has dismissed Gayle 4 times so far.
Even when Gayle clobbered 175 in the 2013 IPL versus Pune Warriors, Bhuvi showed a great result giving away just 23 in 4 overs with 15 dot balls.
Bhuvi is the leading wicket-taker for Sunrisers Hyderabad, having taken 38 in 28 games.
Bhuvi married Nupur Nagar in November 2017 in Meerut.
This player is currently a member of these teams:
Hyderabad / T20 (Indian T20 League)