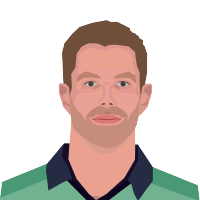 Boyd Rankin
Ireland
Age
July 5, 1984 (38 years)
Birth Place
Londonderry, Ireland
Batting Style
Left Handed
Bowling Style
Right-arm fast medium
Boyd Rankin is one of the most prominent cricketers of Ireland. He is a right-hand fast bowler who has played in over 128 international matches. He has also represented England for a brief period from 2013 to 2014.  However, he returned to the Ireland team in 2016.
Team played
England, Ireland, Derbyshire, Durham, England A, Essex, England XI, Ireland A, Warwickshire, Ireland Under-19, ICC Combined Associate and Affiliate XI, England Lions, North West Warriors, Belfast Titans
Boyd Rankin was born on 5 July 1984 in Derry, Northern Ireland. Rankin is a rather tall player, his height is 6 ft 8 inches and is a hit-the-deck kind of bowler. In an interview, he stated that he took the playing styles of Curtly Ambrose and Glenn McGrath combined as a basis for his action. Cricket runs deep in his family as his two brothers and a sister have also played cricket in Ireland. In January 2020, he was one of the nineteen players to be granted a full-time contract by Cricket Ireland.
Early Life & County cricket
Boyd Rankin has represented Ireland in every age group starting from the Under-13s. His impressive performances in the Ireland A team gained him a county contract with the Middlesex team. He joined his former teammates Ed Joyce and Eoin Morgan for the 2004 and 2005 seasons in the county league.
He then moved to the Derbyshire team, signing a two-year contract with them in 2006. Rankin did not have a good opportunity to show his full potential there, mainly because of injuries, and played only a handful of matches for the squad. His best performance of 8/121 in a Test match came against his former team Middlesex.
After that, Rankin decided to sign a new two-year deal with Warwickshire at the end of the 2007 season, refusing a new Derbyshire contract. Rankin was very excited about playing under Allan Donald in Warwickshire but an injury caused during a match in August 2008 sidelined him for 4 months. Rankin made a comeback with an intention to impress everyone, including Warwickshire`s director Ashley Giles, in 2009. Giles found Rankin a superb fast bowler who was tall and bounced the ball, hitting the deck hard.
One-Day Internationals
Boyd Rankin made his ODI debut for Ireland in 2007 against Bermuda. Rankin represented Ireland in the 2007 World Cup and finished with 12 wickets, which was the highest number scored by an Irish bowler. His achievement of 3/32 played a key role in helping Ireland to score their famous win against Pakistan in the 2007 World Cup.
Rankin announced his decision to move to England in August 2012 and stopped playing for Ireland. He played 7 ODI matches for the England team and took 10 wickets. However, he returned to play for Ireland in 2016 and has been the team's regular member ever since. He has played a total of 75 games with 107 wickets taken in the ODI matches.
ODI Stats
Matches: 75
Wickets: 107
Economy: 4.79 RPO
Best figures: 4/15
Runs: 101
Highest score: 18
T20I internationals
Boyd Rankin was selected for the 2009 ICC T20 World Cup and made his debut against Bangladesh. His impressive performance in the 2009 T20 World Cup got him nominated for the ICC Associate and Affiliate Player award in 2009 but, unfortunately, he failed to win it. He has played in 50 T20I matches and has 55 wickets to his name. He represented England in 2 T20I matches.
T20I Stats
Matches: 50
Wickets: 55
Economy: 6.85 RPO
Best figures: 3/16
Runs: 64
Highest score: 16
Test Matches
Boyd Rankin is one of three players to play Test cricket for two countries (England and Ireland). Boyd Rankin made his Test debut when he was picked for the 2014 Ashes series in Australia. He played only one match and took the only wicket of Peter Siddle. He then returned to participate in a Test match for Ireland in 2019 when they were granted Test status for the first time.
Test Stats
Matches: 3
Wickets: 8
Economy: 4.15 RPO
Best figures: 2/5
Runs: 43
Highest score: 17
Notable records
The only player to play in all three formats for both England and Ireland.
He has taken 150 international wickets for Ireland in limited-overs (ODI & T20I combined).
He has played for and against both England and Ireland in Test matches.
This player is currently a member of these teams: