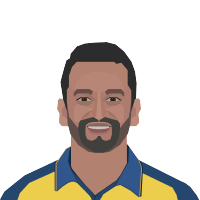 Dimuth Karunaratne
Sri Lanka
Age
April 21, 1988 (34 years)
Batting Style
Left Handed
Bowling Style
Right-arm medium
A gritty opening batsman who made a formidable career, Dimuth Karunaratne was a student of the St Joseph's College in Sri Lanka that produced several international cricketers throughout its history. Karunaratne started his first-class career in 2008 with the Sinhalese Sports Club (SSC).
Team played
Sri Lanka, Basnahira North, Sri Lankan Board XI, Sri Lanka Cricket Combined XI, Sri Lanka A, Sri Lankan Invitation XI, Sinhalese Sports Club, Wayamba, Sri Lanka Under-19, Basnahira Cricket Dundee, Kandurata Uva Combined, Sri Lanka Cricket Board President XI, Basnahira Greens, Western Troopers, Kandy, Galle, Hambantota Troopers, Sri Lankans, Kandy District, Dambulla
At that time, Sri Lanka were on the hunt for young cricketers to replace their veteran players that were in the twilight of their careers and Karunaratne was in the right place at the right time. He was dogged, patient and could play the whole day if needed and the Sri Lanka team welcomed him with open arms. Since then he has been pursuing a career of a great cricketer in both Test and One Day formats.
Dimuth Karunaratne Test Career
From the get-go, it was clear that Karunaratne was going to be performing as a Test player. His game revolved around patience and it came as a surprise when he made his national debut in a different format. However, a year later, Karunaratne was in whites, debuting for Sri Lanka in 2012 at Galle against New Zealand. He was dismissed for a duck in the first innings but managed to make a maiden half-century in the second innings of the same Test to redeem himself. During the eight-year period, he has played 66 Test matches, scoring 4524 runs with 9 hundreds and 24 half-centuries averaging in the mid-30s. Karunaratne became the Test captain in 2019 and led his team eight times in the format, even scoring a hundred. Out of eight Tests played under Karunaratne, Sri Lanka have won four – a fact that points out his leadership qualities. Currently at the age of 32, he could well be leading Sri Lanka until his retirement given that his form and captaincy as such have been impressive in this short time period. Dimuth Karunaratne has been a veteran on the first-class scene over the years making 12,000-plus runs at an average of 45 and more with a whopping 38 hundreds.
Dimuth Karunaratne ODI Career
Karunaratne's ODI career has been developing in a rather strange way. He made his debut in the format in 2011 but has only played 31 ODIs since then. The southpaw made his debut in 2011 against England at Manchester and was playing the format intermittently until 2015 when he was limited to play only Test cricket. However, ahead of the 2019 World Cup in England, with Sri Lankan cricket in crisis, they called upon Dimuth Karunaratne to lead the Sri Lankan ODI side to the World Cup. He made 77 on his comeback in a friendly match against Scotland and then performed in the World Cup scoring 52*, 30 and 97. Since then he has been a regular in the team and an admirable captain leading his side to an unlikely win against England, the eventual champions of the tournament. Karunaratne is likely to get a longer run in the limited-overs squad in the forthcoming years given the success he has achieved leading his team for a rather short period of time. Needless to say, his List A record with six centuries and an average in the mid-30s is the best proof of the suggestion.
This player is currently a member of these teams: