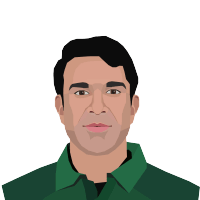 Iftikhar Ahmed
Pakistan
Age
September 3, 1990 (31 years)
Birth Place
Peshawar, North-West Frontier Province
Batting Style
Right Handed
Iftikhar Ahmed, a right-handed batsman from Pakistan, was born on 3 September 1990 in Peshawar, Pakistan. He made his Test debut in 2009 for Pakistan. A very talented batsman, he scored 3314 in List A matches at a staggering average of 52.60. He made his International debut for Pakistan on 4 March 2016.
Team played
Pakistan, Islamabad, Pakistan A, Punjab Pakistan, Peshawar, Peshawar Panthers, Rawalpindi, Sui Northern Gas Pipelines Limited, Sindh, Water and Power Development Authority, Khyber Pakhtunkhwa, Khyber Pakhtunkhwa Fighters, Islamabad United, Karachi Kings, Peshawar Zalmi, Pakistan Cricket Board Patrons XI, Pakistanis
Test Career
Iftikhar Ahmed made his Test debut for Pakistan on 11 August 2016 against England. He has played 3 Test matches so far, one against England in 2016 and two against Australia in 2019. Not only hasn't Iftikhar Ahmed got many opportunities in the Test matches played, but he has also failed to prove his abilities when such chances appeared and hence, lost his place in the red-ball cricket team. In his 5 Test innings so far, he scored 4, 7, 0, 10 and 27 respectively. These figures prove Ahmed's struggles with batting in red-ball cricket. He played his last Test match against Australia on 29 November 2019.
ODI Career
Iftikhar Ahmed's chances in the ODI arena have been very limited too as he has just played 4 matches since his ODI debut. He made his ODI debut against England on 13 November 2015. In his two ODI innings, he scored only 5 and 3 runs respectively. He has been dropped from the national team after 2 ODI matches. However, 4 years passed and the Pakistan Cricket Board selected him to participate in the home series against Sri Lanka in which he scored 32 and 28 not out from two innings. In his total of 4 ODI matches, he scored 68 runs.
T20 Career
Iftikhar Ahmed was initially selected for the ICC 2016 T20I tournament but the Pakistan Cricket Board later dropped him because of his poor form. However, he got an opportunity to play T20I and he made his T20 debut against Sri Lanka in the 2016 Asia Cup. In total, he has played 10 T20 internationals and has scored 174 runs at an outstanding average of 58.
Ahmed was exceptional in the 2019 Pakistan series against Australia in which he scored 34 balls 62 and 37 balls 45 runs against formidable Aussies. He was a part of recently concluded T20 series against England, in which he played first two matches. He is an exciting prospect in the shorter format of the game and can score plenty of runs for Pakistan in the middle order.
This player is currently a member of these teams: