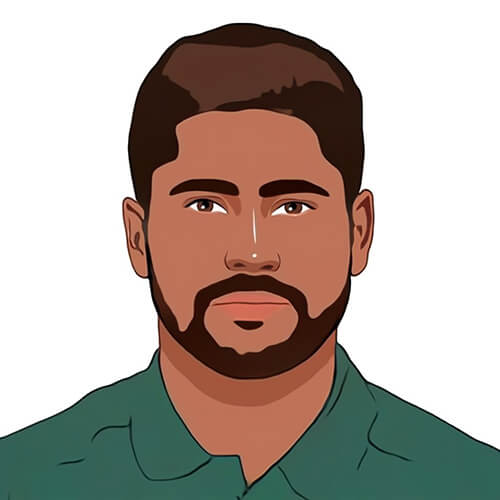 Imrul Kayes
Bangladesh
Age
February 2, 1987 (34 years)
Birth Place
Meherpur, Khulna
Batting Style
Left Handed
Bowling Style
Slow left-arm orthodox
Imrul Kayes is a 33-year-old left-handed batsman and an occasional wicket-keeper who has played international cricket for Bangladesh. He also bowls slow left-arm orthodox spin.
Team played
Bangladesh, Bangladesh A, Bangladesh Invitation XI, Khulna Division, Chattogram Challengers, Sylhet Thunder, Rangpur Rangers, Bangladesh South Zone, Bangladesh East Zone, Brothers Union, Gazi Tank Cricketers, Victoria Sporting Club, Sheikh Jamal Dhanmondi Club, UCB-BCB Eleven, Cumilla Warriors, Gazi Group Cricketers, Mahmudullah XI
Test Career
Imrul Kayes has scored 1797 runs in 39 Test matches at an average of 24.28. He played his first Test against South Africa in Bloemfontein in November 2018. Kayes made his first Test ton against Sri Lanka in Chattogram in February 2014. In that game, Sri Lanka batted first and posted an imposing score of 587. Imrul scored 115 to help Bangladesh reply with 426. Chasing a set target of 467 in their second knock, Bangladesh scored 271/3 before the match ended in a stalemate, with Kayes contributing 25. Imrul played what was arguably his most impactful Test innings against Pakistan in Khulna in May 2015. Batting first, Bangladesh scored 335. Pakistan replied with a mammoth 628. Against a strong bowling lineup featuring the likes of Wahab Riaz and Yasir Shah, Kayes came good in Bangladesh's second knock. He made 150 in a 351-minute stay at the crease, sharing an opening partnership of 312 with Tamim Iqbal to take his side home to the safety of a draw. He played his last Test against India in Kolkata on 28 November 2019.
ODI Career
Imrul Kayes has scored 2434 runs in 78 ODIs at an average of 32.02. He played his first ODI against New Zealand in Chattogram on 14 October 2008. On 21 October 2018, Bangladesh hosted Zimbabwe at Dhaka in the first ODI of a series on Zimbabwe's tour of Bangladesh. The hosts batted first and scored 271/8, riding on Kayes' highest ODI score of 144 off 140 balls with 13 fours and 6 sixes. Replying, Zimbabwe were restricted to 243/9, handing Bangladesh a 28-run victory. Kayes has scored three other tons in his ODI career. The first one (101) came against New Zealand in Christchurch in February 2010. Kayes scored 112 against England in Dhaka in October 2016 and 115 against Zimbabwe in Chattogram on 26 October 2018. He played his last ODI against the West Indies in Dhaka on 11 December 2018.
T20I Career
Imrul Kayes has scored 119 runs in 14 T20I matches at an average of 9.15. He played his first T20I against Pakistan in Gros Islet on 1 May 2010. Kayes registered his highest T20I score against Sri Lanka in Colombo on 6 April 2017, in the 2nd match of a series on Bangladesh's tour of Sri Lanka. In that game, Bangladesh batted first. Opening the innings, Kayes scored 36 and shared an opening partnership of 71 with Soumya Sarkar to help propel Bangladesh to a first-innings score of 176/9. In reply, Sri Lanka were dismissed for 131. In his T20I career, Kayes had many starts that he failed to convert into big scores. For instance, he scored 22 against the West Indies in Dhaka in October 2011, 18 against Zimbabwe in Khulna in January 2016, 14 against India in Dhaka in February 2016. He played his last T20I against South Africa in Potchefstroom on 29 October 2017.
This player is currently a member of these teams: