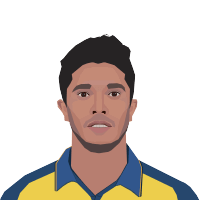 Kusal Mendis
Sri Lanka
Age
February 2, 1995 (26 years)
Batting Style
Right Handed
Kusan Mendis (born 2 February 1995) plays as a wicket-keeper-batsman in all 3 formats for Sri Lanka. A youth prodigy, he made the best of his immense talent to pave the way to the senior national team. Mendis bats at number 3 in all formats. In 2013, he was named the Schoolboy Cricketer of the Year in Sri Lanka.
Team played
Sri Lanka, Bloomfield Cricket and Athletic Club, Sri Lankan Board XI, Colombo Cricket Club, Moors Sports Club, Sri Lanka Under-19, Rest of Sri Lanka, Sri Lanka Cricket Board President XI, Sri Lanka Under-23, Galle, Kurunegala Warriors, Sri Lankans, Colombo District, Dambulla
Test Career and Debut
Mendis was captain of the Sri Lanka U19 team during the 2014 U19 World Cup. He played his first Test versus the Windies in 2015 at home scoring 13 and 39 on debut. His first Test fifty was made in a match against England later that year. Mendis' first ODI was played versus Ireland in June 2016 with him scoring a fifty on debut.
In July 2016, Mendis stroked his first Test hundred versus Australia at home. He went into the record books as the youngest Sri Lankan to crack a hundred versus Australia. His brilliant performance helped Sri Lanka score a 106-run victory and won him the Player of the Match award.
ODI Career and International Progress
Later on, in a Tri-Nation ODI tournament in Zimbabwe, Mendis clobbered 94 versus the Windies to help his team achieve 330 in 50 overs. Sri Lanka won the close match by 1 run and Mendis was awarded Player of the Match. He also scored a fifty in the final versus Zimbabwe which played a key role in his nation winning the tournament. For his efforts, Mendis was awarded Man of the Series.
After that, in a Test played at Galle against Bangladesh, Mendis scored 194. In March 2017, he cracked his first ODI hundred against the same team but the rest of the match was rained off. In the 2017 Champions Trophy, Mendis clobbered 89 to help Sri Lanka successfully chase 321 versus India. In June 2017, while playing against Zimbabwe, he reached the landmark of 1,000 runs in ODIs.
In 2018, Mendis stroked his 4th Test century (196) in a match against Bangladesh. In addition, he performed well in other Tests of the series as well. However, he didn't have much success during Asia Cup in 2018 getting out for a duck in both group games.
At the end of 2018, Mendis clobbered his 6th Test hundred playing against the Kiwis on an away tour. Interrupted by rain several times, the match ended in a draw. In the next Test, Mendis reached the landmark of 1,000 runs in Tests in 2018. He had the second-best Test run tally that year with 1,023 runs at 46.50 with 3 hundreds and 4 half-centuries.
Test Stats
As of July 2020, Mendis has played in 44 Tests, amassing 2,995 runs at an average of 36.97 with 7 hundreds and 11 fifties. His highest Test innings score is 196.
ODI Stats
Speaking of ODIs, Mendis has starred in 76 of them, cracking 2,167 runs at an average of 30.52 and scoring rate of 84.68 with 2 hundreds and 17 fifties. His highest ODI score is 119.
T20I Stats
Mendis has also participated in 26 T20Is, clobbering 484 runs at an average of 18.61 and scoring rate of 131.52 with 5 half-centuries. His highest T20I score is 79.
Personal Life
In July 2020, Mendis got involved in a car accident in Panadura, Sri Lanka, which caused the death of an elderly cyclist. As a result, Mendis was arrested but later released on bail.
This player is currently a member of these teams: