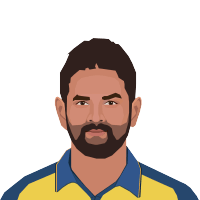 Lahiru Thirimanne
Sri Lanka
Age
August 9, 1989 (33 years)
Batting Style
Left Handed
Bowling Style
Right-arm medium fast
Lahiru Thirimanne, a left-handed batsman and a part-time right-hand bowler, has played for Sri Lanka in all three International formats. His career has involved rare moments of brilliance followed by many substandard performances. The inconsistency of the player made the team management put him at different positions in batting lineup although one might say the top order suited him more.
Team played
Sri Lanka, Basnahira South, Sri Lankan Board XI, Ragama Cricket Club, Sri Lanka A, Sri Lanka A, Sri Lankan Invitation XI, Uva Province, Sri Lanka Under-19, Ruhuna Royals, Rest of Sri Lanka, Sri Lanka Cricket Board President XI, Kandurata Maroons, Prime Bank Cricket Club, Sri Lanka Cricket Development XI, Udarata Rulers, Dhaka Platoon, Colombo, Kandy, Galle, Kandy Crusaders, Colombo District, Mannar District, Team Srilankan Cricket
ODI CAREER
Lahiru Thirimanne, a talented left-handed batsman from Sri Lanka, was selected for the national team in 2010 for a tri-series in Bangladesh as a result of a previous stellar domestic performance – 709 runs in 8 matches playing for Ragama Cricket Club (RCC). He made his debut in that series against India and scored 22 in a successful chase by Sri Lanka.
Lahiru Thirimanne played just 3 games in 2010 and none in 2011. He was included in the squad again in 2012 and in the period until 2015 he became somewhat consistent with the Sri Lankan team. During his career, Lahiru Thirimanne was tried at different batting positions however a position in top 3 suited his batting perfectly. The facts speak fro themselves: all 4 of Thirimanne's ODI centuries have come while batting in the top order. Moreover, Lahiru Thirimanne was successful as a finisher as well.
In Asia Cup 2014, Lahiru Thirmanne topped the list of run-scorers with 297 runs with an average over 55 achieved in just 5 games. In the finals of that Asia Cup, Thirimanne scored a run-a-ball century as an opener to guide Sri Lanka to a victory chasing 261 against Pakistan.
In the World Cup 2015, Thirimmanne scored 302 runs whereas managed to get only 143 in the 2019 ODI World Cup. Thirimanne's highest score of 139 came in a big chase against England. He and Sangakkara came together for a 212-run partnership for the second wicket in a successful chase of 310 runs. Lahiru Thirimanne also captained Sri Lanka in 5 ODIs but could win only one of them.
TEST CAREER
Lahiru Thirimanne has the grace, head, and technique of a Test player however inconsistency in performances made him play very few Test matches. He was selected as a backup opener in the Sri Lankan squad that toured England in 2011. He made the Test debut against England in 2011 when regular opener Dilshan was ruled out. He demonstrated exceptional confidence playing in away conditions and managed to stay on the field for 2 and a half hours to help Sri Lanka save the Test match. Immediately he was announced the 'player of the future'.
Lahiru Thirimanne's highest score, and his only century, in Test cricket – 155 not out – came against Bangladesh in a Test match at Galle. Despite playing for 8 years for Sri Lanka, Thirimanne is not the mainstay of the team yet and has managed to play just 35 Tests overall for Sri Lanka. He has been compared with Kumar Sangakkara for his style and technique but one can agree that he hasn't yet achieved his full batting potential.
In 35 Tests, Lahiru Thirmanne has scored 1404 runs at an average of 22.64 with 1 century and 6 half-centuries.
This player is currently a member of these teams: