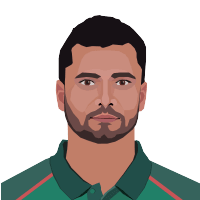 Mashrafe Mortaza
Bangladesh
Age
October 5, 1983 (38 years)
Birth Place
Norail, Jessore
Batting Style
Right Handed
Bowling Style
Right-arm fast medium
Bangladesh fast bowler Mashrafe Mortaza demonstrated his brilliant potential at a young age that allowed him to embark on a long international career that was unfortunately plagued by injury woes. In fact, he was in and out of the team with at least six major injury-related breaks.
Team played
Bangladesh, Asia XI, Bangladesh A, Bangladesh Invitation XI, Khulna Division, Sylhet Division, Kolkata Knight Riders, Dhaka Gladiators, Bangladesh Cricket Board XI, Rangpur Rangers, Bangladesh South Zone, Bangladesh East Zone, Abahani Limited, Kalabagan Krira Chakra, Sheikh Jamal Dhanmondi Club, Mohammedan Sporting Club, Legends of Rupganj, Dhaka Platoon, Cumilla Warriors
While his Test career ended prematurely in 2009, Mortaza had a much longer performance in ODIs. However, Mortaza's real value was in his leadership skills that helped a talented team to stay the course and develop into a world-class squad. Bangladesh selectors always relied on Mortaza's willingness to lead the team, accounting for his endurance in the game despite his proneness to injury. Mortaza must be given credit for developing the winning habit of the squad. While he won the only Test match he led the team in, Mortaza had his best captaincy record in ODIs. Out of 88 matches he skippered, Mashrafe won 50 and lost 36 with two matches ending without result.
ODI Career
Mashrafe Mortaza played his first ODI game in November 2001 against the visiting Zimbabwe team at Chattogram and took 2/26 in a match that Bangladesh lost. He became a regular member of the Bangladesh team with his wicket-taking ability. However, being injury-prone, he was in and out of the side. In December 2004, upon his comeback to cricket after a 15-month break caused by an injury, he helped Bangladesh register a 16-run win against India with an all-round Man of the Match performance, including 31 unbeaten runs, 2 wickets and 2 catches. In an ODI tri-series held in England, Mortaza's 1/33 from 10 overs, including the dismissal of Gilchrist for a duck, gave Bangladesh their first-ever win against Australia.
In August 2006 on a tour of Africa, Mortaza highlighted his batting ability with an unbeaten 43 to help chase down a target of 185 from a precarious position of 120/7. In the next match, he recorded his career-best figures of 6/26 to skittle out Kenya for a low score. 2006 proved to be a great year for Mortaza who had the highest haul of 49 wickets in ODIs. Ahead of the World Cup in 2007 in Zimbabwe, Bangladesh beat the hosts 3-1 with the help of Mortaza's eight wickets at 16.50. Later in the group match of the Cup, Mortaza's 4/38 led to a shocking defeat of India. Mashrafe finished the World Cup with nine wickets at an average of 35.88.
In March 2008, Mortaza's four wicket haul at 22.75 helped his side to score a victory over the visiting Ireland team in a series that Bangladesh won 3-0. In October that year, Mortaza's 4/44 was instrumental in giving his side their maiden victory over the touring New Zealand side.
Mashrafe led the Bangladesh squad to the 2019 World Cup, where he got just one wicket in nine matches; his retirement was clearly imminent and it came after the Bangladesh tour of Zimbabwe that the visitors won 3-0 to give Mortaza his 50th ODI win as captain. In 220 ODI matches, Mashrafe Mortaza took 270 wickets at an average of 32.93 with the best bowling figures of 6/26. He also scored 1787 runs at 13.74 with the best score of 51 not out.
Test Career
Mashrafe Mortaza played his first Test match against the visiting Zimbabwe side in November 2001, taking 4/106 in the rain-curtailed match. His first victim was Grant Flower. After he had played just four Test matches an injury struck, keeping Mortaza out of international cricket until 2003. In November 2003, playing against the visiting England side, Mortaza ended the two-Test series with eight wickets, including his best figures of 4/60 before another injury struck to keep the fast bowler out of cricket until December 2004 when India toured Bangladesh for a two-Test series. Mortaza snared five wickets, including that of Dravid, in a series that India won 2-0. Bangladesh registered their first win in Tests against the touring Zimbabwe team in 2005, with Mortaza taking nine wickets and scoring 93 runs in the two-match series. After a two-Test match tour of England in which he took four wickets at 49.50, Mortaza played a whole two-Test series against the visiting Australia side. After the ODI World Cup in 2007, India toured Bangladesh for a two-Test series. Mortaza ended the series as his side's best batsman and bowler, with 151 runs at 50.33 and 6 wickets taken at 38.33 average. In the 2007-08 tour of New Zealand, Mortaza was once again Bangladesh leading wicket-taker with seven taken at 26.85. Unfortunately, his persistent injury problems cut Mortaza's Test career short which ended in 2009. In 36 Test matches, Mashrafe Mortaza took 78 wickets at 41.52 with the best bowling figures of 4/60. He also scored 797 runs at an average of 12.85 with the best score of 79.
T20I Career
Mashrafe Mortaza made his T20I debut against the visiting Zimbabwe team in the 2006 – 2007 season. He scored 36 runs and took 1/29 to help his side win the match. Arguably, his finest T20I performance came in 2012 against Ireland in Belfast when he took 4/19 to help restrict Ireland to a score of 140/8. Bangladesh won the match by two wickets on the last ball of the match. Another fine all-round performance came during Bangladesh tour of Ireland and Holland, in a match against Scotland played in July 2012 when he took for 2/22 to restrict Scotland to 162/7. In reply, however, Bangladesh made just 128, with Mortaza scoring 30 to emerge Bangladesh top scorer.
With figures of 1/8 and 1/23, Mashrafe helped Bangladesh register wins against Afghanistan and Nepal for a fine start to the 2014 T20 World Cup held in Bangladesh, though the team exited the competition with losses in all other group games. Though Bangladesh were generally unimpressive in T20I World Cups, under Mortaza's captaincy, they performed exceedingly well in the Asia Cup that took place in Bangladesh in March 2016. After a loss in the opening match against the hosts, in which Mortaza took 1/40, the Bangladesh skipper led his team to three successive wins against the UAE, Sri Lanka and Pakistan, with bowling figures of 2/12. 1/17. and 1/29, to propel them into the final where they, unfortunately,  lost to India. However, Mortaza managed to end his T20I career on a winning note in April 2017 when his 1/30 enabled Bangladesh to restrict Sri Lanka to 131 after setting them a winning target of 177. In 42 T20I matches, Mashrafe Mortaza took 42 wickets at 36.35 with the best bowling figures of 4/19. He also scored 377 runs at 13.46 with the best score of 42.
IPL Career
Mashrafe Mortaza was part of the IPL 2009 squad of the Kolkata Knight Riders. He played just one match, against Mumbai Indians, conceding 58 runs in 4 overs, without taking a wicket, at an economy rate of 14.50. In the batting, he remained not out on 2.
This player is currently a member of these teams: