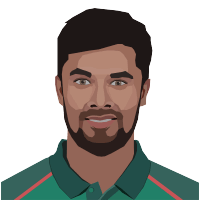 Sabbir Rahman
Bangladesh
Age
November 22, 1991 (30 years)
Batting Style
Right Handed
Sabbir Rahman is a solid top- and middle-order batsman, a part-time leg spinner and an awesome fielder who has played for Bangladesh in all the three formats of the game. The all-round abilities of this cricketer from Rajshahi made him a part of the Bangladesh international squad for 2 T20I World Cups, in 2014 and 2016, and 2 ODI World Cups, in 2015 and 2019.
Team played
Bangladesh, Bangladesh A, Rajshahi Division, Barisal Burners, Sylhet Thunder, Bangladesh North Zone, Bangladesh Under-23, Prime Bank Cricket Club, Kalabagan Cricket Academy, Abahani Limited, Prime Doleshwar Sporting Club, Legends of Rupganj, Cumilla Warriors, Barisal Bulls, Peshawar Zalmi, Rajshahi Royals, Mahmudullah XI
However, an average close to 25 in all three formats of the game suggests that he hasn't been able to achieve his full potential yet with his playing style more suitable for the shorter formats.
ODI Career
Sabbir Rahman is a reliable middle-order batsman who plays for Bangladesh. He also represented Bangladesh in the ICC U-19 World Cup held in New Zealand in 2010 as well as in the Asian Games. Despite being around the first-class circles since the age of 16, it took some time for Sabbir Rahman to be selected for the national side.
Sabbir Rahman made his ODI debut in 2014, a day before his 23rd birthday, against Zimbabwe at Chattogram. He made a quickfire 44 not-out off just 25 deliveries to help Bangladesh score 281 in 50 overs. The knock included 3 fours and 3 maximums. Bangladesh defended the score successfully to clinch a win by 87 runs.
Sabbir Rahman's professional and mature approach to batting and his excellence in fielding helped him get a spot in the 2015 World Cup squad despite being less experienced than the rest of the team. One can say, he did alright by scoring 182 runs in six innings.
Sabbir Rahman's highest score in ODIs came in an away series played in New Zealand in February 2019. He scored a century, 102 Runs, in an improbable chase of 331 which Bangladesh lost by 88 runs. Although Sabbir made it to the Bangladesh Squad for the 2019 ICC ODI World Cup in England he got to play only 2 games and ended up scoring just 36 runs.
Overall, in 66 ODIs played since 2014 to date, Sabbir Rahman has scored 1333 runs at an average above 25 and a healthy strike rate of 91.23. He has scored a single century and 6 half-centuries.
Test Career
Sabbir Rahman made his first-class debut aged 16 playing for Rajshahi Division against Barisal Division at Rajshahi in 2008. Slowly and steadily he made T20I and ODI debuts in 2014. However, the inconsistent performance made him wait for a Test call-up until 2016.
In October 2016, Sabbir Rahman made the Test debut for Bangladesh against England in a home game at Chittogram. Sabbir Rahman scored 19 in the first innings, however, he almost clinched a thriller for Bangladesh in the second innings. Chasing 286 in the fourth innings, the debutant came to the crease at 5 for 140. At first, he steadied the ship in a partnership with Mushfiqur Rahim and then threatened to take the game away from England with a gritty half-century. In the end, Rahman remained stranded at one end on a well compiled 6 as Bangladesh agonisingly fell short by 22 runs.
Sabbir Rahman played Test from 2016 to 2018 while did not play a single match in 2019 and 2020. He played the most number of Tests (11) in 2017 and scored 382 runs at an average of 25. Overall, Sabbir Rahman has played just 11 Tests for Bangladesh scoring 481 runs at an average of 24.
T20I Career
Although Sabbir Rahman made the first-class debut at the age of 16 and played in the Under-19 World Cup as well, his moment of glory came in the 2010 Asian Games in a T20 match against Afghanistan. When Bangladesh needed 44 runs in the last 5 overs Sabbir Rahman hit three sixes in an innings of 33 off just 18 balls. That innings helped Bangladesh win a Gold Medal in the Asian Games.
That was the first glimpse of Rahman's abilities in the shorter format of the game. He eventually made the Bangladesh debut in February 2014 against Sri Lanka at Chittogram. Interestingly, all three international debuts for Sabbir Rahman were made at Chattogram. In the debut T20I match, Sabbir Rahman became a top scorer with 26 runs in the first innings of a low scoring game that Sri Lanka won on the last ball of the match.
Sabbir Rahman has been excellent playing against India with 236 runs at an average of 47.20 in 6 innings. Rahman's top score in T20I came against Sri Lanka in Dhaka when he scored 80 coming in at number three in a low scoring game. The next best score in that match was 37. Bangladesh comfortably won the match by 23 runs.
Overall, in 44 T20Is, Sabbir Rahman has scored 946 runs at an average close to 25. The strike of 120 does not truly demonstrate his big-hitting abilities.
This player is currently a member of these teams: