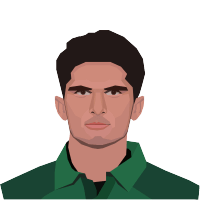 Shaheen Afridi
Pakistan
Age
April 6, 2000 (21 years)
Birth Place
Khyber Agency
Batting Style
Left Handed
Bowling Style
Left-arm fast
Shaheen Afridi of Pakistan is a promising left-arm pace bowler. He played his first Test in December 2018.
Team played
Pakistan, Balochistan, Hampshire, Khan Research Laboratories, Pakistan A, Pakistan Under-19, Khyber Pakhtunkhwa, Dhaka Platoon, Lahore Qalandars, Pakistanis, Pakhtoons, Rotterdam Rhinos, Northern, Birmingham Phoenix
Shaheen came to the limelight in 2017 as a noticeably tall (6 ft. 6 in.) quick bowler who could deliver at an amazing speed of 90 mph and play big shots with the bat. Shaheen wants to excel in batting, bowling and fielding to become an accomplished all-rounder.
Early Life
Shaheen's eldest brother, Riaz Afridi, was also a Test cricketer who appeared in a single game in 2004 for Pakistan. Riaz helped Shaheen to notice and realise his cricketing talent by guiding him in his early years. Shaheen toured Australia in November 2015 as part of the Pakistan Under-16 team and helped his side to win the T20 and one-day series.
T20 and Domestic Career
Shaheen played for Pakistan's Under-19 squad in the youth Asian Cup held in Sri Lanka in December 2016. He signed a contract to play for Dhaka Dynamites in the BPL (Bangladesh Premier League) in September 2017. His first-class debut was with Khan Research Laboratories in September 2017 during the Quaid-e-Azam Trophy. He scored 8/39 in the 2nd innings in that match which was the best result achieved by a bowler in Pakistan on his first-class debut.
International Career
Shaheen played his first T20I game versus West Indies in April 2018. He appeared in his first ODI match versus Afghanistan in September 2018. His first Test was played against the Kiwis in December 2018. In the 2019 ODI World Cup, Shaheen took 6/35 in a group match versus Bangladesh. This made him the youngest bowler to claim a five-for in a world cup game. In December 2019, Shaheed recorded his first five-wicket haul in Tests versus Sri Lanka.
Comparison with Mitchell Starc
Compared to Wasim Akram who was shorter and relied on swing rather than bounce, Shaheen is a fast bowler of a different type. Famous coach Mickey Arthur has compared Shaheen to Australian left-arm pacer Mitchell Starc. From the start, Shaheen has shown impressive results in international cricket but needs to continue to work hard in order to achieve his full potential.
This player is currently a member of these teams: