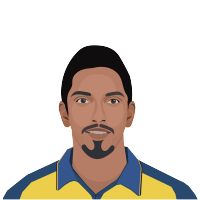 Vishwa Fernando
Sri Lanka
Age
September 18, 1991 (30 years)
Batting Style
Right Handed
Bowling Style
Left-arm medium fast
Team played
Sri Lanka, Bloomfield Cricket and Athletic Club, Colombo Cricket Club, Sri Lanka A, Wayamba, Uva Next, Sri Lanka Cricket Board President XI, Sri Lanka Cricket Development XI, Colombo, Kandy, Colombo Commandos, Colombo District, Dambulla, Team Srilankan Cricket, Team Sri Lanka
Test Career
Vishwa has played 8 Tests and taken 23 wickets at 33.56. He played his first Test match against Australia in Galle on 16 August 2016. He took 1/16 in a match that Sri Lanka won by 229 runs. Vishwa achieved his best bowling figures against South Africa in Durban in February 2019. In that game, South Africa batted first and scored 235. Fernando took 4/62, accounting for the dismissals of Markram, Elgar, Maharaj and Rabada. After dismissing Sri Lanka for 191 to take the first-innings lead, in the second innings, South African batsmen were tormented for a second time by Fernando when he took 4/71 to help dismiss them for 259. With a set target of 304, Sri Lanka achieved it with one wicket in hand. Vishwa had another match-winning effort when he took 3/62 and 1/32 to help bowl out South Africa for 222 and 128 in Port Elizabeth in the next match. Fernando last appeared in a Test against Zimbabwe in Harare in January 2020.
ODI Career
Vishwa has taken 5 wickets in 8 ODI games at 67.40. He played his first game against India in Dambulla in August 2017. Unfortunately, his five wickets have come in five separate games, none of which have been won by Sri Lanka. Fernando last appeared in an ODI against South Africa in Centurion in March 2019.
T20I Career
Vishwa Fernando has played only one T20I game against India in Cuttack. In that match, on 20 December 2017, India batted first and scored 180/3. Fernando had bowling figures of none for 16. In reply, Sri Lanka were bowled out for 87 in 16 overs. Vishwa scored only 2 runs.
This player is currently a member of these teams: