25.08.2020,14:08 1068 0
Highest Individual Scores in T20Is: Aaron Finch Is the Leader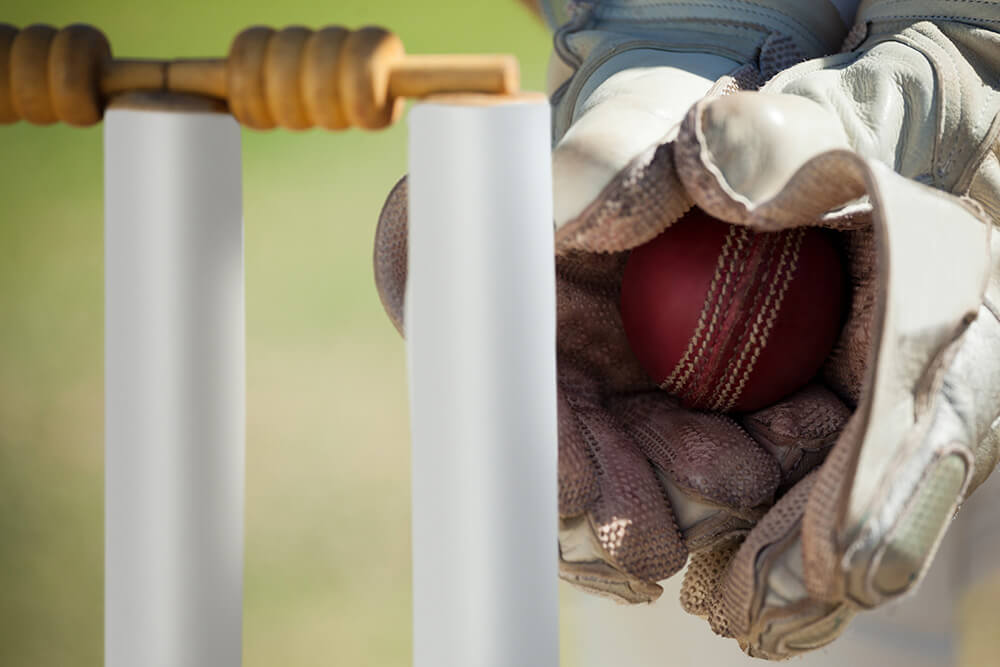 1. Aaron Finch (Australia): 172 versus Zimbabwe at Harare in 2018
size-full" src="https://www.cric-life.com/wp-content/uploads/2020/06/banner.jpg" alt="" width="600" height="160" srcset="https://www.cric-life.com/wp-content/uploads/2020/06/banner.jpg 600w, https://www.cric-life.com/wp-content/uploads/2020/06/banner-300x80.jpg 300w" sizes="(max-width: 600px) 100vw, 600px" />
The game of cricket has seen many changes in its international history. Tests began as endless matches which then became shortened to five days. Then, 60-over ODIs started, later being reduced to 50 overs. In the early 2000s, T20 cricket was introduced in England and has since become the most popular format in the world. This type of "popcorn cricket" means much shorter and exciting games that give the spectators and TV viewers the best value for their time and money.
The first T20 game was played in June 2003 between two county teams in England. The first T20I World Cup was organised in 2007 and was won by India which lead to the format's growing popularity in the subcontinent and, as a consequence, to the birth of the IPL (Indian Premier League) as well as several other T20 leagues around the world. There is no doubt that this format has done a world of good to players' overall fitness and drastically increased the enthusiasm of the audience.
Bats have become bigger and batters no longer fear fast bowlers but can even drive or pull them out of the park. Besides that, T20 matches are unpredictable and a single over can change a game's direction. The numbers of sixes and fours have increased and cracking a century is not considered that difficult anymore.
In this article, you will find interesting facts and details about the top 10 highest individual scores in T20Is. Though grounds are smaller and rules are more lenient towards batsmen in T20 games, these tall scores are still commendable and illustrate the immense hitting power of each batsman that has managed to achieve the feat.
The HiThe Highest Individual Scores Ever Made in T20 International Cricketron Finch (Australia): 172 versus Zimbabwe at Harare in 2018
Aussie blaster Aaron Finch holds both first and third places on this list. He is the current skipper of Australia's T20 side. Finch's knock of 172 came against Zimbabwe at Harare in July 2018 and helped him reach the 900-point mark in the ICC T20I batsmen rankings. Finch made his T20 debut in January 2011 at Adelaide against England.
In this game, Finch smashed 172 off 76 balls to help his team amass 229/2 in their twenty overs. He was ably supported by D'Arcy Short who scored 46 off 42. Together, they put up 223 for the first wicket. In reply, the Zimbabweans were restricted to 129/9. Andrew Tye starred for the Aussies with the ball, picking up 3/12 in his four overs.
2. Hazratull2. Hazratullah Zazai (Afghanistan): 162* versus Ireland at Dehradun in 2019his international debut at the age of 21, Hazratullah Zazai has a bright future in the game in front of him. He has the right talent to hit big sixes and score rapidly, which makes this left-hander a great asset for Afghanistan. His batting style perfectly fits T20 matches and he has already played a few vital knocks in this format.
One of them came against Ireland in February 2019 at Dehradun. Zazai clobbered 162 runs off 62 balls with 16 sixes and 11 fours to рудз Afghanistan rack up 278/3. He was ably assisted by Usman Ghani with 73 off 48 and the duo were involved in a 236-run partnership for the opening wicket. The Afghans restricted the Irish to 194/6 to run out winners by 84 runs. Rashid Khan starred for Afghanistan with 4/25 in his four overs.
3. Aaron Finch (3. Aaron Finch (Australia): 156 versus England at Southampton in 2013lier, Aaron Finch also holds third place on this list. He stroked 156 off 63 balls with 14 sixes and 11 fours against England at Southampton in 2013. His rapid essay helped the Aussie amass 248/6. The score includes useful contributions from Shaun Marsh (28 off 21) and Shane Watson (37 off 16).
England replied bravely and also scored over 200 runs, ending up with 209/6. Joe Root's 90 with 49 deliveries became the top score. Mitchell Johnson and Josh Hazlewood picked up two wickets apiece to aid the Australian 39-run triumph.
4. Glenn Maxwell (4. Glenn Maxwell (Australia): 145* versus Sri Lanka at Pallekelle in 2016ww.cric-life.com/player/glenn-maxwell/" target="_blank" rel="noopener noreferrer">Glenn Maxwell is a much sought-after player in T20 leagues because of his big-hitting ability. He can play dramatic shots as well as improvise to score runs at a fast pace. Maxell made his T20 debut in September 2012 against Pakistan.
In a match against Sri Lanka at Pallekelle in 2016, he opened the innings and cracked 145 not out off 65 balls with 9 sixes and 14 fours. Other useful contributions came from David Warner (28 off 16), Usman Khawaja (36 off 22) and Travis Head (45 off 18). Those scores helped Australia reach 263/3 in their 20 overs.
The Lankans were restricted to 178/9 which included helpful knocks from Dinesh Chandimal (58 off 43) and Chamara Kapugedara (43 off 25). Mitchell Starc and Scott Boland claimed three wickets each to help the Aussies win by 85 runs.
5. George Munsey (5. George Munsey (Scotland): 127* versus the Netherlands at Dublin in 2019Munsey has improved his batting skills taking part in global T20 leagues. He is fifth on this list with an unbeaten 127 off 56 balls with 14 sixes and 5 fours scored against the Dutch team at Dublin in September 2019. He was supported by fellow opener Kyle Coetzer's 89 off 50 balls and the duo shared a 200-run opening wicket partnership.
Scotland notched up 252/3 and then limited the Netherlands to 194/7 to run out victors by 58 runs. Alasdair Evans and Adrian Neill were the star bowlers with 2 wickets each. For the Netherlands, Pieter Seelaar made the highest score with his 96 off 49 with 5 sixes and 9 fours.
6. Evin Lewis (West 6. Evin Lewis (West Indies): 125* versus India at Kingston in 2017 T20I debut against Afghanistan in March 2016. He has been nicknamed 'Junior Gayle' for his aggressive batting. Lewis has two T20I hundreds under his belt. In that match, India batted first and racked up 190/6 with useful contributions from the top four batsmen.
Evin Lewis then blasted an unbeaten 125 off 62 balls with 6 fours and 12 sixes to help the Windies overhaul the target in just 18.3 overs. He was assisted by Marlon Samuels (36 off 29) and their quick second-wicket partnership took the Windies to the target.
7. Shane Watson (Austral7. Shane Watson (Australia): 124* vs India at Sydney in 2016 all three formats and set numerous records during his career. His first T20 match was played in February 2003 against South Africa. He retired in 2016 as the world's top-ranking all-rounder in T20I cricket. He clobbered 124 not out off 71 balls with 6 sixes and 10 fours. The next best contribution was Travis Head's 26 off 19.
The Aussies scored 197/5 but this target was eclipsed by India in the last ball of their 20th over. Top scorer Rohit Sharma, with 52 of 38, received good support from Virat Kohli (50 off 36) and Suresh Raina (49 off 25).
8. Kevin O'Brien (Irel8. Kevin O'Brien (Ireland): 124 versus Hong Kong at Al Almerat in 2019fe.com/player/kevin-obrien/" target="_blank" rel="noopener noreferrer">Kevin O'Brien was the first Irish player to stroke a T20I hundred. He achieved the feat against Hong Kong in the 2019 Oman T20I series. O'Brien opened the innings and smacked 124 in 62 balls with 7 sixes and 12 fours to help the Irish to 208/5.
Ireland then restricted Hong Kong to 142/9 to win by 66 runs. Gareth Delany, Stuart Thompson and Boyd Ranking bagged two wickets in the Irish bowling effort. For Hong Kong, useful efforts came from Haroon Arshad (45 off 27 balls) and Ehsan Khan (28 off 19) but their knocks were made in vain.
9. Brendon Mccullum (New Zealand9. Brendon Mccullum (New Zealand): 123 versus Bangladesh at Pallekelle in 2012>skipper of New Zealand in all 3 formats. He set the world record for the quickest Test century and had a successful career as a wicket-keeper-batsman. McCullum was the first player to crack two T20I hundreds and reached over 2,000 runs in this format.
In a match played against Bangladesh at Pallekelle, Sri Lanka, in September 2012, he smashed 123 runs off 58 deliveries with 7 sixes and 11 fours to help the Kiwis amass 191/3. They then limited Bangladesh to 132/8 to win by 59 runs. Kyle Mills and Tim Southee were the star bowlers for New Zealand with three scalps each.
10. Babar Hayat (Hong Kong): 12210. Babar Hayat (Hong Kong): 122 versus Oman at Fatullah in 2016 a Hong Kong cricket player. He is the current skipper of Hong Kong's ODI team. His first T20 match was played against Nepal in March 2014 in which he scored 20 off 25 deliveries. He holds the record for the highest T20 individual score in the second innings. Moreover, Hayat is the first Hong Kong batsman to stroke a double hundred in first-class cricket.
In a match held at Fatullah in 2016, Oman batted first and clobbered 180/5 aided by Jatinder Singh's 42 off 35 balls. In reply, Hayat came in at no. 3 and smashed 122 off 60 balls with 7 sixes and 9 fours. However, his effort was in vain as Hong Kong was only able to reach 175/7 and lost the game by 5 runs.
Highest individual score in Twenty20 International cricket as of May 2020, by player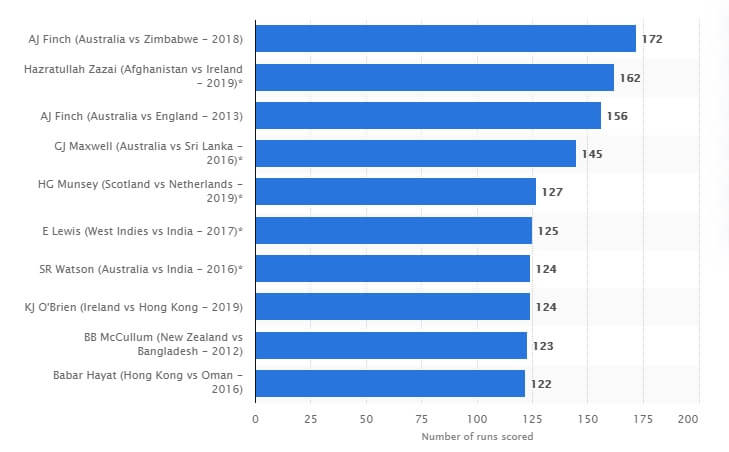 Similar articles