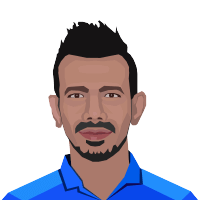 Yuzvendra Chahal
India
Age
July 23, 1990 (31 years)
Birth Place
Jind, Haryana, India
Batting Style
Right Handed
Team played
India, India A, North Zone, Royal Challengers Bangalore, Mumbai Indians, Haryana
Batting Career Summary
| | | | | | | | | | | | | |
| --- | --- | --- | --- | --- | --- | --- | --- | --- | --- | --- | --- | --- |
| | M | Inn | NO | Runs | HS | Avg | BF | SR | 100 | 50 | 4s | 6s |
| ODI | 57 | 10 | 4 | 53 | 18* | 8.83 | 90 | 58.89 | 0 | 0 | 7 | 0 |
| T20I | 52 | 4 | 2 | 5 | 3* | 2.5 | 11 | 45.45 | 0 | 0 | 0 | 0 |
| Test | 0 | 0 | 0 | 0 | - | - | 0 | - | 0 | 0 | 0 | 0 |
| IPL | 99 | 15 | 11 | 26 | 8* | 6.5 | 62 | 41.94 | 0 | 0 | 0 | 0 |
Bowling Career Summary
| | | | | | | | | | | | | |
| --- | --- | --- | --- | --- | --- | --- | --- | --- | --- | --- | --- | --- |
| | M | Inn | B | Runs | Wkts | BBI | Econ | Avg | SR | 4W | 5W | 10W |
| ODI | 57 | 56 | 3067 | 2673 | 100 | 6/42 | 5.23 | 26.73 | 30.67 | 3 | 2 | 0 |
| T20I | 52 | 48 | 1125 | 1575 | 62 | 6/25 | 8.4 | 25.4 | 18.15 | 2 | 1 | 0 |
| Test | 0 | 0 | 0 | 0 | 0 | - | - | - | - | 0 | 0 | 0 |
| IPL | 99 | 98 | 2127 | 2685 | 120 | 4/25 | 7.57 | 22.38 | 17.73 | 1 | 0 | 0 |
CAREER PROFILE
Interestingly enough, Yuzvendra Chahal has represented India internationally in chess at junior levels. This fact explains why he treats cricket like a game of chess: carefully planning dismissals and catching batsmen in their moments of weakness.
The player's IPL and ODI career, spanning almost a decade, is, without any shadow of a doubt, worth paying the closest attention to.
IPL CAREER
Yuzvendra Chahal started his IPL career with Mumbai Indians (MI) way back in 2011. Despite being part of MI for three years, he participated in one game only in 2013, scoring no runs and taking no wickets.
In 2014, Yuzvendra Chahal was bought by Royal Challengers Banglore (RCB) for the base price of INR 10 Lakh. For the first time he played in all the matches of that season and since then he has been a vital part of RCB. In 2014, he was narrowly beaten in a race for the Emerging Player of the Year award. In IPL 2018 auctions, RCB used RTM (Right to Match) option to buy him back for a whopping price of INR 6 Crore.
Yuzvendra Chahal's strength has been his ability to bowl accurate leg-breaks and not be afraid of luring the batsman with flighted deliveries. Many of his scalps have come from mis-hits when batsmen were beaten while trying to go for big shots.
In overall IPL stats, Yuzvendra Chahal has played 84 games and has taken exactly 100 wickets – one of only 14 players in the IPL to have done so. He has an average of around 23 and he takes at least one wicket every 3 overs. Yuzvendra Chahal had his best IPL seasons in 2015 and 2016 where he ended up taking 23 and 21 wickets, respectively, with an excellent average of under 20.
ODI CAREER
A successful run with RCB and great performance in domestic circuits were increasing Yuzvendra's chances for the national call-up. Having Indian captain Virat Kohli as his IPL franchise captain was definitely of big help as well. Eventually, he made his ODI debut against Zimbabwe in Harare in June 2016.
In the second game of his debut series, Yuzvendra Chahal took 3 for 25 and was awarded the Man of the Match in India's 8-wicket victory against Zimbabwe. That Zimbabwe tour was a great opportunity for youngsters to make a mark at the International level and Yuzvendra Chahal took it with both hands.
In the 2018 ODI series against South Africa played away, Yuzvendra Chahal took 16 wickets in 6 games at an astonishing average of 16.37. He, alongside Kuldeep Yadav, demolished South Africa on their home soil.
Throughout his career, Yuzvendra Chahal has played 52 ODIs for India and has taken 91 wickets at an average of about 26. He has a great economy rate of about 5 runs per over and he takes a wicket every 5 overs in ODI cricket. He is currently ranked 13 in the ICC ODI ranking for bowlers.
This player is currently a member of these teams:
Bangalore / T20 (Indian T20 League)