07.10.2021,22:10 83 0
Inzamam-ul-Haq Is Reportedly Fine After Undergoing Angioplasty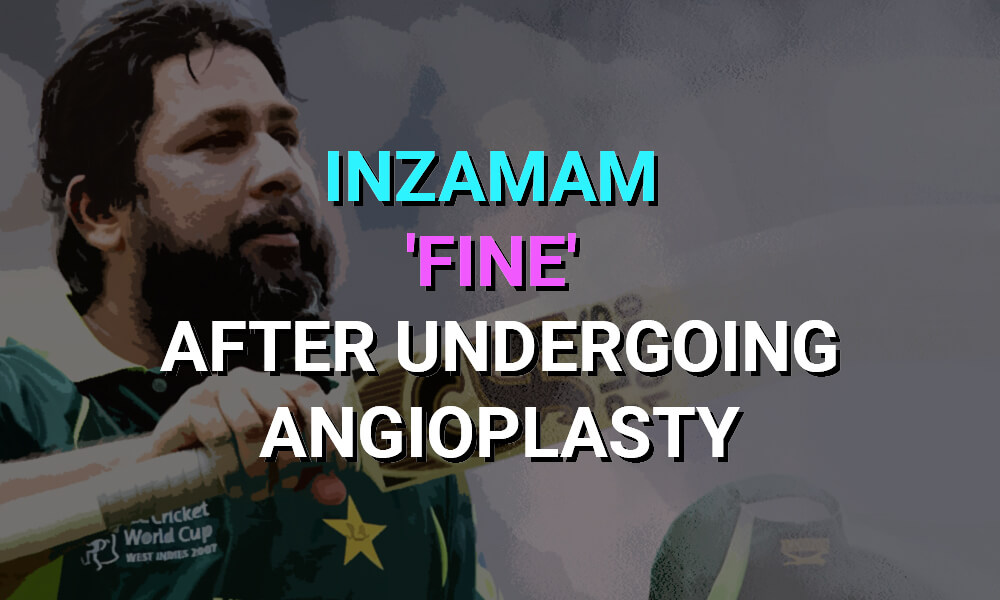 Former skipper of Pakistan Inzamam ul-Haq underwent angioplasty after detecting cardiac issues. After the detection of cardiac issues, Inzamam-ul-Haq had to undergo angioplasty. The 51-year-old former skipper of Pakistan clarified that he had not suffered a heart attack as rumoured and expressed gratitude for the good wishes he had received from people around the globe. After he experienced discomfort in the stomach, Inzamam was hospitalised on 28 September.
Inzamam's Video Statement
In a video uploaded by Inzamam to his YouTube channel, the former Pakistan batsman stated that he had gone to the hospital for a routine check-up following the discomfort he had felt in his stomach.
"I want to thank everyone in Pakistan and around the world for praying for my health. I want to thank the Pakistan people, and cricketers from Pakistan and around the world who sent their well-wishes."
"I saw reports saying I had suffered a heart attack. I did not. I went to my doctor for a routine check-up, who said they wanted to conduct an angiography. During angiography, they noted an artery of mine was blocked, so they inserted stents to alleviate that problem. It was successful and easy, and I came back home after just 12 hours at the hospital. I feel fine."
"I went to the doctor because I felt a very slight bit of discomfort. It wasn't even close to the heart area, but the stomach. Had I delayed getting it checked out, doctors said the heart could have been damaged."
Former Cricketers Wish Haq Well on Twitter
Immediately after news of Inzamam's hospitalisation, Twitter was inundated with messages from many former players who wished him a speedy recovery. A tweet from Wasim Akram read, "Dear Inzi, you have a beautiful heart. Seems like it's caught the evil eye. I was worried that someone with such a big heart was in such pain. Praying that you get better quickly so that your sweet heart can make everyone happy. My dearest friend, take good care. Let's meet soon."
In his tweet, Sachin Tendulkar said,
"Wishing you a speedy recovery @Inzamam08. You've always been calm yet competitive, and a fighter on the field. I hope and pray that you'll come out stronger from this situation as well. Get well soon."
An All-time Great of World Cricket
Inzamam is counted among the all-time greats of world cricket. No other Pakistani player has scored over 10,000 runs in ODI cricket. Inzamam was also a member of Pakistan's world cup-winning squad in 1992. He also featured in four other world cups. His match-winning 60 versus New Zealand in the world cup semifinal helped the side to their first-ever final in which Pakistan went on to beat England to lift the world cup trophy. Haq played 378 ODIs in which he made 11,739 runs. He also scored 8830 runs at 49.60 in 120 Test matches, with 25 tons, including his top score of 329 versus New Zealand in 2002, the second-highest Test score by a Pakistan player.
Post Retirement Role in Cricket
After his retirement from international cricket in 2007, Inzamam was appointed a batting consultant for the Pakistan team. He went on to become the chief selector, a position he held between 2016 and 2019. He also enjoyed a stint as head coach of the Afghanistan men's cricket team.
Similar news