22.02.2022,16:02 11393 0
Top Run-Scorers of IPL 2017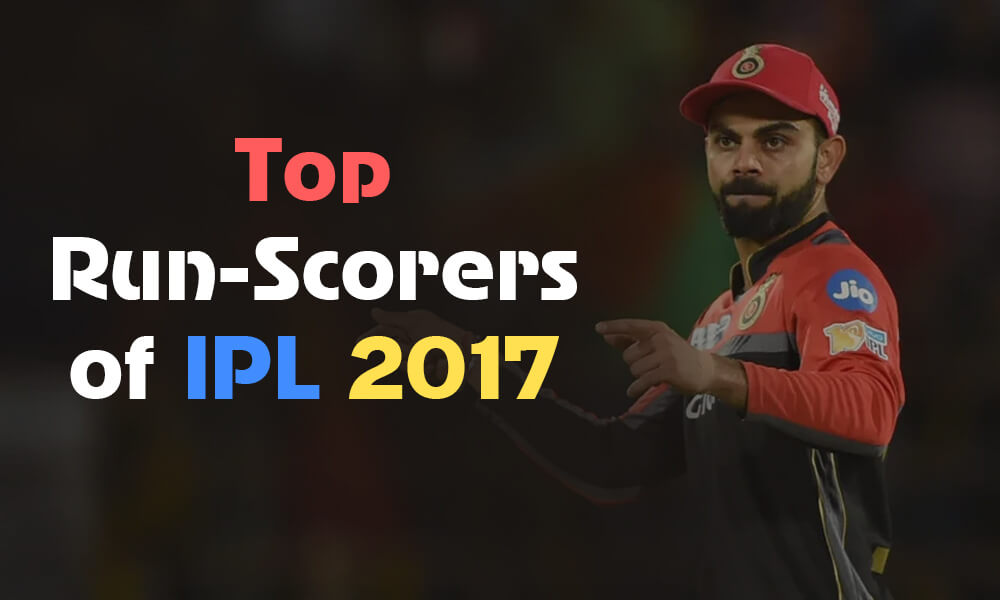 IPL 2017 was the 10th edition of the tournament that cricket lovers can't get enough of. From smashing sixes to fabulous fours, here are the top run-scorers for this season of the tournament. Take a look!
#5 Suresh Raina
This soft-spoken Indian batsman has been a crucial part of the Chennai Super Kings franchise for a long time. However, he secured the fifth position as the scorer of the most runs in IPL 2017 with Gujarat Lions. Raina hit 442 total runs in fourteen matches, which included three half-centuries. The best innings from him was 84 not out. He also had a strike rate of 143.97.
In his stint in the tournament so far, Raina has scored a total of 5,495 runs.
He holds the distinction of being the player with the most IPL matches
.
As per his scores, he is also one of the skilled batsmen with the finest centuries coming from him each season.
#4 Steve Smith
This performer from Sydney is one of the most talented batsmen of this generation. During the tenth edition of IPL, he scored a total of 472 runs in fifteen matches, which included three half-centuries. His strike rate was 121.96 and his season average was 39.33. His best performance of the season was 84 not out.
In IPL 2020, this right-handed batsman played a total of 95 games, which took his score to more than 2300 runs, which included one century and eleven half-centuries. He had a fine run with the bat in 2021.
#3 Shikhar Dhawan
This left-handed batsman might currently represent his city Delhi in IPL, but he was playing for Sunrisers Hyderabad in 2017. He showed that Hyderabad had made the right choice in him by hitting 479 runs in fourteen matches. It included three half-centuries. His strike rate was 127.39 and his season average was 36.84. 77 runs were his best from IPL 2017.
Going by the current statistics, Dhawan has played in 159 matches in different IPL editions. It has brought his score up to 4,579 runs and the strike rate and average stand at 124.80 and 33.42 respectively. His 97 runs stint in 2019 was the one to watch because of his fiery way of hitting the shots. He is also a regular in the international team because of his consistency.
#2 Gautam Gambhir
This Delhi-born batsman was representing Kolkata in the tenth edition of the tournament. In this season, Gambhir was in his element as he hit 498 runs in sixteen matches that included four half-centuries. 41.50 was his season average and 128.02 was his strike rate. 76 not out was the best score he had in this season.
#1 David Warner
This left-handed opening batsman represented Sunrisers Hyderabad in IPL 2017. For this installment of IPL, Warner hit 641 runs in 14 matches, which included four half-centuries and centuries. The season-average was 58.27, with a strike rate of 141.81. 126 was his best in IPL 2017. Naturally, he won the IPL 2017 orange cap.
Complete List of IPL 2017 Top Run-Scorers: Top Ten Batsmen
| | | | | | | | | | | | |
| --- | --- | --- | --- | --- | --- | --- | --- | --- | --- | --- | --- |
| Player | Team | Mat | Inns | Runs | HS | Ave | SR | 50 | 100 | 4s | 6s |
| DA Warner | Sunrisers Hyderabad | 14 | 14 | 641 | 126 | 58.27 | 141.81 | 4 | 1 | 63 | 26 |
| G Gambhir | Kolkata Knight Riders | 16 | 16 | 498 | 76* | 41.5 | 128.02 | 4 | 0 | 62 | 7 |
| S Dhawan | Sunrisers Hyderabad | 14 | 14 | 479 | 77 | 36.84 | 127.39 | 3 | 0 | 53 | 9 |
| SPD Smith | Rising Pune Supergiant | 15 | 15 | 472 | 84* | 39.33 | 121.96 | 3 | 0 | 38 | 12 |
| SK Raina | Gujarat Lions | 14 | 14 | 442 | 84 | 40.18 | 143.97 | 3 | 0 | 42 | 13 |
| HM Amla | Kings XI Punjab | 10 | 10 | 420 | 104* | 60 | 145.83 | 2 | 2 | 40 | 17 |
| MK Pandey | Kolkata Knight Riders | 14 | 13 | 396 | 81* | 49.5 | 128.57 | 2 | 0 | 28 | 12 |
| PA Patel | Mumbai Indians | 16 | 16 | 395 | 70 | 24.68 | 134.81 | 2 | 0 | 49 | 8 |
| RA Tripathi | Rising Pune Supergiant | 14 | 14 | 391 | 93 | 27.92 | 146.44 | 2 | 0 | 43 | 17 |
| RV Uthappa | Kolkata Knight Riders | 14 | 13 | 388 | 87 | 29.84 | 165.1 | 5 | 0 | 36 | 21 |
Similar articles