22.02.2022,15:02 11251 0
Top Run-Scorers of IPL 2015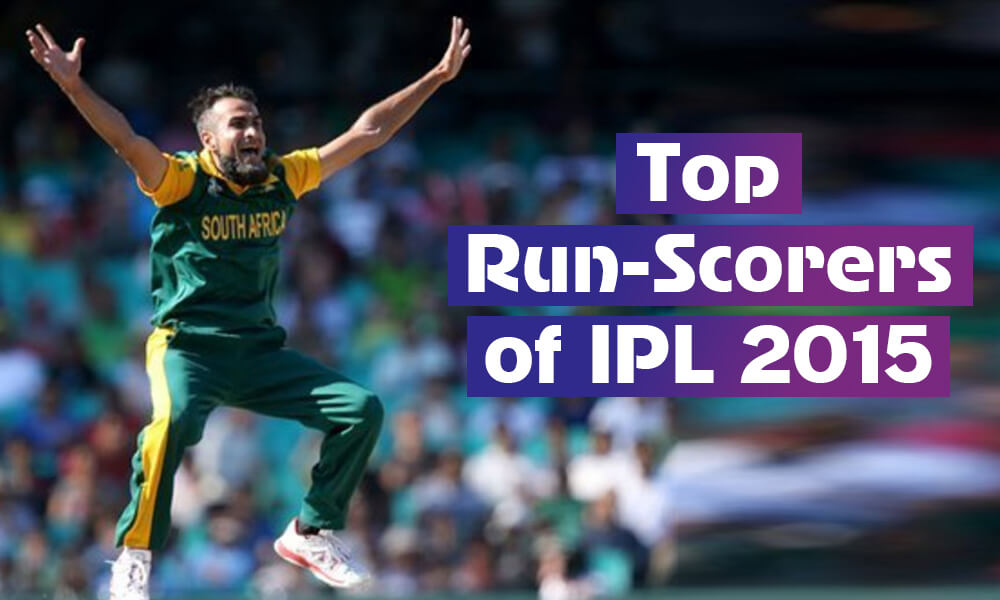 2015 was another amazing season for the shortest and the most entertaining format of cricket – the Indian Premier League. This was the eighth season of the popular tournament that saw Mumbai Indians emerge as the winner. However, all the matches were as exciting and fun as ever for cricket experts and fans. Here are the players who scored the most runs in the season.
Contents
#1 David Warner
p>David Warner has proven time and again that he is the player for all kinds of cricket formats. He was the captain of Sunrisers Hyderabad in 2015. Though his team did not win the tournament, Warner's performance was memorable. He scored the highest runs in the tournament with 562 runs in his bag for the season.
#2 Ajinkya RahaneAjinkya Rahane is a batsman par excellence who shines as brilliantly in the top order as he does in the middle order. shone all through this season with his outstanding performance for Rajasthan Royals. He scored 498 runs in total and stopped just a little short of moving past Warner's scores and getting the IPL 2015 Orange Cap. #3#3 Virat Kohlie former captain of the Indian national team has several records in his bag. IPL 2015 added another feather to his glorious cap. As the captain of Royal Challengers Bangalore, he scored a total run of 481. He had scored three fifties in this year, and notched thirty-five fours and twenty-three sixes in total in his innings. #4#4 Lendl Simmonsndl Simmons, the nephew of former West Indies all-rounder Phil Simmons, has been a constant opener for the Trinidad and Tobago team. As a crucial part of the Mumbai Indians team, he had scored 472 runs in total in 2015. His brilliant performance helped Mumbai win many vital matches this season.
In fact, Mumbai Indians was also the winner of the season.
#5#5 AB de Villiers de Villiers is one of the fiercest batsmen of our generation. His partnership with Virat Kohli has helped Royal Challengers Bangalore win several matches of this season and thereafter. The total runs of AB de Villiers for this year were 446, which puts him in the fifth position on this list. #6#6 Shreyas Iyerreyas Iyer came in the IPL with a smashing debut season back in 2015. Right in his debut season, he had slammed 439 runs in fourteen games for Delhi. Thereby, he bagged the 'Emerging Player of the Year' award. What makes his performance even more special is that he was battling an injury throughout the season and was playing with a seriously fractured finger. #7 Bre#7 Brendon McCullumn McCullum has been performing exceptionally since his first IPL season when he was playing for Kolkata Knight Riders. In 2015, McCullum was playing for Chennai Super Kings. And this star cricketer from New Zealand played spectacularly to score 436 runs in the season. Chennai might not have won the season, but McCullum's performance was remarkable. #8 Rohit#8 Rohit Sharmaohit Sharma is simply unstoppable once he makes himself comfortable on the pitch. This season was one more instance of Sharma's brilliance on the field. Though his name comes on the eighth position on the list, his leadership skills had led his team to win the season. #9 Chris G#9 Chris Gaylechine from the West Indies is one of the top scorers in IPL 2015. He scored a total of 423 runs for his team, Royal Challengers Bangalore. #10 JP Dum#10 JP Duminywas made the captain of Delhi Daredevils for this season. He might come on the tenth position on this list, but his total score of 414 runs is not less commendable than the others. JP Duminy is now a cricket commentator, and earlier, he was a fiery cricketer from South Africa. Duminy was the vice-captain of the South African T20 team.
List of the Players with the Most Runs in IPL 2015
| | | |
| --- | --- | --- |
| Player | Team | Runs |
| David Warner | Hyderabad | 562 |
| Ajinkya Rahane | Rajasthan | 498 |
| Virat Kohli | Bangalore | 481 |
| Lendl Simmons | Mumbai | 472 |
| AB de Villiers | Bangalore | 446 |
| Shreyas Iyer | Delhi | 439 |
| Brendon McCullum | Chennai | 436 |
| Rohit Sharma | Mumbai | 432 |
| Chris Gayle | Bangalore | 423 |
| JP Duminy | Delhi | 414 |
Similar articles