27.09.2021,15:09 142 0
Marlon Samuels Charged under ICC Anti-Corruption Code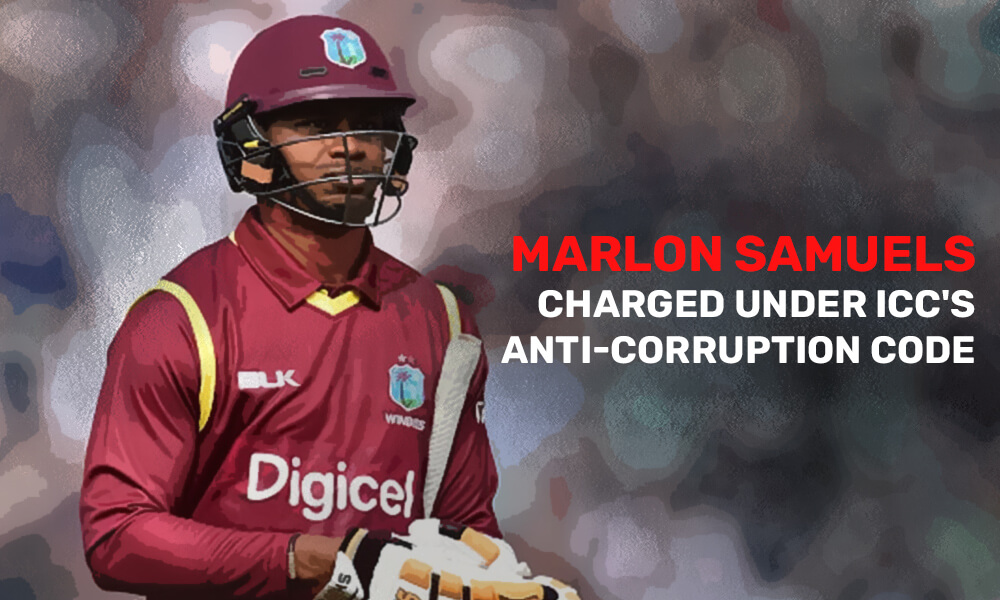 At the behest of the Emirates Cricket Board (ECB), West Indies cricketer Marlon Samuels has been accused by the International Cricket Council of violating the ECB's Anti-Corruption code. The ICC has charged Samuels, who had played a major role in the twin title triumphs of the West Indies at the T20 World Cup, with four counts of breach of the code. According to a media release by the ICC, Samuels violated the code in place at a T10 competition organised by the ECB. 
Samuels Failed to Disclose Hospitality Exceeding $750
The offences relate to articles 2.4.2, 2.4.3, 2.4.6, and 2.4.7 respectively, of the code. In his breach of the first mentioned article, Samuels is said to have failed to disclose that he received a payment, or hospitality, or gift, or some other benefit in circumstances in which the sport of cricket could be brought into disrepute. In the second breach, Samuels is reported to have failed to disclose having received hospitality exceeding the value of $750. In the third breach, the West Indies all-rounder is said to have failed to cooperate with the investigation by the ECB's designated anti-corruption official. In the fourth breach, Samuels is alleged to have concealed information relevant to the investigation and thereby obstructed or delayed the investigation by the ECB's designated anti-corruption official.
ICC Weighs in
According to the official announcement by the ICC,
"Mr. Samuels has 14 days from 21 September to respond to the charges. The ICC will not make any further comment in respect of these charges at this stage."
Investigation Relates to 2019 Season of T10 League
The 40-year-old cricketer has featured in 71 Test matches, 207 one day internationals, and 67 T20 internationals in an international career spanning 18 years, in which he made 11,134 runs and took 152 wickets. Samuels retired from the international game in 2020. The ECB conducted the latest edition of the T10 League in January-February 2021. The investigation relates to the 2019 season of the T10 league when Samuels was signed to play for Karnataka Tuskers led by Hashim Amla, the former South Africa batsman. However, he did not get to play a single game during that competition.
Cricket West Indies Weighs in
Weighing in on the charges against Samuels, Cricket West Indies stated in a media release that the board was "firm in denouncing any such activities within the sport".
"Cricket West Indies (CWI) has been made aware of the charges which have been laid by the ICC Anti-Corruption Unit, involving former West Indies player Marlon Samuels. Formal charges have been laid with breaching four counts of the Emirates Cricket Board's Anti-Corruption Code for participants of the T10 League in Abu Dhabi in 2019. While CWI has yet to receive detailed information relating to this ICC investigation, CWI remains firm in denouncing any such activities within the sport, and fully supports the ICC Anti-Corruption Unit in their efforts to rid the sport of all corruption."
 Samuels Served a Two-Year Ban in 2008
No stranger to controversy, Samuels was punished with a two-year ban in May 2008 for "receiving money, or benefit or other reward that could bring him or the game of cricket into disrepute."
Similar news