22.09.2021,14:09 4819 0
Top 10 Most Dangerous IPL Batsmen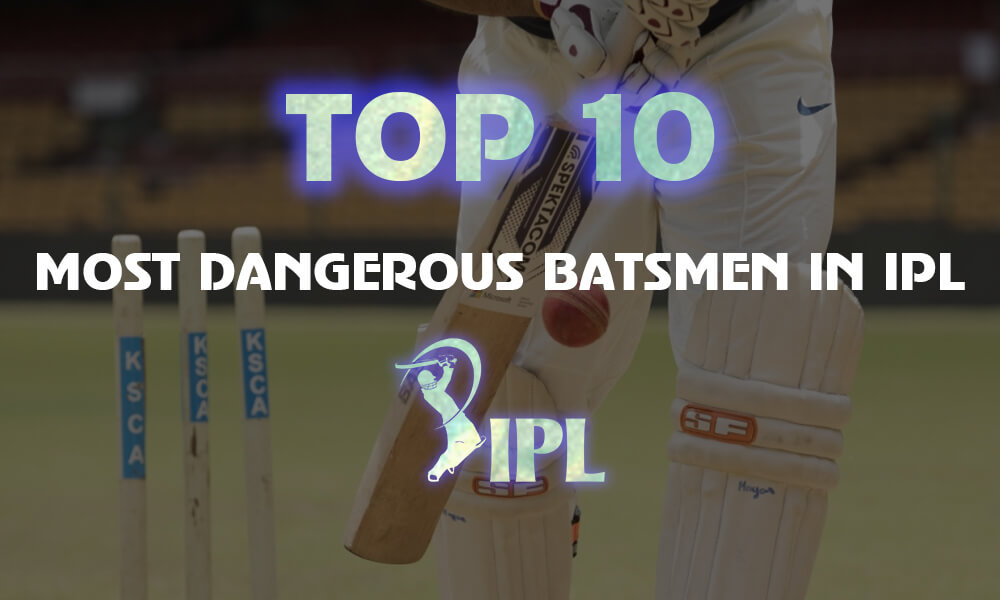 10 – KL Rahul
A few eyebrows could be raised due to KL Rahul's presence on this top-10 list. Some might have preferred more proven names such as MS Dhoni and Suresh Raina or even Faf du Plessis. But here is a piece of stat that justifies Rahul's selection: of all the batsmen who have graced the IPL and played a minimum of 10 innings, Rahul has the highest average of 46.53. He also has much more cricket left in him than Dhoni and Raina, which got him the nod. For comparison, his strike rate of 135.85 is also better than Kohli's, which is why he is our first pick on the list of the most dangerous batsmen in the IPL.
9 – Shikhar Dhawan
For a player of Shikhar Dhawan's calibre, being bandied around the IPL so much is almost disrespectful. Nonetheless, since 2019 he is back playing for his hometown franchise Delhi Capitals but that's enough about his whereabouts. Let's shed some light on what makes him one of the most dangerous batsmen in the history of the IPL. How about the fact that he is one of only six batsmen in the IPL to have amassed 5,000 runs; or the fact that he sits second on the scoring chart behind only Virat Kohli; or the fact that he is the first batsman to score IPL tons on back-to-back days? He is also a former IPL champion, having won the tournament with Sunrisers Hyderabad in 2016.
8 – Rohit Sharma
By far the most successful batsman on this list is Rohit Sharma – the captain of record five-time IPL champions, Mumbai Indians. But this is not a testament to his leadership. This is a tribute to his calm, calculated and measured destruction up top that he casually inflicts on the opponents. For an opener, his career IPL average of 31.49 is slightly on the lower side but that takes away nothing from the fear Sharma's mere presence instills in the minds of bowlers.
7 – Glenn Maxwell
During this year's IPL auction, Glenn Maxwell was the subject of an intense bidding war between Royal Challengers Bangalore and Chennai Super Kings. The same was the case last year when Delhi Capitals and Punjab Kings were battling to secure his signature. It goes to show how coveted the Aussie batter is in this league. He averages a lowly 23.17 runs across 10 seasons of the IPL but those numbers can be misleading as he is often required to come in and bat late in the innings when runs are needed fast and under pressure. A piece of stat that does justice to his talent is his gargantuan strike rate of 151.92.
6 – Andre Russell
Of the top 50 run-scorers in the history of the IPL, Andre Russell has the highest strike rate, which tells everything about the way he bats, or rather treats the bowlers. He scores a staggering 179.29 per 100 balls, which is by far the most impressive piece of long-term stat we've come across in all of the IPL. Not just that, he has maintained a batting average of a more than respectable 29.47 across 10 years of his participation in the competition. That said, his IPL career did not take off right away. In fact, for his first IPL side, Delhi Daredevils, he was pretty ordinary, but since joining Kolkata Knight Riders in 2015, he has been on a roll. He was excellent in both the 2015 and 2016 seasons before a doping violation got him banned from all forms of cricket in 2017. It was thought that a year on the sidelines and the stain of a doping ban would end his career but Russell came back with an even greater vengeance. In the IPL 2018, he played his most memorable innings of 88 off just 36 balls before averaging an astonishing 56.66 in the 2019 edition. A two-time IPL MVP (2015 and 2019), Russell is unlucky to have never seen his side win the IPL but it has definitely not because of anything he has/hasn't done.
5 – Kieron Pollard
In franchise cricket, especially the IPL, there is always a new hero waiting in the wings and so teams are often quick to swap their former hero for a newer, shinier toy. Thus, the fact that Mumbai Indians have hung on to Kieron Pollard for 13 years says a lot about him. Pollard is arguably the greatest T20 cricketer produced in the Caribbean after Chris Gayle. His impact for Mumbai is such that together they have won five IPL titles – more than any other franchise. He's never hit an IPL century but that's because he comes in to bat quite late when more often than not a bailout rather than a building of the innings is needed. His IPL average is 30.53, which he scores at an incredible strike rate of 150.58, and that makes him arguably the most dangerous lower-order player in the IPL.
4 – David Warner
The highest-ranked (fifth) foreigner on the IPL's all-time scoring charts, David Warner has tremendous moxie for a man his size. He is another one whose game has waned a little in recent years but he is still capable of turning back the clock every now and then. Back in his heydays, though, Warner was a nightmare up top for bowlers and would throw his bat at everything with vengeance. His average of 42.22 is the highest among the top 15 highest runs scorers in the history of the IPL, which demonstrates how long he dominated the league. His IPL strike rate of 140.13 is also not to be taken lightly.
3 – Virat Kohli
Virat Kohli has been a member of the Royal Challengers Bangalore since the inaugural IPL season back in 2008. He was elevated to team captain in 2013 and has held the position since then, although the 2021 season will be his last as the skipper since he has decided to relinquish the role. We all know that arguably the biggest disappointment of his career has been his inability to lead RCB to an IPL title. The fact that we'd still pick him at number three on our list says everything about this man's ability. He is by far the highest-ever scorer in the IPL's history and the only batsman in the tournament to surpass the 6,000-run mark. The man averages 37.77 at a strike rate of 130.40 – both pretty impressive figures.
2 – Chris Gayle
At the age of 42, Chris Gayle is not quite the batsman he used to be but even an older and slower Gayle can wreak havoc if need be. Arguably the greatest T20 cricketer of all time, Gayle's impact in the IPL has been unmatched. It's like he was built for this format and this league where there is plenty of glamour, plenty of attention to offer and plenty of boundaries to hit. Whoever has any sort of interest in the IPL would remember his 175 carnage of an innings against Pune Warriors in 2013 when he faced the first ball, never got out, hit 17 sixes and 13 fours as his side amassed a massive 263-5. Unfortunately and almost unbelievably, Gayle has never won an IPL despite being bagging several individual honours over the years. He was also teammates with Virat Kohli and AB de Villiers for a good five years or so, which makes his and their lack of team success even more surprising.
1 – AB de Villiers
Ab de Villiers has been a part of the IPL since its very first season back in 2008. He has scored more than 5,000 IPL runs since then at an average of 40.44 and a strike rate of 152.33. But it's unfair to tell the story of a modern great such as AB with just numbers. The man nicknamed Superman is so much more than just numbers. As long as he is at the crease, no match is over and no total is out of reach. His array of shots and ability to dispatch any sort of ball in any direction he wants is what makes him a one-of-a-kind 360-degree batsman. A two-way batsman, he can build an innings but also play the demolition man later in the innings – a rare combo trait that has made him not only a fan-favourite across all franchises but also the most dangerous batsman in the history of the IPL. AB started his career with Delhi Daredevils and averaged an astounding 51.66 in just his second season. Later, he joined Royal Challengers Bangalore – the franchise with whom he is associated to date. AB, like Gayle and Kohli, is still without an IPL title and that remains the only blot on his otherwise pristine IPL resume.
Cric-life.com's list of the most dangerous IPL batsmen in stats and figures:
| | | | | | | | | | | | | | | |
| --- | --- | --- | --- | --- | --- | --- | --- | --- | --- | --- | --- | --- | --- | --- |
| Rank | Player | Mat | Inns | NO | Runs | HS | Ave | BF | SR | 100 | 50 | 0 | 4s | 6s |
| 1 | AB de Villiers | 177 | 163 | 38 | 5056 | 133* | 40.44 | 3319 | 152.33 | 3 | 40 | 10 | 406 | 245 |
| 2 | CH Gayle | 140 | 139 | 16 | 4950 | 175* | 40.24 | 3312 | 149.45 | 6 | 31 | 8 | 403 | 357 |
| 3 | V Kohli | 200 | 192 | 31 | 6081 | 113 | 37.77 | 4663 | 130.40 | 5 | 40 | 6 | 525 | 205 |
| 4 | DA Warner | 148 | 148 | 19 | 5447 | 126 | 42.22 | 3887 | 140.13 | 4 | 50 | 7 | 525 | 201 |
| 5 | KA Pollard | 172 | 155 | 50 | 3206 | 87* | 30.53 | 2129 | 150.58 | 0 | 16 | 4 | 208 | 212 |
| 6 | AD Russell | 82 | 69 | 12 | 1680 | 88* | 29.47 | 937 | 179.29 | 0 | 9 | 2 | 117 | 142 |
| 7 | GJ Maxwell | 90 | 86 | 11 | 1738 | 95 | 23.17 | 1144 | 151.92 | 0 | 8 | 11 | 139 | 101 |
| 8 | RG Sharma | 207 | 202 | 28 | 5480 | 109* | 31.49 | 4199 | 130.50 | 1 | 40 | 13 | 476 | 224 |
| 9 | S Dhawan | 184 | 183 | 25 | 5577 | 106* | 35.29 | 4379 | 127.35 | 2 | 44 | 10 | 634 | 116 |
| 10 | KL Rahul | 88 | 79 | 15 | 2978 | 132* | 46.53 | 2192 | 135.85 | 2 | 25 | 1 | 261 | 120 |
Similar articles