Wales vs Denmark Match Prediction: June 26, 2021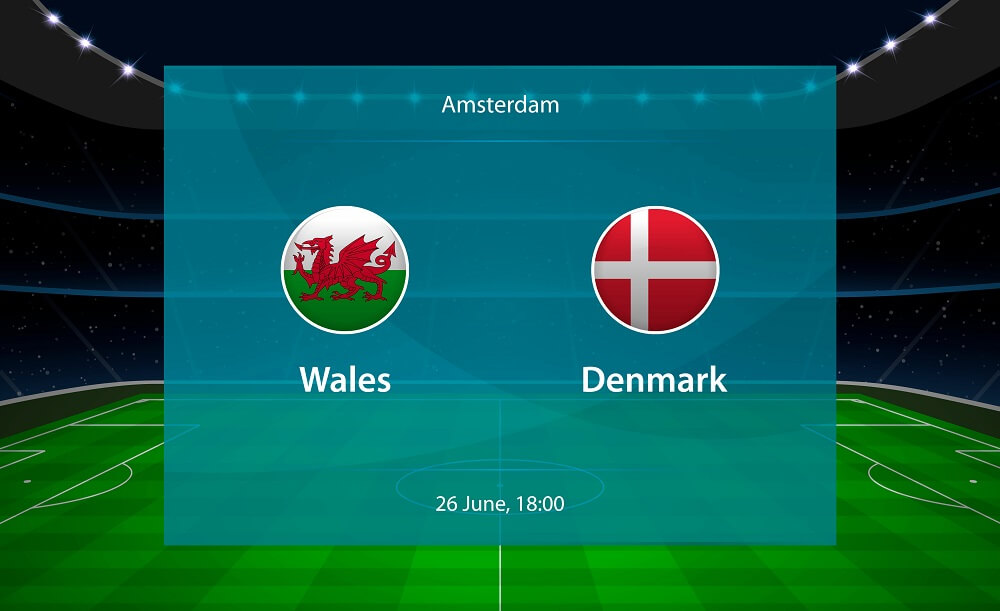 24.06.2021,12:06 65 0
Denmark and Wales lock horns on the 26th of June in the first playoffs for the 2020/21 EURO cup in Amsterdam. The results of this fixture determine so much for each of the national teams involved considering how both teams have remarkable stories leading up until this moment.
The Welsh national team have been decent in the competition so far, with a win against Turkey, draw against Switzerland and a 1-0 loss to Italy. These results were sufficient to qualify them from group A as second position. Coach Page has assembled for himself a decent and pragmatic team that can take on any opposition and still deliver good results, this is evidenced by a stable defense that has only conceded more than 1 goal once in their last 6 games.
With big names like Aaron Ramsey and Gareth Bale in the squad, fans and patriots of the Welshies team are looking toward a continuation of the good fortune that has characterized their group stage workup until this point. Even though the latter hasn't netted his first goal in the competition, many believe that he will be snatching it at the expense of the Vikings on Saturday
Another valid source of optimism for the Dragons lies in the fact that in the few competitions they qualify for, they always tend to outstrip the expectations of the pundits. Case in point, the 2016 Euros where they won bronze, despite it being their first time qualifying or the 1958 World Cup where they reached the Quarter finals.
As for Kasper Hjulmand and his boys, they will be entering the clash with a sky-high morale, having thrashed the Russians 4-1 to make an emphatic statement on the threat their attack poses as well as qualify as second place in Group B, after Belgium
Despite the initial setback faced by the Vikings when they almost lost their team captain, Christian Eriksen to a cardiac arrest on the first game against Finland, they lost that game and still went on to lose their second game to Belgium. They were spectacular in both games, but were somehow unable to get the goals that mattered.
They changed that narrative when they netted 4 goals against Russia and clinched the qualification ticket above the Finns. We however know for sure that they like to play a fast, high paced pressing attack. We have seen that they pass the ball around a lot and create chances for attack heads, Yussuf Podsen and Roman Zobruv to capitalise on. One must also not downplay the danger that Andreas Christensen has also shown himself to be on the leftwing when he put in a man of the match display on Monday.
Match Predictions and Betting Odds
Head-to-Head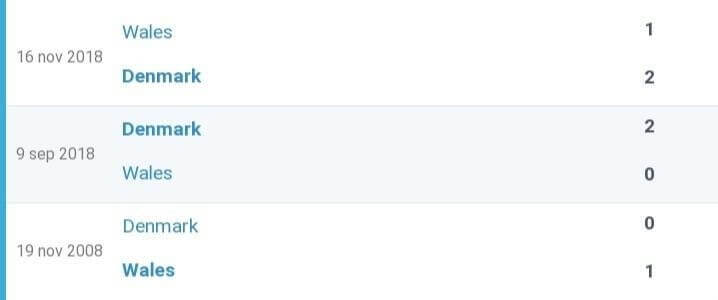 Judging from the H2H, team morale and overall team dynamics, it's easier to say that the Vikings will emerge victorious in this fixture, they might not get as many goals as they got against Russia as the Welsh defense is more formidable, but their flair, teamwork and intensity will see them through to the Quarterfinals.
For all their commendable results so far, the Dragons still need to level up in their individual skills and dexterity as well as physically. Team Denmark for the win.
An over 2.5 game is also likely, as both teams have produced goals in their previous games, Denmark particularly having over 2.5goals in 3 of their last 6 games.
Betting Odds
| | | |
| --- | --- | --- |
| Wales | Draw | Denmark |
| 5.0.                                        To win | 3.2 | 1.87.                                     To win |
| 2.95.                                To qualify | | 1.39                                 To qualify |
Summary
One thing is sure, the game will provide maximum entertainment value, for fans as well as football lovers the world over. Who says you can't be entertained and yet still smile to the bank? Says yes to both, dive in and stake on the outcomes to win big. Remember to bet responsibly!
Similar news