18.01.2022,15:01 627 0
Top Captains with the Most Test 100s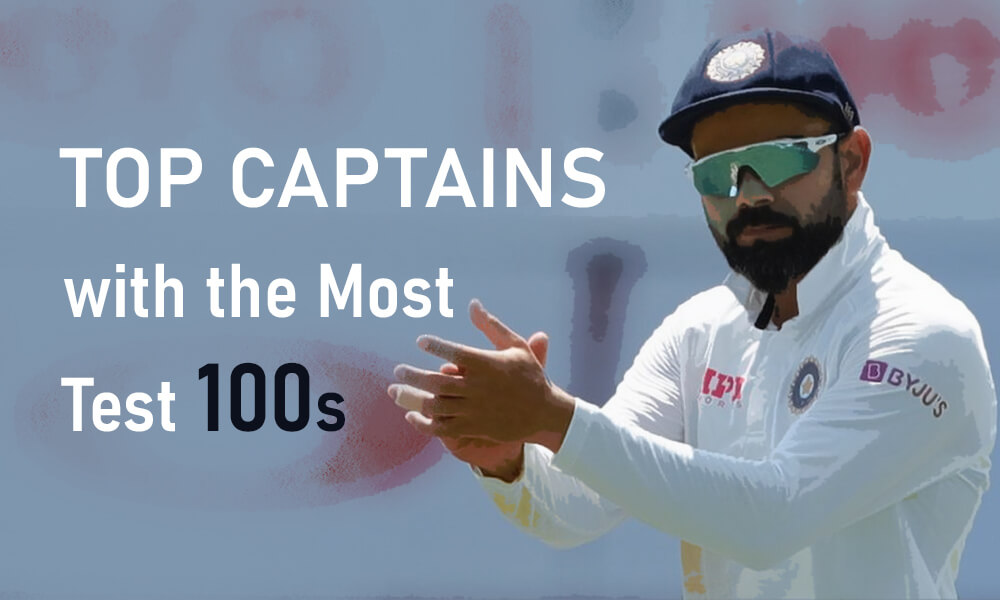 When you're bestowed with the leadership of a group of people, every decision you make, from the largest to the smallest, is scrutinized down to the last detail. This is even more enhanced when you're playing for a national team, as the hopes and dreams of an entire people rest on you, and every sports fan has the tendency to become an expert when you make a mistake.
Some people, however, revel in this pressure — or at least, successfully circumvent it. Not only do they go above and beyond the mechanics of the sport itself, but they also win the psychological battle of being in charge. This is a list of the best of those people as far as batting is concerned.
List of Test captains with the most centuries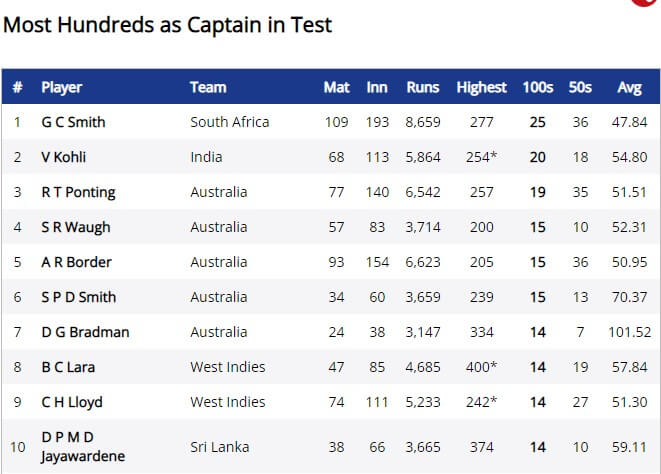 1. Graeme Smith (South Africa)
It's unusual to find a South African at the top of any of these lists, but then again, Graeme Smith wasn't just any Protea. The man was the longest-lasting and one of the most successful Test captains of all time, and he became an anchor for his team's top order during his stint. He scored a whopping 25 centuries during his tenure, scoring 8,659 runs at an average 47.84 across 193 innings. Smith also had 36 fifties, and his highest score as captain was a mammoth 277.
2. Virat Kohli (India)
It's a bit of a coincidence that at the time of writing, it has been two days since Kohli stepped down as captain of India. A brilliant batter in every form of the game, Kohli made 20 centuries and 18 half-centuries while fulfilling his role at the helm. His run tally was a massive 5,864 at 54.80 runs per innings across 113 of them. As captain, Kohli had the highest score of 254*. His figures would have been much more impressive had he not suddenly receded into a century drought that has continued from the end of 2019 till at least his exit from captaincy.
3. Ricky Ponting (Australia)
The first of no fewer than 5 Australian captains on this list, Ponting was emblematic of a team that has always lucked out with excellent batters as captains. He captained his side in 140 innings, scoring 6,542 runs at 51.51. Dispersed among those runs were 19 centuries and 35 half-centuries. Ponting's highest ever score while leading Australia was 257.
4. Steven Smith (Australia)
The most recent Australian captain to make this list, Smith is, unfortunately, the only one to be stripped of his leadership due to controversy. Indiscretions notwithstanding, he was a fine batter as a captain, as is demonstrated by his 3,659 runs in just 60 innings at a ridiculous average of 70.37. During his tenure, he made 15 centuries and 13 half-centuries, with his highest score being 239.
5. Steve Waugh (Australia)
Waugh is Ponting's predecessor in terms of the timeline of Australian cricket but succeeds his heir for the captaincy of the Baggy Greens on this list. Although he was a potent all-rounder, Waugh's primary talent was undoubtedly batting, as demonstrated by his highest score of 200 as captain. Across 83 innings in charge, he made 15 centuries and 10 half-centuries, averaging 52.31 with a total run count of 3,714.
6. Allan Border (Australia)
One of the most important figures in the history of Australian cricket, Border led Australia through one of the roughest patches in their cricketing history. Captaining the side in 154 innings, Border made 6,623 runs at 50.95 per go with the bat. Like Waugh, he picked up 15 centuries and was also a part-time bowler, but unlike his late 90s counterpart, he had 36 half-centuries to bolster that statistic. Border's highest score while leading was a solid 205.
7. Mahela Jayawardene (Sri Lanka)
A Sri Lankan middle-order mainstay for well over a decade, Jayawardene led the side in 38 Tests. In the 66 innings he played therein, he scored 3,665 runs at a commendable 59.11, and made 14 centuries and 10 fifties in that time. Jayawardene's biggest knock of 374 is the second-highest highest score on this list, and falls one short of the second-highest score of the player whose highest score beats him on this list.
8. Brian Lara (West Indies)
As far as a captain leading from the front goes, few get better than Lara. The West Indian was instrumental in saving a declining team a lot of extra losses during his time as frontman. Lara made 4,685 runs in his 85 innings as captain, and this included 14 centuries and 19 half-centuries. Lara's average during this time was 57.84, and his highest score, of course, was 400*.
9. Clive Lloyd (West Indies)
He may be best known for winning the ODI World Cup twice with his team, but Lloyd was just as prolific a leader in Tests. He piled up 5,233 runs across 111 innings, averaging a solid 51.30 in that time. Lloyd's collection of centuries during his time at the helm numbered 14, with 27 coming fifties and a highest score of 242* thrown in for added flavor.
10. Sir Donald Bradman (Australia)
If Smith's numbers seem ridiculous, prepare to get blown away by the unintentional bully of batting stats in Test cricket. Bradman only captained Australia in 38 innings over 24 Tests, but in that time, he left a legacy that may never be topped. He made 3,147 runs at an absurd average of 101.52, with 14 centuries and 7 fifties to show for his unearthly efforts. His highest score during this time was a brutal 334 — 309 of which was scored in one day to create what remains a ridiculous record. 
Similar articles