25.01.2022,15:01 12239 0
Top Longest Innings in Test Cricket History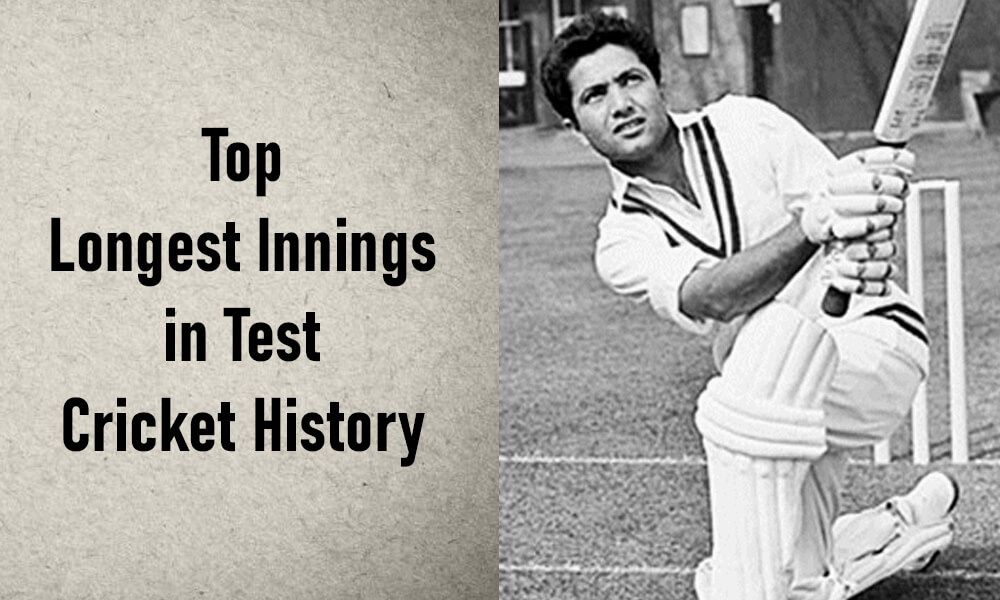 There have been certain innings in the history of Test cricket that have been defiant and resilient. Such innings demand the utmost concentration and technical ability as the slightest lapse in concentration can lead to the dismissal of the batter's wicket.
Below, we've put together some of the longest innings by a batsman in Test cricket that has tipped the scales towards their team. 
1. Hanif Mohammad (Pakistan, 1958) – 970 Minutes (337 Runs)
One of the finest opening batsmen that Pakistan has ever produced, Hanif Mohammad was known for his technical batting prowess and his ability to convert starts into big scores. Thus, it's no surprise that Hanif holds the record for playing out the longest innings in Test cricket by time. In the year 1958, Hanif played out one of the most memorable innings in Test cricket against the formidable West Indies team. In the first innings, West Indies batted for over two days and put a total of 579 runs and victory seemed inevitable for them. In their first innings, Pakistan was bundled out for a mere total of 106 runs and was forced to follow on. However, in the second innings, the Pakistan batters showed a lot more resilience, and their openers put in a great performance. Hanif went on to bat for a total of 970 minutes (16 hours 10 minutes) during which he scored a total of 337 runs. With this herculean effort by Hanif, Pakistan was able to bat out for the remainder of the Test match and went on to draw the match. The runs in the second innings were inconsequential as Pakistan's only objective was to draw the match which they did on the back of an incredible batting performance by Hanif.
2. Gary Kirsten (South Africa, 1999) – 878 Minutes (275 Runs)
During an era that featured some South African legends like Jacques Kallis, Lance Klusenor, Jonty Rhodes, and so forth, Gary Kirsten put in a performance of a lifetime that helped South Africa draw a Test match against England in which they down and out. Putting up a score of 366 on the board, England had dismissed South Africa for a meager 146 in the first innings and were made to follow on. Runs were not so important for South Africa as their only goal was to bat for the remaining two days of the Test match to achieve a draw. It was Gary Kirsten who helped South Africa achieve this feat as his stay of 878 minutes at the batting crease during which he scored a massive 275 runs helped South Africa reach a total of 572 runs and draw the Test match.
3. Alastair Cook (England, 2015) – 836 Minutes (263 Runs)
One of the longest innings in Test cricket in the modern era, Alastair Cook played out an incredible inning against Pakistan which saw him spend 836 minutes (13 hours 56 minutes) at the batting crease and score a total of 263 runs during the process. His patience and resilience shown at the batting crease were in reply to Pakistan's first innings score of 523 runs, the mammoth score adding to the pressure that the English batsmen were facing while trying to negotiate the Pakistani spinners in the subcontinent.
4. Sanath Jayasuriya (Sri Lanka, 1997) – 799 Minutes (340 Runs)
The left-handed opening batsman from Sri Lanka Sanath Jayasuriya was known for his fluent and aggressive style of batting. Jayasuriya was one batsman who could take the attack to any bowling opposition with his counter-attacking style of cricket but in a Test match against India in 1997, Jayasuriya played out an innings contrary to his natural style. India in their first innings had put together a massive score of 538 runs on the board and thus, when the Sri Lankan batsmen walked into bat, they were already facing a threat of being dismissed cheaply in their first innings. However, along with Roshan Mahanama, Jayasuriya played a resilient knock that lasted for 799 minutes (13 hours 19 minutes) and was involved in the highest Test partnership of 576 runs. With the help of this partnership, Sri Lanka went on to register the highest score recorded in the Test format at the international level – a total of 973 runs.
5. Len Hutton (England, 1938) – 797 Minutes (364 Runs)
In the Ashes series of 1938, English batsman Len Hutton played out one of the most incredible innings in Test cricket against arch-rivals Australia. Having won the toss, England decided to bat first and boy was it the right decision. With some magnificent Test hundreds by Leyland and the other English batsman, England was on track to put on a very huge score on the scoreboard in their first innings. Hutton played a mammoth inning that last 797 minutes (13 hours 17 minutes) during which he went on to score a total of 364 runs on the back of which England went on to score their highest total in Test cricket history, a total of 903 runs.
Australia in reply crumbled under the pressure applied by the English bowlers and were cheaply dismissed. England went on to win the Test match by a margin of an innings and 579 runs and also secured the 1938 Ashes series.
Similar articles