12.11.2021,16:11 101 0
What Is Net Run Rate (NRR) and How Can It Be Increased?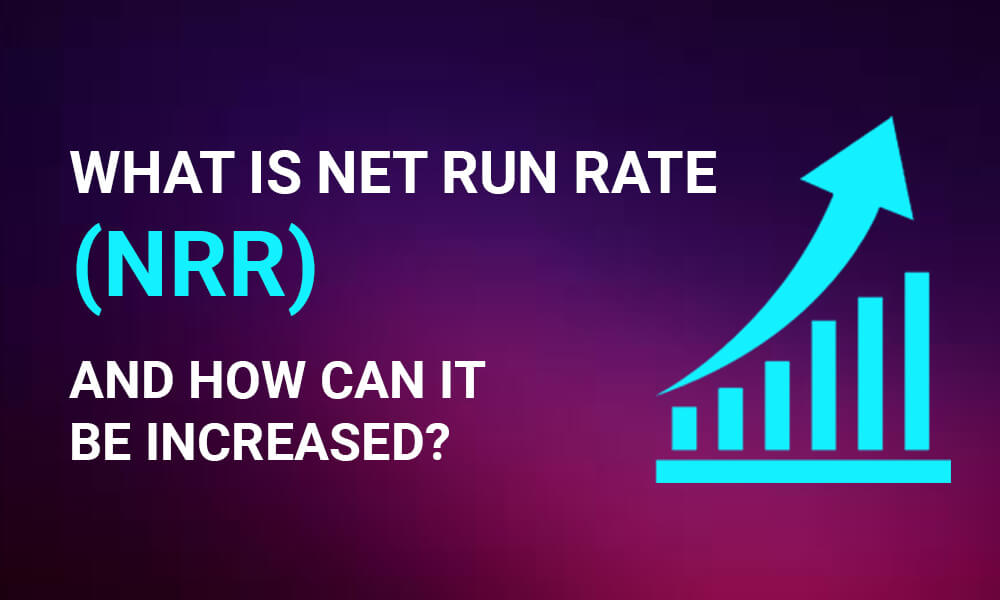 The question of net run rates came into focus in the T20 World Cup when India considered the possibility of qualifying for the semifinals if New Zealand were to lose against Afghanistan. Having lost to New Zealand, India would be on par with NZ on points provided the Afghans beat the Kiwis. In such a scenario, an NRR comparison would help decide which team would qualify for the semi-finals.
Thus, Net Run Rate (NRR) is a measure used to break the tie when two teams in a tournament have the same number of points. NRR is the difference between a team's batting run rate (runs scored divided by overs taken) and its bowling run rate (runs conceded divided by overs bowled). For instance, a team that scores 180 in 20 overs and concedes 150 in 20 overs has an NRR of 1.5 (180/20 minus 150/20 = 9 minus 7.5).
How to Calculate NRR if a Team Is Bowled out Before Completing Full Quota of Overs
However, how do we calculate the NRR in a T20 game if a team is bowled out before completing its full quota of overs? In such cases, we assume that the team has played its full quota of overs. For instance, in the World Cup game on 26 October, Scotland was bowled out for 60 in 10.2 against Afghanistan after the latter had made 190 in their allotted 20 overs. Scotland registered a scoring rate of 5.80 (60/62 x 6). But for the purposes of NRR, its run rate was considered to be 3 (60/20).
Why is this done? Consider a team that got bowled out for 60 in 6 overs after the other side had scored 180 in 20 overs. If we simply apply the run rates, the losing team will have a positive NRR of 1 (10 – 9), while the winning team has a negative NRR of 1. In other words, the losing team has been rewarded for getting bowled out quickly. So the NRR is calculated so as to ensure that we reward the winning team. Thus, in the above case, the NRR of the winning team will be 6 (9 minus 3).
How Do We Calculate the NRR if There's a Rain Interruption and the DLS Method Applies?
In such cases, we must use the par score to calculate the run rate rather than the actual score. For instance, say a team has scored 160 in 20 overs before rain intervenes and the umpires reduce the match to 15 overs with a revised target of 121 for the chasing team. Then, for the purpose of calculating NRR, we must assume that the team batting first has scored 120 in 15 overs rather than 160 in 20. This is done to ensure that the winning team has a higher NRR than the loser. For example, a team has scored 150 in 20 overs, and the match is called off when the other team has scored 68/1 in 6 overs. If the par score for 1 wicket after 6 overs is considered 60. Then the team batting second is deemed to have won by 8 runs. Thus, the winning team will have a higher NRR than the loser (68-60/6 = 8/6 = 1.33). In the above case, the par score is considered 70 after 6 overs. Then, if we considered the actual score instead of the par score, the chasing team would have a higher NRR despite losing the game by 2 runs.
To Increase the NRR, Should a Team Bat First or Bowl?
Let's assume that a team has already played two matches, with respective scores of 180 and 140 in 20 overs each. In other words, the team has scored 320 runs in 40 overs at a batting run rate of 8. In the next match the team bats first and scores 220 in 20 overs. Now its batting run rate has become 9 (calculated as 540/60). If instead, the team had chosen to chase in the second game and made 110 in 10 overs, its batting run rate would have become 8.6 (430/50). As you can see, a team that has played many matches already is better off batting first to improve its NRR. However, if this match were the team's first game, the batting run rate would have been considered the same (11) regardless of whether it batted first or second.
India's NRR Progression during the T20 World Cup 2021
| | | | | | |
| --- | --- | --- | --- | --- | --- |
| Match # | India | India's Cumulative Batting Run Rate | Rival Team | India's Cumulative Bowling Run Rate | Net Run Rate |
| 1 | 151/7 in 20 overs | 7.55 | Pak: 152/0 in 17.5 overs | 8.52 | -0.97 |
| 2 | 110/7 in 20 overs | 6.52 | NZ: 111/2 in 14.3 overs | 8.13 | -1.61 |
| 3 | 210/2 in 20 overs | 7.85 | Afg: 144/7 in 20 overs | 7.777 | +0.07 |
| 4 | 89/2 in 6.3 overs | 8.421 | Sco: 85 all out in 20 overs | 6.8018 | +1.62 |
| 5 | 136/1 in 15.2 overs | 8.505 | Nam: 132/8 in 20 overs | 6.758 | +1.86 |
India had to decide whether to bat first or second in its match against Scotland after Virat Kohli won the toss. Opting to chase, India bowled out Scotland for 85 and chased down the target in 6.3 overs. Thus, the team improved its NRR from 0.073 before the match against Scotland to 1.619 after that game. To achieve the same increase in NRR by batting first, India would have had to score 203 in its allotted 20 overs, while restricting Scotland to 85.
Do Wickets Lost Matter in NRR Calculations?
Wickets lost do not matter when we calculate NRR. NRR only considers runs scored and runs conceded. For instance, in the 2015 World Cup, Scotland got bowled out for 142 in 36.5 overs by New Zealand who chased down the target, scoring 146/7 in 24.5 overs. Though NZ was only three balls away from losing, it gained handsomely in terms of NRR as it had scored at 5.88 runs per over while conceding only 2.84 runs per over.
In a fairer system, wickets lost would also be considered. A better solution would be to consider the DLS par score in NRR calculations for all matches. As both resources – wickets remaining as well as balls in hand – are considered in a DLS par score, such a calculation would be a more accurate reflection of the victory margin.
Similar articles