16.11.2021,14:11 280 0
End of World Cup, a New Journey for Pakistan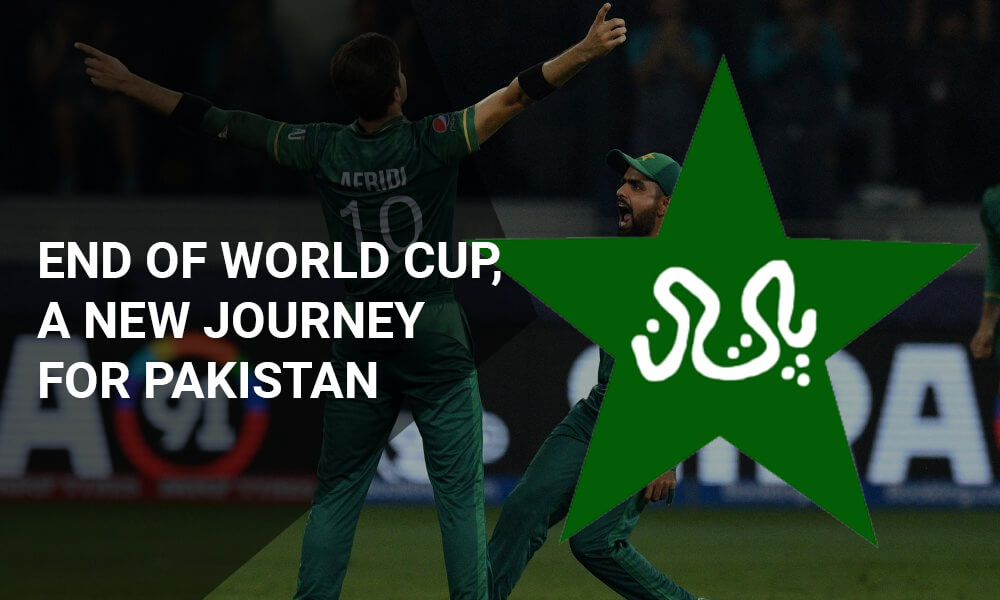 Pakistan did not drop a match en route to the semifinals. But it all ended in an anti-climax. Shaheen Afridi, whose performance in his team's opening game against India began Pakistan's dominant run in the World Cup, went for 22 runs in the 19th over of the semifinal versus Australia, and that was the end of the team's dream-like campaign.
A Show of Great Intent
Throughout the journey in the league games, things appeared to be falling into place for Pakistan who seemed intent on avoiding some of their old failings. Rizwan, hospitalised with a chest infection for two days leading up to the semifinal clash with Australia, recovered quickly and consented to play. Though he appeared a little scratchy, he showed great intent and ended up scoring a half-century. Fakhar Zaman, who had been lacklustre during the group games, stood up to be counted in the semifinal, helping his team to a competitive score of 176.
Game of See-Sawing Fortunes
Often, during Australia's chase, Babar Azam's wards appeared to be in control. After the dismissal of Warner, Australia appeared to be fading out of contention with four wickets lost. Needing 62 runs from the last five overs, Australia had five wickets to spare. As it turned out, Finch's men achieved it with an over in hand. In a game of see-sawing fortunes, Pakistan missed three runouts. In the end, Hasan Ali's dropped catch of Wade off Afridi in the 19th over was the last straw as Wade helped himself to three successive sixes from the remainder of the over.
Babar Philosophical in Defeat
With the loss, Pakistan's 16-match winning streak in the UAE came to an end. Babar Azam tasted his first T20I loss in the host country. The Pakistan skipper was philosophical in his post-match interaction with the media:

Pakistan Uplifted Their Fans
The Pakistan squad worked as one to uplift their fans. Despite the emotional burden that they bore, they played a positive brand of cricket and brought joy to their followers. No other team was as consistently dominant in the group matches. And their captain backed them all, including Hasan Ali whose cup of misery (after conceding 44 runs from his four overs) was full when he dropped Wade.
Skipper Defends Hasan Ali, Praises Rizwan
Babar defended Hasan Ali in his interaction with the media:

The Pakistan skipper was also generous in his praise of Rizwan and said,

Promise of Great Things to Come
After a campaign of hope in a time of crisis, Pakistan gave their fans a breath of freshness. Though they did not win the trophy they were expected to win, Pakistan ended their campaign with the promise of great things to come.
Similar news