24.11.2021,15:11 83 0
Tim Paine Stands Down as Captain of Australia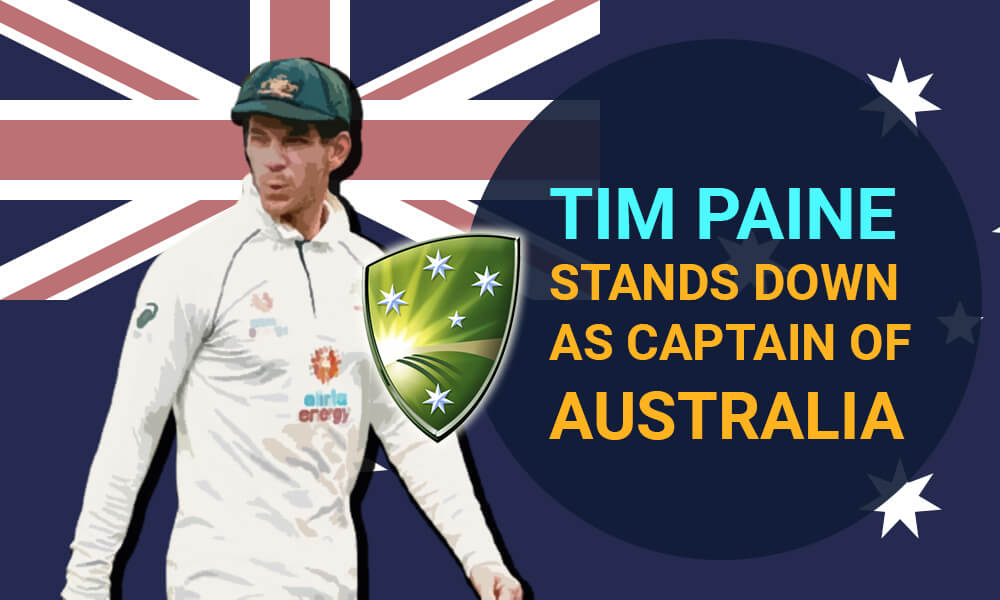 With the Ashes barely three weeks away, Tim Paine has decided to give up the captaincy following findings that explicit messages were sent by him to a female co-worker. The findings were the result of an investigation launched four years ago by Cricket Australia, according to a media report.
Paine Calls Decision to Resign "Incredibly Difficult"
Paine told the media about his decision to resign as captain on 18 November and added that he was willing to be selected as a player for the Ashes series. The explicit messages were reportedly made in 2017, a few months ahead of Paine's recall to the Test squad after a gap of seven years. At the time, Paine had been cleared of charges by a joint investigation by Cricket Tasmania and Cricket Australia. 
In his statement, Paine said that his decision to resign from the captaincy was an "incredibly difficult" yet right one. He recalled that he had been exonerated of any breach of the Cricket Australia Code of Conduct at the time. He added that he "deeply regretted" the incident then and now and was grateful for his family's forgiveness and support. Paine added that resignation appeared to be the only choice and that he wanted to say sorry to his supporters and teammates.
Tim Paine's record as Test captain of Australia
| | | | |
| --- | --- | --- | --- |
| Matches as captain | Won | Lost | Drawn |
| 23 | 11 | 8 | 5 |
Tim Paine's batting record as player in Test matches
| | | | | | | |
| --- | --- | --- | --- | --- | --- | --- |
| Matches | Innings | Runs | Average | Highest Score | 100s | 50s |
| 35 | 57 | 1534 | 32.63 | 92 | 0 | 9 |
Paine's Statement to the Media
"I believe that it is the right decision for me to stand down as captain, effective immediately. I do not want this to become an unwelcome disruption to the team ahead of what is a huge Ashes series. It's been the greatest privilege of my sporting life to lead the Australian men's test team. I'm grateful for the support of my teammates and proud of what we've been able to achieve together."
Cricket Tasmania Received No Complaints at the Time of Messages
According to a later clarification by Cricket Tasmania, the board became aware of the allegations in mid-2018 only after the said female employee had been charged with theft. The board had not received any complaints in November 2017, when explicit messages were reported to have been sent.
Andrew Gaggin, Chairman of Cricket Tasmania, Weighs in
"Cricket Tasmania clearly does not condone this type of behaviour and addressed the matter directly with Tim Paine. However, because of the consensual nature of the actions, it was determined that no further action was required or appropriate."
Vice-Captain Pat Cummins Expected to Take Over
In March 2018, Paine was appointed captain of Australia in the wake of the ball-tampering scandal during Australia's tour of South Africa. Current vice-captain of Australia Pat Cummins had been widely expected to take over as captain from Paine, whenever the skipper retired. Were Paine not to be included in the team for the Ashes, Alex Carey would likely keep wickets in his place.
Paine's resignation has been accepted by Cricket Australia. According to a statement to the media by CA chair Richard Freudenstein, there would be an accelerated process to identify and appoint a new Test skipper.
Statement by Cricket Australia Chairman
"While the Board acknowledges an investigation cleared Tim of any breach of the code of conduct regarding this matter some years ago, we respect his decision. CA does not condone this type of language or behaviour. Despite the mistake he made, Tim has been an exceptional leader since his appointment and the Board thanks him for his distinguished service. Tim will continue to be available for selection in the Test team through the Ashes summer."
Similar news