15.02.2022,12:02 7546 0
Highest 10th Wicket Partnerships in Test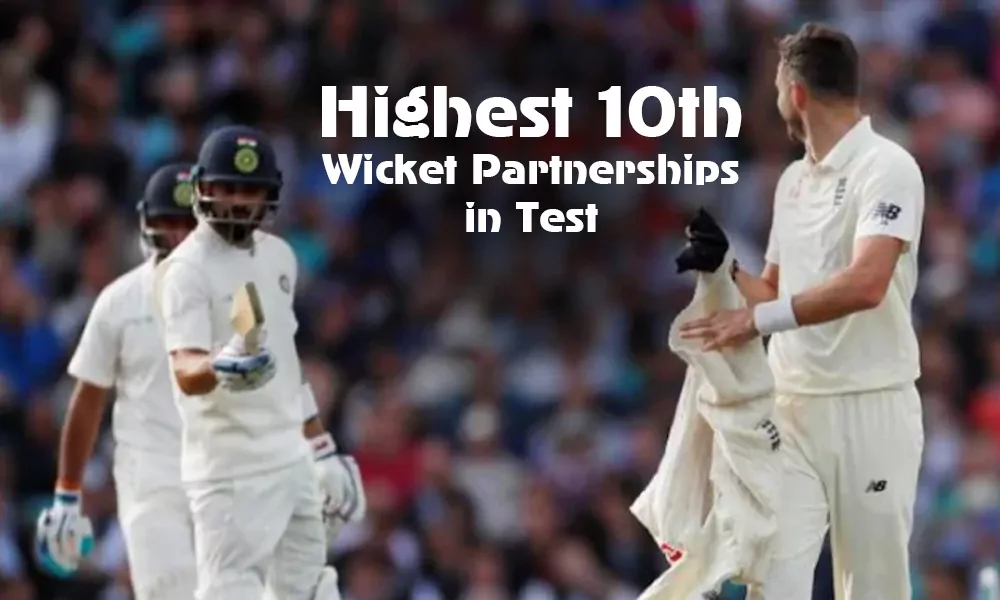 Fans love it when an outstanding partnership is set up in a Test match by their favorite cricket teams. Most of the time, the top-order batsmen are the ones who set up such brilliant partnerships. But sometimes, there is always that one partnership that saves face for the respective teams or helps them gain victory in the game. Here, you will learn about the highest 10th wicket partnerships in Test cricket history.
James Anderson & Joe Root: 198 Runs [ENG vs IND, Nottingham, 2014]
When India toured England back in 2014, they put up 457 runs on the board. This is all thanks to MS Dhoni and Murali Vijay for performing so well. But the English side was pretty relentless during their inning as Gary Balance and Sam Robson scored their respective half-centuries.
But the 198-run partnership between James Anderson and Joe Root was the biggest thriller of the Test match. It was the highest partnership in the Test for the 10th wicket, and Joe Root scored 154 runs out of 295 balls, and Anderson scored 81 runs. The Anderson-Root duo put up a total score of 496, but the game ended in a draw.
Ashton Agar & Philip Hughes: 163 Runs [AUS vs ENG, Nottingham, 2013]
Ashton Agar and Late Philip Hughes scored a brilliant 10th wicket partnership of 163 runs against England in Nottingham. This partnership occurred during the 1st test when Australia was touring England in 2013. Hughes scored 81 runs out of 131 balls while the middle-order collapsed around him. When Agar came out No.10, they scored a whopping 163-run partnership, which allowed Agar to score 98 runs out of 101 balls. The Agar-Hughes partnership was futile as the English side won by 14 runs.
Richard Collinge & Brain Hastings: 151 Runs [NZ vs PAK, Auckland, 1978]
In 1978, when Pakistan was touring New Zealand, the visitors performed more brilliantly than the hosts as they scored 402 runs during the 1st innings. In response to that, New Zealand's middle-order collapsed even though Rodney Redmond and Glenn Turner started strong, where Redmond scored a 100. But Collinge and Hastings built a 151-run partnership where Collinge made 68 runs and Hastings scored 110 runs. They did manage to reach a score made by Pakistan but the game ended in a draw.
Mushtaq Ahmed & Azar Mahmood: 151 Runs [SA vs PAK, Rawalpindi, 1997]p>Pakistan's well-known and top talents, Mushtaq Ahmed and Azar Mahmood, were accountable for making quick runs during the 10th wicket stand. The match took place in Rawalpindi in 1997 when South Africa was touring Pakistan. After a brilliant century from Ali Naqvi in the early phase of the game, the middle-order collapsed. But Mahmood and Ahmed hold the ground and build a 151-run partnership. Azar Mahmood scored 128 runs out of 267 balls, and Mushtaq Ahmed made 59 runs. The match was drawn after the game and continued till the end of the 5th day.
Tino Best & Dinesh Ramdin: 143 Runs [WI vs ENG, Birmingham, 2012]When West Indies was touring England in 2012, pacer Tino Best and batsman Dines Ramdin set up a 10th wicket partnership of 143 runs together. Tino came to bat at No.10, smashed 95 runs out of 112 balls, and put up a score of 426. On the other hand, Ramdin scored an unbeaten 107 runs out of 183 balls and had a strike rate of 58.46. Even though this was a brilliant partnership, the Test match ended in a draw because of bad lighting. Zaheer Khan & Sachin Tendulkar: 133 Runs [IND vs BAN, Dhaka, 2004]Everyone in this particular Test match between India and Bangladesh is well-remembered as Sachin Tendulkar scored 248*. India bundled out Bangladesh for 184, and the team looked good enough to maximize the lead by accumulating some runs during the 1st innings. But India's middle-order started to crumble, and they lost their 9th wicket.
Zaheer Khan and Sachin Tendulkar thwarted the Bangladeshi bowlers for over 30 overs. Both of them shared a 133-run partnership out of 181 balls. This is India's 10th wicket partnership record in Test cricket history, and Zaheer Khan's resistance helped Tendulkar score a double century, overtaking his previous 241 runs.
BhuvneBhuvneshwar Kumar and Mohammad Shami: 111 Runs [IND vs ENG, Nottingham, 2014]f="https://www.cric-life.com/player/mohammed-shami/" target="_blank" rel="noopener">Mohammad Shami and Bhuvneshwar Kumar put up a show during the Test match against England in Nottingham in 2014. Both of them scored a 111-run partnership in just 38.1 overs. Kumar, who batted at No.9, scored his 1st half-century, and Shami scored a half-century. Kumar was dismissed after scoring 58 runs, and Shami remained not out. S SreeS Sreesanth & Harbhajan Singh: 105 Runs [IND vs NZ, Hyderabad, 2010]performed brilliantly during this Test match against New Zealand in Hyderabad. India was 367/9 in reply to New Zealand's 350 in the 1st innings during the 2nd Test. The game headed towards creating an outcome until S Sreesanth and Harbhajan Singh came into the picture. They stayed together and scored a 105-run partnership in just 26 overs. This particular partnership helped Harbhajan Singh to achieve his 2nd Test century. The match ended in a draw.
To help you get a clear idea about these 10th wicket partnerships, here is a table that you check out.
| | | | | |
| --- | --- | --- | --- | --- |
| The Partners | Runs Scored | Played Against | Ground | Year |
| Joe Root & James Anderson | 198 | India | Nottingham | 2014 |
| Ashton Agar & Philip Hughes | 163 | England | Nottingham | 2013 |
| Brain Hastings & Richard Collinge | 151 | Pakistan | Auckland | 1978 |
| Mushtaq Ahmed & Azar Mahmood | 151 | South Africa | Rawalpindi | 1997 |
| Tino Best & Dinesh Ramdin | 143 | England | Birmingham | 2012 |
| Zaheer Khan & Sachin Tendulkar | 133 | Bangladesh | Dhaka | 2004 |
| Bhuvneshwar Kumar & Md. Shami | 111 | England | Nottingham | 2014 |
| Harbhajan Singh & S Sreesanth | 105 | New Zealand | Hyderabad | 2010 |
Final ThFinal Thoughts wicket partnerships in Test cricket are something worth appreciating. These partnerships can help a team gain victory in a match easily. You will learn about some of the best and highest 10th wicket partnerships in the history of Test cricket.
Similar articles