14.02.2022,15:02 2562 0
Highest Scores in Test Cricket in a Single Day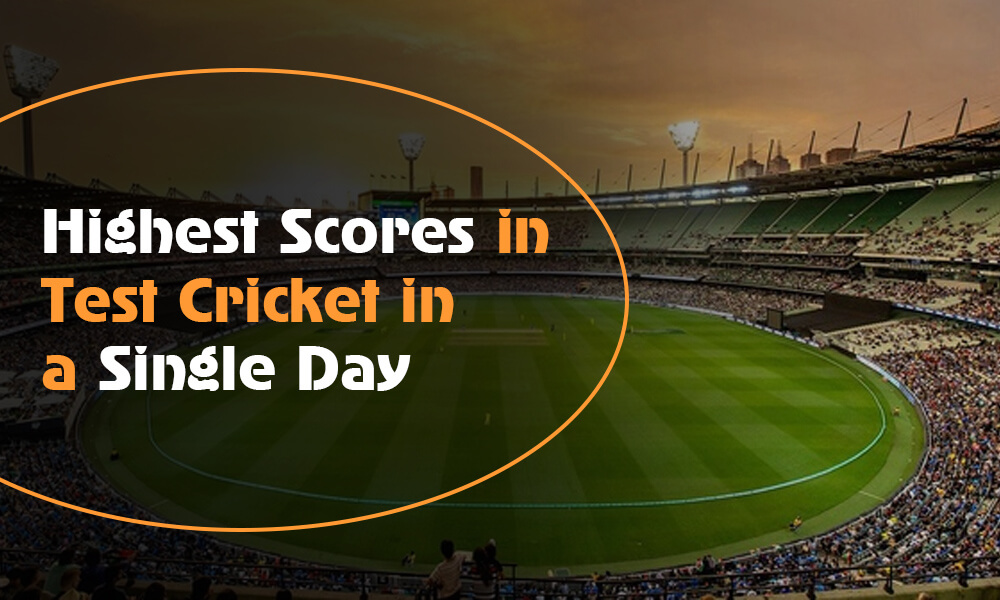 Test cricket remains the format that defines the numerous abilities of a batsman caliber like endurance, strength, and mental toughness. People have witnessed some extraordinary innings in the longest format of the game from some legendary players. Their amazing knocks have entertained fans across the globe and took the game to a whole new level. Through this article, we will look at those players who scored the most runs in a day in Test cricket for their respective national sides.
Batsmen with the Most Runs in a Single Day in Test Cricket
Under this particular section, you will find a list of cricketers who scored the most runs in a Test match and also in a single day. They are
Sir Donald Bradman: 309 Runs [ Australia vs. England, 1930]
This is a knock, which is legendary, just like the man himself. Sir Donald Bradman's 334 runs remain an essence of aggressive batsmanship. This excellent knock occurred during the 3d Ashes Test match in 1930. Sir Don came up to bat after Archie Jackson was dismissed. He took the center stand and mesmerized the crowd with an innings, which became mythical in cricket history.
Before lunch, Sir Don scored a century and scored another one between lunch and tea. He finished the day with a brilliant 309.
Sir Donald Bradman is the only cricketer to pass 300 runs in a day's play in a Test match. His 334 runs became a world record as it overtook Andy Sandham's 325 runs.
Sir Don's astonishing performance helped Australia have a massive total of 556.
In response, the English side scored 391 runs and follow-on, but the host's 2nd innings lasted only for 51.5 overs, and the Test match was jilted due to rain on the 4th day. In the end, the 5-match series between England and Australia stayed tied at 1-1.
Herschelle Gibbs: 288 Runs [South Africa vs. Pakistan, 2003]
In 2003, the beautiful Newlands in Cape Town witnessed an outstanding performance from South Africa's Herschelle Gibbs. Known as one of the most-destructive openers, Gibbs planned to imprint his authority on the Pakistani bowlers on the 2nd and final test match between Pakistan and South Africa.
Herschelle slapped 6 sixes and 29 boundaries and scored 228 runs out of 240 balls. His remarkable contribution helped his team to be in a commanding position. The hosts scored 620 runs in the 1st innings of the Test match and won the match by 142 runs and an innings.
Virendra Sehwag: 257 Runs [India vs. South Africa, 2008]
Virendra Sehwag is another player with the most runs scored in a single day of a Test match and for all good reasons. He produced a scintillating knock after he resumed his inning at 52* during the 3rd day of the 1st Test against South Africa in 2008 at Chepauk. India posted 627 runs, in reply to South Africa's 540 runs during the 1st innings. He scored 257 runs on the 3rd day, including 5 sixes and 42 fours.
He remained unbeaten on 309 but was dismissed on the 4th day for 319 runs. Even though the Proteas had a great bowling department, none of them could keep Sehwag quiet. The match ended up in a draw where the Proteas haggled 109 overs during their 2nd innings.
Sir Don Bradman: 244 Runs [Australia vs. England, 1934]
In August 1934, Sir Don ignited The Oval in an enduring Test match. The Ashes series was tied at 1-1, and the 5th Test was the decider. His extraordinary batting display, along with Bill Ponsford, helped Australia reach a score of 472/2 at the end of Day 1.
Even though Sir Don was the 2nd batsman to be dismissed by the English side, he scored a whopping 244 runs, which included one six and 32 boundaries. This is the most runs in a single day in Test cricket by a player, and Ponsford, on the other hand, also scored 266 runs. Australia put a total score of 701 on the board but won the match by 562 runs.
David Warner: 244 Runs [Australia vs. New Zealand, 2015]
David Warner imprinted his authority against the Kiwis in Perth. He is an excellent player and has performed well in the Test and T20s, and ODIs. Warner is a hard-hitting batsman, but he is well-known by his supporters and teammates to be pretty patient when the pressure is high.
Dot balls are no longer bothering him, and he has become an expert in picking up singles when the field moves back. In 2015, when playing against New Zealand, David picked off 85 singles and played 136 doll balls. He scored a 50 out of 118 balls, which included 12 fours.
In the 55th overs, the Aussies reached 250 runs, and Warner scored 150 out of 182 balls. But at stumps, he remained unbeaten on 244, not out. In total, David smashed 2 sixes and 22 fours.
Sir Frank Worrell: 239 Runs [West Indies vs. England, 1950]
Another player with the highest runs scored in a day of a Test match is Sir Frank Worrell. He is known as one of the "The Three Ws" of West Indies Cricket. In 1950, Sir Worrell scored a whopping 261 runs in Trent Bridge against England. Due to his contribution, West Indies put up a score of 558 runs and took a big lead. Sir Worrell hit 35 boundaries and 2 over-the-boundaries.
During the final innings, West Indies set up a target of 120 runs and also got to win the Test match by 10 wickets. The visitors were 2-1 in the 4-match series against England. During the match, his contribution towards the team helped Sir Worrell become the first-ever black captain of the West Indies.
Here is a table of players with the highest runs scored in a single day of a Test game.
| | | | |
| --- | --- | --- | --- |
| Name of the Player | Runs Scored | Opposition Team | The Year |
| Sir Donald Bradman | 309 | England | 1930 |
| Herschelle Gibbs | 288 | Pakistan | 2003 |
| Virendra Sehwag | 257 | New Zealand | 2008 |
| Sir Donald Bradman | 244 | England | 1934 |
| David Warner | 244 | New Zealand | 2015 |
| Sir Frank Worrell | 239 | England | 1950 |
Wrapping Up
The list of cricketers mentioned in this article has not only contributed for their teams but also made a name for themselves by scoring the most runs in a single day in a Test game.
Similar articles