15.02.2022,14:02 4202 0
History Behind the First Test Cricket Match Ever Played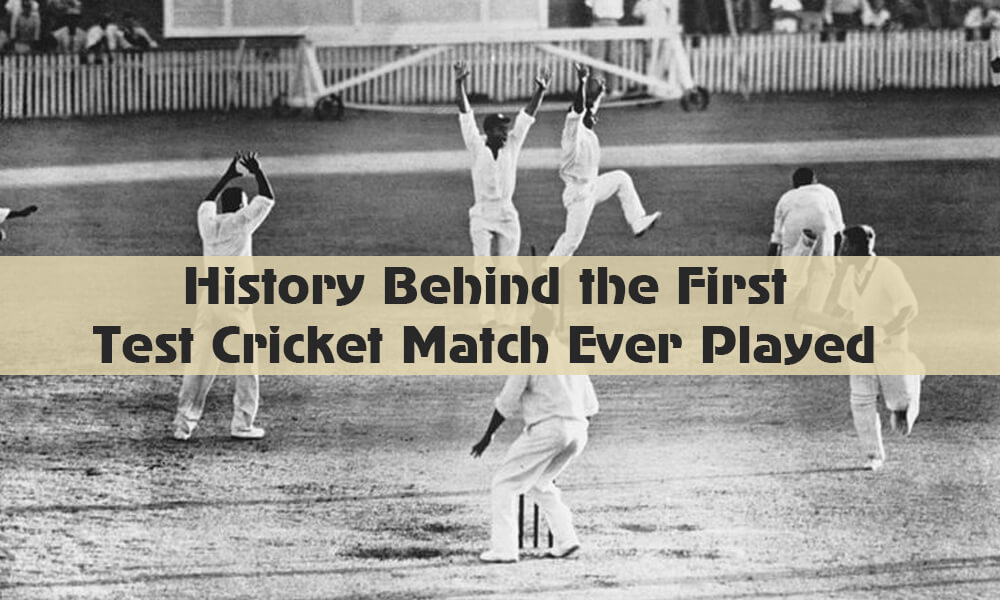 In this article, we delve into the origins of Test cricket and describe the first Test match ever played. The match took place between Australia and England nearly 145 years ago, in March 1877, setting a host of records some of which have remained unbroken to this day.


Origin of the Expression 'Test Match'
The Test match in March 1877 was not the first international match. More than three decades earlier, USA and Canada met in a cricket match in September 1844, but the match was not accorded 'Test' status. In 1868, a tour of Australian aborigines to England was not considered a Test tour as the tourists did not comprise a 'full" Australian eleven. Before the Test match in 1877, several English sides had been known to tour Australia, New Zealand, and the USA, though no match on such tours was granted test status.
In fact, it was only in 1885 that cricket administrators began to use the phrase 'Test match' to describe an official match between cricket-playing countries.
Origin of the Expression 'Ashes'
In 1882, following the unexpected defeat of England in England by Australia, a mock obituary of English cricket appeared in a journal called the Sporting Times. In the obituary, the writer suggested that the 'body' of English cricket would be cremated and that the Australian team would carry back the ashes when they returned to their home country. This inspired cricket administrators to have an urn made to contain the ashes of bails burned for the purpose.
Events That Led to the First Test Match
In 1976, two cricket teams from England planned to tour Australia – an amateur one led by Fred Grace, as well as a professional one led by Lillywhite. The amateur tour was forcibly cancelled and Lillywhite went ahead with his professional squad that did not have any of the great amateur talents of the time, including WG Grace. Because the Melbourne Cricket Ground (MCG) which was the main stadium was to host Fred Grace's team, the first official Test match was originally planned to be hosted at the East Melbourne Cricket Ground. But after the amateur tour was called off, the organizers decided to shift the match to the MCG which could host more spectators and would hence prove more profitable.
                                 'Firsts' Related to the First Test Match
First ever Test century:
165 by Charles Bannerman
First five-wicket Test haul:
5/51 by Billy Midwinter
Oldest Test debutant:
James Southerton at 49 years and 119 days
Highest percentage of runs in a Test innings:
67% by Charles Bannerman
First ball faced by:
Charles Bannerman
First ball bowled by:
Albert Shaw
First wicket taken by:
Allen Hill
First player to be run out:
Dave Gregory
First duck in Test cricket:
Ned Gregory
First Test Begins at the MCG
Melbourne was the venue of the first Test match in cricket history between Australia and England held between March 15 and 19, 1877. Australia led by Dave Gregory won the toss and elected to bat. Opener Charles Bannerman faced the first-ever delivery in Test cricket from England fast bowler Alfred Shaw. England did not have to wait long before they got the first wicket, that of Nat Thomson bowled by Hill for 1, with the scorecard reading 2 for 1.
Australia Score 245
Wickets at regular intervals did not help Australia's cause and they were soon reduced to 42 for 3. However, the hosts staged a smart recovery with a 77-run stand for the 4th wicket. In a see-saw battle, a flurry of wickets saw the Australia scorecard at 6 for 143. Under the circumstances, the home side did well to finish with 245. Charles Bannerman carried his bat through the innings though he unfortunately had to retire hurt after scoring the first-ever Test ton — 165 compiled in 285 minutes at the crease with 18 fours. Only four other batsmen reached double figures, with the next best score made by Tom Garrett who remained unbeaten on 18. Alfred Shaw was England's most successful bowler, returning figures of 3/51. James Southerton took 3/61, while Allen hill and James Lillywhite shared a wicket each.
England Bowled out for 196
The English openers – Harry Jupp and John Selby – put on 23 runs before Selby was out caught by Cooper off Hodges for 7. A fruitful partnership of 56 ensued between Jupp and Charlwood. But after Charlwood departed for a well-made 36, England lost regular wickets including that of Jupp who made 63. The visitors were reduced to 145 for 8 before a late resurgence led by Allen Hill (35 not out) helped them to a score of 196, giving Australian a useful first-innings lead of 49. For Australia, Billy Midwinter registered the first-ever fifer in Tests, taking 5/78.
Australia Win by 45 Runs
In their second knock, Australia were bowled out for 104. Needing 154 to win, England collapsed to be all out for 108, rendering Australia the winners by 45 runs.
First Test Match Trivia
The first Test was planned as a 'timeless' match but it lasted less than five days
The 'Australia' team was a combination of players from Victoria and New South Wales
Australia opener Charles Bannerman was dropped — before he had scored 10 runs – by Tom Armitage at mid-off
After Armitage dropped Bannerman, he bet with Lillywhite that he (Armitage) would score a fifty – he was dismissed for 9 runs and lost the bet
Each over bowled in the first Test match consisted of only four deliveries
Harry Jupp who top-scored in England's first innings trod on his wicket before he had opened his account and was given not out by a confused umpire
Bannerman retired hurt in the first innings after a ball from George Ulyett split his middle finger
Tom Kendall who took 7/55 to wreck England in the second innings was English-born
After the match, every Australian player received a gold watch from the Victoria Cricket Association
Similar articles