02.11.2021,15:11 738 0
IPL 2021 Finalists and Their Journeys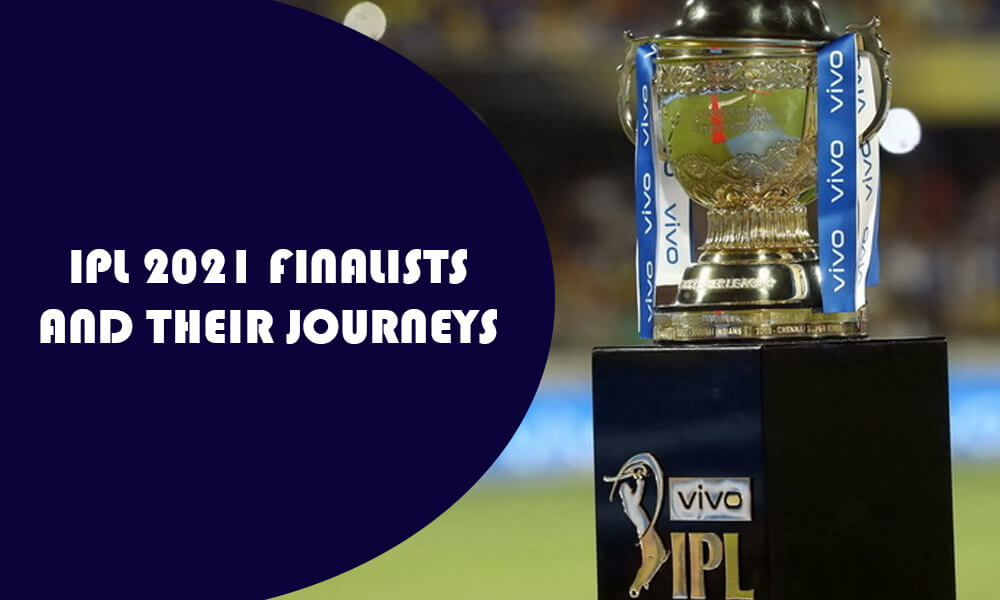 The Indian Premier League is a tournament of ups and downs. Teams rise and fall, stumble and pick themselves up, trail but catch up. In such tournaments, factors such as skill and squad often matter less than tenacity and resilience – and don't let anybody tell you that luck isn't a part of it all.
The IPL 2021 was no different, and teams that one would have expected to see in the final changed week-to-week. Each result tampered with our minds and made us believe in the chances of a different team.
However, only two teams were left in the end, having fought through a veritable gauntlet to stake their claim on the title. One was three-time champions and 9th-time finalists Chennai Super Kings, while the other was third-time finalists KKR.
CSK took a much simpler route to the finals, winning 9 of their 14 league stage matches and maintaining a healthy net run rate to beat Royal Challengers Bangalore – who were on the same number of points – to second place.
After their first-ever disastrous season last year, not much was expected of CSK at the start of this season, especially after they chose not to make too many changes to a lineup that almost exclusively employed either grizzled, aging veterans or newbies with very little experience. Even their first match seemed to point to another poor run as they lost to Delhi Capitals in convincing fashion. However, things would change, and change soon.
A winning spree followed with the Super Kings triumphant in their next five matches. This was followed by a loss against Mumbai Indians before another winning streak saw them rise right to the top. This is where they stumbled, though, with 3 back-to-back losses seeing them lose their lead. Their points tally was nevertheless substantial enough for them to stay in the top playoff berth.
Up against Delhi Capitals, the Super Kings were challenged but were equal to the challenge as they qualified for the final.
The prolific Ruturaj Gaikwad and veteran Faf du Plessis stole the show with their batting, while Deepak Chahar and Josh Hazlewood aced their bowling roles. At the same time, Ravindra Jadeja's considerable all-round contributions cannot be downplayed.
Meanwhile, things were no less grim at the start of the tournament In the camp of the other then-future-finalists. KKR had finished last season barely short of qualification, and after several similarly disappointing seasons, it was high time that a good run took place.
Although they won their first match, a slew of defeats saw them near the very bottom of the table. KKR managed only two wins from their first 7 matches, and as the tournament went into an indefinite hiatus due to COVID-19, they were all but out of the running.
However, the Kolkata-based outfit had other plans. When the competition restarted in September, they were a transformed team. Their next 7 matches saw them come away with 5 wins to wiggle into the final four, with several players coming alive to carry the team out of the fires of elimination and into contention.
Facing RCB in the Eliminator, KKR faced stiff competition but managed to squeeze past. In the second qualifier, they were faced with the otherwise-dominant DC. A similar contest ensued, separated only by fine margins of numbers, and once again, KKR were victorious.
The addition of Venkatesh Iyer seemed to work wonders for the team, and with Nitish Rana and Rahul Tripathi also stepping up, KKR's batting received a much-needed boost. In combination with excellent bowling from Lockie Ferguson, Sunil Narine, and Shakib Al Hasan, the Knight Riders were able to make one of the best comebacks the IPL has seen.
When the time came for the final, even the most skilled experts and seasoned bookies could hardly tell the two teams apart, with their odds being almost identical.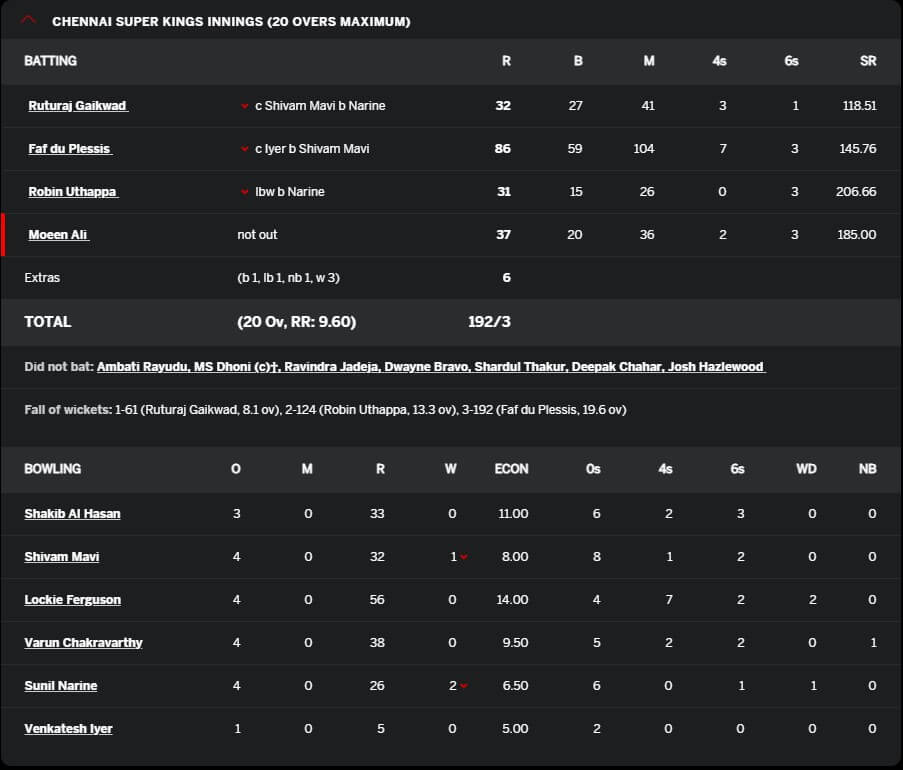 IPL 2021 final first innings scorecard (Source)
Batting first, CSK went off to a decent start. KKR's usually incisive bowling proved ineffective against the yellow giants, and they piled up a massive 192 for 3 from their allotted overs, with the aforementioned Du Plessis's 86 off 59 being by far the biggest score, though fantastic, aggressive cameos from Robin Uthappa and Moeen Ali helped greatly.
For KKR, Sunil Narine's 2-26 was promising, but as Shivan Mavi was the only other player to take a wicket, the runs kept flowing for CSK.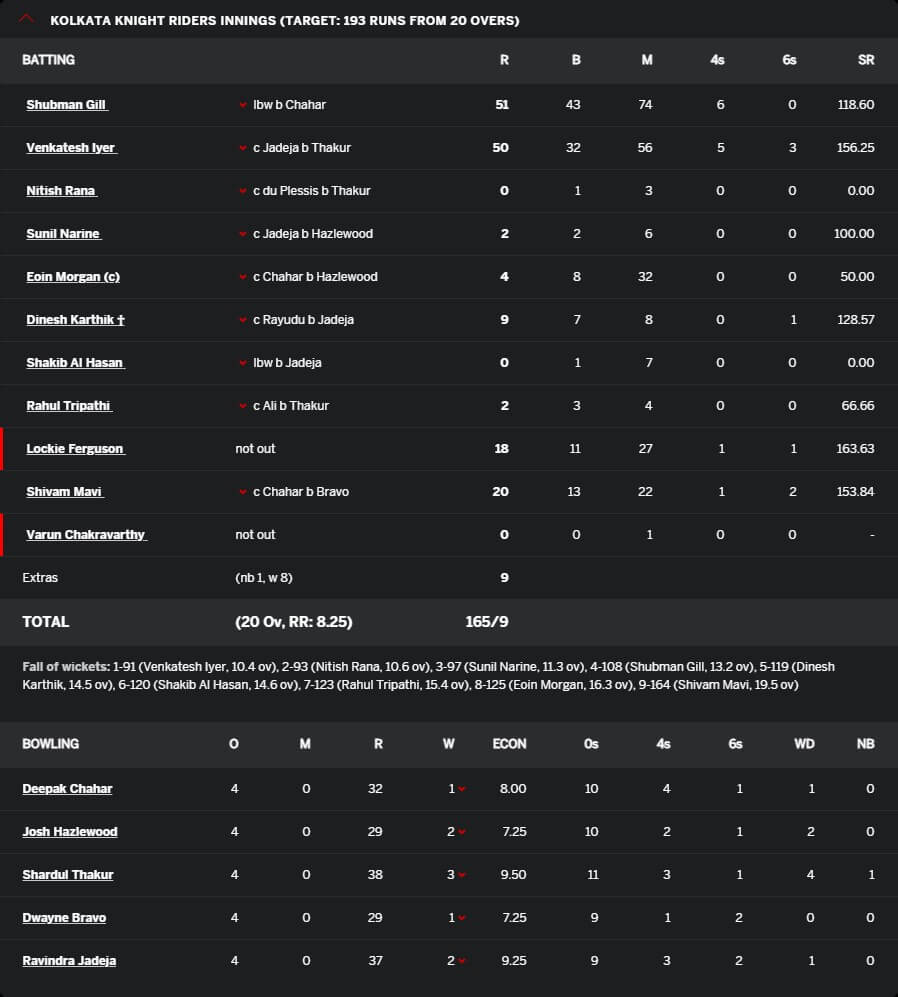 IPL 2021 final first innings scorecard (Source)
KKR's reply began in promising fashion, with the openers Shubman Gill and Venkatesh Iyer batting steadily for the first 10 overs, getting a half-century each. Once one fell, though, a collapse ensued. None of the next 5 batsmen could get to double digits, and KKR's dreams crumbled as their tally of runs limped to an inadequate 165/9 at the close of play.
Shardul Thakur pulled off an excellent performance as he picked up 3 scalps, and with Ravindra Jadeja and Josh Hazlewood taking two each, CSK managed to choke out KKR's batting and take the win.
The next IPL may be several months away, but with two new teams joining the fray and a mega auction looming, there's plenty of reason to be buzzed if you're an IPL fan.
To keep your hunger for IPL news in check, visit cric-life.com.
Similar articles