03.11.2021,16:11 62 0
KKR's Dream Run: How a Team That Was All but Counted out Almost Took the Title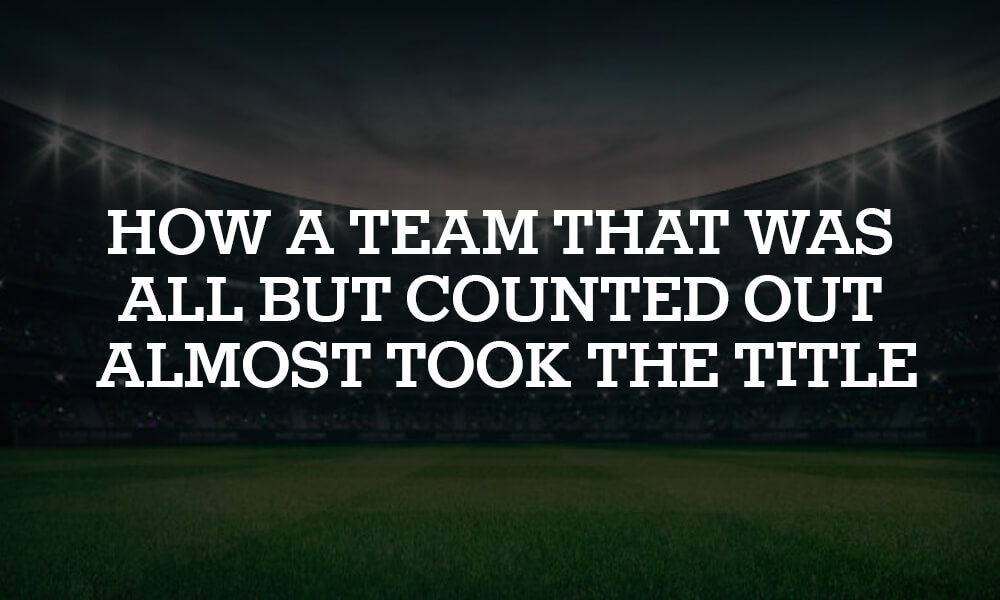 Two months ago, nobody considered Kolkata Knight Riders as a contender for the 2021 Indian Premier League title. The Kolkata-based outfit had lost 5 of their first 7 matches – with their wins only coming against notoriously unreliable teams – and they had shown little that was remarkable in their other games. They were languishing in seventh place needing a miracle.
COVID-19 stepped in, of course, and stopped the IPL for the greater part of 5 months. On September 19, matches resumed – but in the UAE instead of India.
When the matches resumed, however, KKR was a different unit altogether and managed to not only qualify but make it all the way to the final. 
In the Abu Dhabi leg, KKR really came into their own – making several important changes to streamline both the composition and the performance of the team.
West Indian Andre Russell was turned from a batting all-rounder to a full-fledged bowling option, with his experience and skill assisting the team greatly – especially in the middle overs.
This also allowed another batter to come into the lineup, and it was this player – Venkatesh Iyer – who really sparked KKR back to life. The young cricketer had done very well in India's hotly contested domestic circuit leading up to the IPL, and a powerful 41 off 27 balls in his very first match gave KKR some much-needed confidence in the batting department and relieving some of the pressure on Shubman Gill.
KKR's first match in the UAE leg was against Royal Challengers Bangalore, and although the latter were heavy favourites, KKR absolutely destroyed them. Andre Russell and Varun Chakravarthy starred with 3 wickets each, and with Kiwi speedster Lockie Ferguson picking up another couple, KKR dismantled RCB's powerful batting lineup for only 92 before assailing their target with exactly half their overs remaining.
An injury to Andre Russell put a wrench in their plans, but in came another Black Cap – Tim Southee – to the rescue. Even when Ferguson got injured as well, the team was balanced out by bringing Shivam Mavi back and adding Bangladeshi all-rounder Shakib Al Hasan to the mix.
In between all this, KKR won against Mumbai Indians convincingly, with bowlers looking solid and both Venkatesh Iyer and Rahul Tripathi being absolutely brutal with the bat. A loss off of the last ball against Chennai Super Kings broke hearts, but there were still plenty of positive takeaways. Then came an important win against Delhi Capitals which once again showcased not only the commendable prowess of KKR's bowling lineup but also the team's resilience with the bat.
A close loss against Punjab Kings brought them back to reality, but KKR bounced back with back-to-back wins against Sunrisers Hyderabad and Rajasthan Royals to just about squeeze into the playoffs. They had won 5 of their last 7 matches and were looking very dangerous with several players stepping up every match to contribute to the team effort.
The Knight Riders were scheduled to play RCB once more, and although things weren't as much of a cakewalk this time around, they still managed to win the perilous Eliminator encounter. Batting first, RCB put up a defendable (given the condition of the pitch) 138 – a total that was severely stunted by West Indian spinner Sunil Narine's fantastic 4-21.
In reply, KKR struggled, but thanks to two aggressive cameos from Shubman Gill and the aforementioned Narine, they were able to once again barely edge out their opponents.
Up next, they came up against DC once more. Despite topping the league table, the Capitals had stumbled against CSK en route to the final. It was a do or die match for both teams, and
DC had a slow but measured start. However, they waited too long to go on the aggressive, and could eventually only rack up a modest 135, with Varun Chakravarthy being the standout bowler for the Knight Riders.
KKR's chase began strong and it looked as though they would breeze through the match. However, once their openers fell, what should have been the simplest of wins threatened to go down the drain as no fewer than four of their batters fell for ducks. In the end, the match was taken home off the penultimate delivery.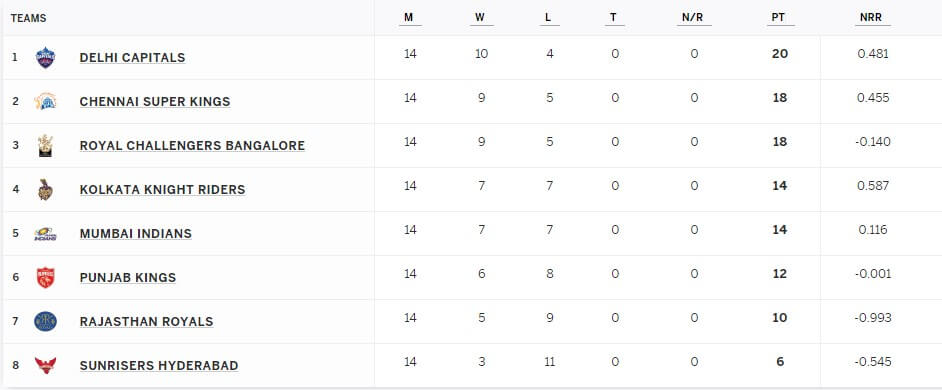 IPL league table at the end of the allotted matches (Source)
It wasn't an easy route to the final by any means, and few IPL teams have ever succeeded in pulling off such an audacious, brilliant comeback, but it brought new hope to a team that hadn't seen a final since their 2014 win.
David Hussey, former Australian batter, IPL legend, and a mentor for KKR, stated that head coach Brendan McCullum – himself an erstwhile beastly figure in the IPL – had done a fantastic job.
He also mentioned that team captain Eoin Morgan, though underperforming with the bat (to be very mild), had been fantastic with his captaincy – making important bowling changes and playing a major behind-the-scenes role in the team's success.
Of course, KKR eventually lost the final to CSK, but the franchise will no doubt be rejuvenated by this season's deep run.
For more insightful articles about the IPL, keep a browser tab open on cric-life.com.
Similar articles