03.02.2022,14:02 1134 0
Most Test Wickets Taken in 2016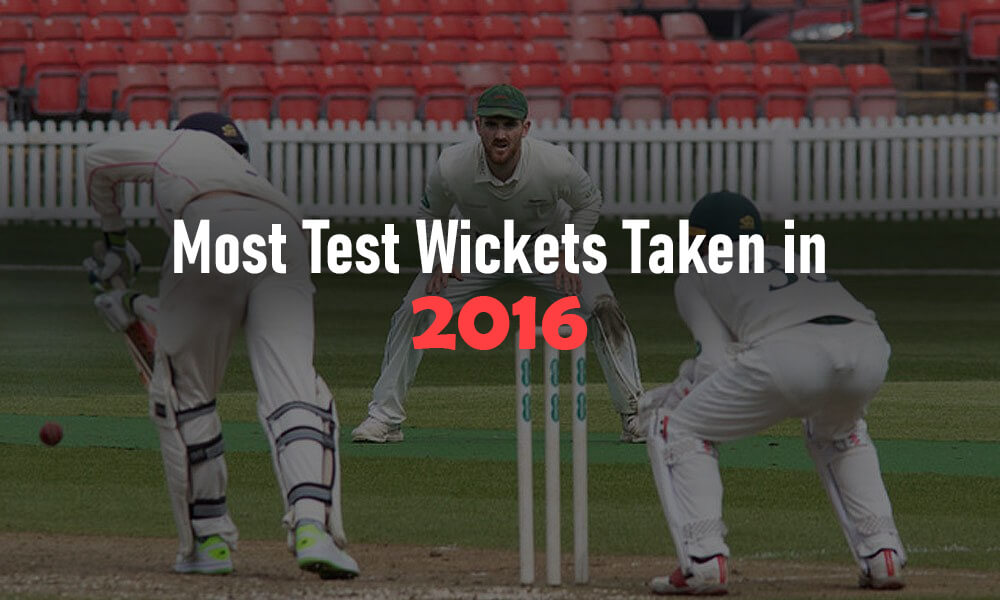 Bursts of form are common in cricket, and every bowler of any repute goes through hot streaks. 2016 was a year with similarly brilliant bowling performances, with some bowlers acing their season and making even the most seasoned batters wary.
Such dominance is rare in a sport as competitive as cricket, and even highly skilled cricketers usually only make it to such lists a handful of times in their career. Let's take a look at 2016's highest Test wicket-takers.
1. Ravichandran Ashwin (India)
Arguably the best Indian spinner of this generation, Ashwin had a big 2016. Not only did he top the wicket-taker charts, but he did so 15 wickets ahead of his closest competitor. Ashwin scalped 72 batters in 12 matches, averaging 23.9 and striking every 48.7 deliveries.
2. Rangana Herath (Sri Lanka)
This underrated Sri Lankan may have spent most of his career in Muttiah Muralitharan's shadow, but he was a terrific bowler by his own right. Herath picked up 57 wickets in 2016 from just 9 matches, averaging a mere 18.92 — the lowest on this list. He struck every 43.4 deliveries, which is superb for any bowler.
3. Mitchell Starc (Australia)
One of the best fast bowlers of this generation, there's precious little Mitchell Starc hasn't achieved. His 2016 was brilliant considering the low number of matches he played. Starc took 50 wickets in a mere 8 matches at 22.58, with a strike rate of 39 flat.
4. Stuart Broad (England)
The 'lesser' of the long-term pace mainstay duo of this generation of English cricketers, Broad had a solid 2016 — a year in which he outdid his partner. He picked up 48 wickets averaging 26.56 with a strike rate of 57.9 over 14 matches.
5. Kagiso Rabada (South Africa)
Probably the most exciting speedster out there right now, he debuted in 2015 but broke into the scene in 2016, eating his way through 46 batters at 23.34 in just 9 matches.
Kagiso Rabada got someone out every 36.6 deliveries — the best strike rate on this list
.
6. Yasir Shah (Pakistan)
Pakistan might traditionally be known as the breeding ground for fast bowlers, but in 2016 it was a spinner who led their bowling charts. Yasir Shah took 46 wickets that year at an average of 38.69 and strike rate of 70.2. He played 10 matches that year.
7. Ravindra Jadeja (India)
The master all-rounder is as good with the ball as he is with the bat. In 2016, Jadeja played 9 matches and took 43 wickets, averaging 24.55 and striking every 64.6 deliveries.
8. Josh Hazlewood (Australia)
Starc's striking partner played 11 matches in the year in question, dismissing 42 batters with one every 27.85 runs or 60.8 deliveries.
9. James Anderson (England)
The Yin to Stuart Broad's Yang, Anderson has taken more Test wickets than any fast bowler. By those standards, 2016 was just another year for him as he picked up 41 wickets in 12 matches, averaging 23.73 with a strike rate of 57.6.
10. Nathan Lyon (Australia)
The third Australian on this list, Lyon is one of those unassuming bowlers who come up with fantastic cameos every now and then. He took 41 wickets in 2016 in just 11 matches with an average of 36.34 and a strike rate of 64.
Similar articles