26.01.2022,15:01 2348 0
Captains with Most Test Runs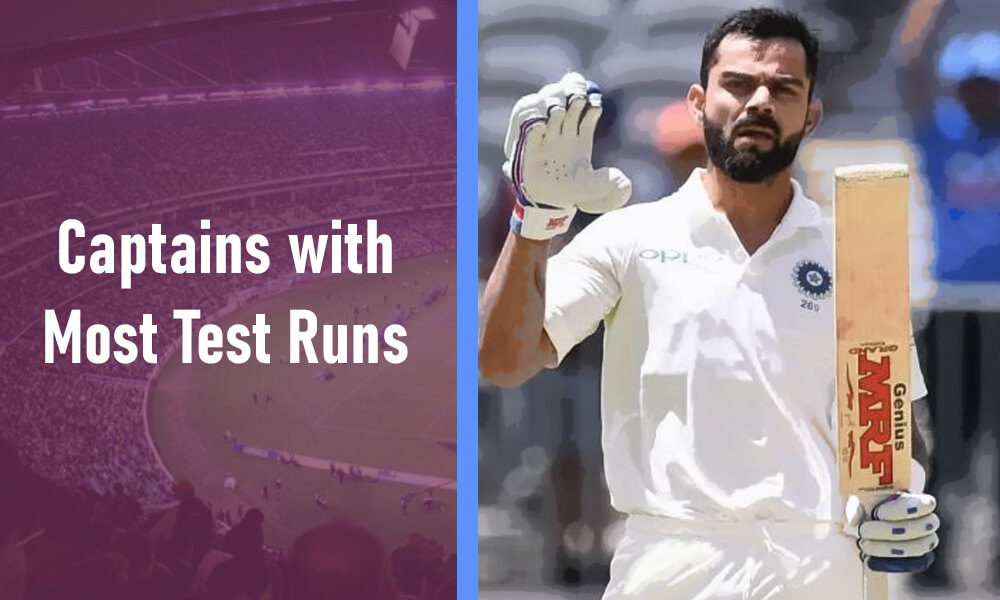 There is no denying that the longest format of cricket is the toughest one in terms of the consistency, patience, and skills it needs. Now, to be the captain of a Test cricket team and still manage to hold on to an excellent form – that's simply praiseworthy! The players in the list of the most Test runs as captain have done that brilliantly.
1. Graeme Smith (South Africa)
Total Runs: 8659 runs
Highest Score: 277
Average: 84
Well-built and tall, Graeme Smith was called the 'Biff' for his capacity to take the leather off cricket balls. He took up the responsibility of being the captain of South Africa at a young age of 22. Moreover, the youngest skipper of the team came at a time when Hansie Cronje had damaged the team reputation with a major match fixing scandal.
He led by example as a captain. The best example of it was the Sydney Test (2009) when he played the game with a broken hand. He might not have won, but the cricketing community was all praises for his bravery. In his Test cricket career spanning twelve years, he scored a total of 8,659 runs, with the highest score of 277.
2. Allan Border (Australia)
Total Runs: 6623 runs
Highest Score: 205
Average: 95
Allan Border is widely known and acclaimed for his captaincy because it is something that transformed Australia into a team to be feared and respected. However, he was equally remarkable as a batsman. What made his arrival in the cricket scene more special was that the Australian team was going through quite a turmoil at that phase. He did the job of rebuilding the team.
Border's first Test century was against Pakistan. It ended on a bitter-sweet note because his first ton did not make Australia win the match. In fact, the Aussies were sent home for 310, while they needed 382. However, his performance was noticed and praised widely in the cricket world. When his Test cricket career ended in 1994, he had amassed 6,623 runs.
3. Ricky Ponting (Australia)
Total Runs: 6542 runs
Highest Score: 209
Average: 51
Ponting's most remarkable quality was his unflinching aim to win every match. Though the desperation has landed him into some controversies, there is no denying that he is one of the finest captains Australia had. From three World Cup titles (as a captain), a few Champions Trophies, to the top Test ranking, he had pretty much done it all as a captain.
Along with his fiery turnout as a skipper, Ponting had a free-wheeling stroke-play that helped him amass runs and destroy opposition bowlers like no other. In a career that spanned seventeen years, his total Test runs were 6542, which included the highest score of 209 and an average of 51.51.
4. Virat Kohli (India)
Total Runs: 5864 runs
Highest Score: 254*
Average: 80
Virat Kohli received the Test captaincy three years after he debuted in ODI. The requirement to rest the senior cricketers made the team decide to hand over the captain's cap to him in 2011. When he started playing against Australia, the first two Tests showed his clear lack of technique to play on the bouncy wicket.
However, the selectors kept their faith in him. As he went into the third Test, his performance was a breakthrough one. Along with a score of 75 runs, there was a noticeable change in technique. He might have had a rocky start, but soon his Test cricket career was soaring. His total Test runs are still going strong with 5,864 runs, and his highest score stands at 254 till now.
5. Sir Clive Lloyd (West Indies)
Total Runs: 5233 runs
Highest Score: 242*
Average: 3
Sir Clive Lloyd is one of the greatest captains in ODI and Test cricket. There are few players who have inspired generations like he did. The first Test century of Lloyd was against England at Trinidad. His innings helped the team secure a smashing win.
He went and scored eighteen more centuries for his team. Finally, his Test career ended with 7,515 runs with an average of 46.67 in 110 Tests. After a remarkable international career, Lloyd started taking an active interest in managing the teams of the West Indies and Guyana. That's not all! He was also made a referee by the ICC in 1992. He was also an accomplished cricket commentator.
6. Stephen Fleming (New Zealand)
Total Runs: 5233 runs
Highest Score: 242*
Average: 3
A top leader for his team, Stephen Fleming is hailed as one of the finest modern captains of our times. He was a sound strategist with a tactical mind, who led a smaller collection of players and turned them into a fearsome group in international cricket. He was also a remarkable Test player throughout his career.
Fleming happened to be the most capped Test player ever in New Zealand cricket history as he played 111 Tests as a captain. In fact, he is the only player from his country to have managed to score more than 7,000 runs in Tests. His first Test century ever was against England when he scored 128 in Australia in 1997. Fleming scored a total run of 5,233, with the highest score of 242 and an average of 51.30.
The Most Runs in Test Cricket by a Captain
| | | | | | | | | | |
| --- | --- | --- | --- | --- | --- | --- | --- | --- | --- |
| SL. No. | Player | Country | Career | Match | Runs | Highest Score | Average | 50s | 100s |
| 1 | G C Smith | South Africa | 2002-2014 | 109 | 8659 | 277 | 47.84 | 36 | 25 |
| 2 | A R Border | Australia | 1978-1994 | 93 | 6623 | 205 | 50.95 | 36 | 15 |
| 3 | R T Ponting | Australia | 1995-2012 | 77 | 6542 | 209 | 51.51 | 35 | 19 |
| 4 | V Kohli* | India | 2011- | 68 | 5864 | 254* | 54.8 | 18 | 20 |
| 5 | C H Lloyd | West Indies | 1966-1984 | 74 | 5233 | 242* | 51.3 | 27 | 14 |
| 6 | S P Fleming | New Zealand | 1994-2008 | 80 | 5156 | 274* | 40.6 | 31 | 8 |
Similar articles