23.11.2021,16:11 51 0
Aussie Keeper Matthew Wade Thankful for CA's Faith in Him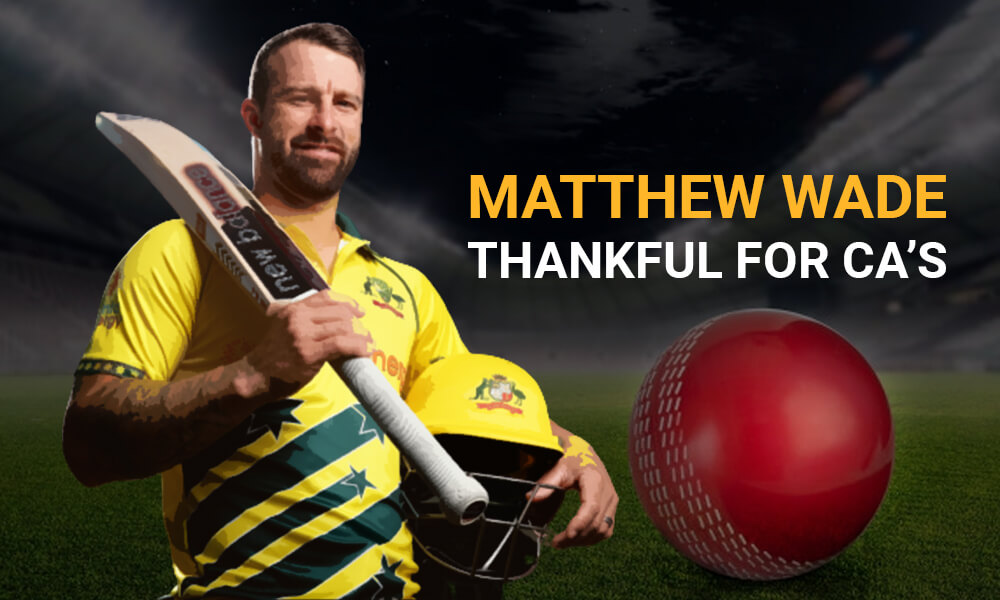 After his stellar cameo in his team's semifinal clash against Pakistan in the ICC Men's T20 World Cup 2021, Australian wicket-keeper Matthew Wade expressed his gratitude to the board for selecting him.
Wade's hyper-aggressive 17-ball 41* came at a time when Australia was looking to be on the verge of crumbling. Alongside Marcus Stoinis, who himself got 40 off 31, Wade put up an 81-run partnership that saw the Aussies get home with 6 wickets in hand and an entire over to spare.
Before the two went out to the middle, Pakistan seemed to be making rapid strides towards victory, which would have seen them head to their third ICC Men's T20 World Cup final.
Wade managed to hit Shaheen Shah Afridi for three back-to-back sixes in the tail end of the 19th over to seal the deal. This was the final nail in Pakistan's coffin after Australia clawed their way back from needing 62 off the last 5 overs.
During the post-match press conference, Wade talked about discussing Pakistan's game plan with his partner at the other end. He also said that he had got off to a better start than he had expected, and was happy to have hit the trio of sixes that had finished the match off in Australia's favour.
The Aussie wicket-keeper also said that he hadn't been able to get much of a word in with his team before he had got in to bat because several wickets had fallen in quick succession.
Wade mentioned batting alongside Stoinis earlier in the tournament and added that the latter had helped him with his approach to the situation. When he slowed down his scoring a little, Stoinis was there to relieve the pressure.
Initially intending to target the shortest boundary, Wade ended up improvising and just going with the flow.
While his performance will remain in the memory of fans for a long time, Wade himself is just happy to have been able to do right by the faith Cricket Australia had in him.
The 33-year-old was out of the Australia squad for a couple of years, and since his return, he hasn't exactly been stellar. However, this clutch performance will certainly tip the odds in his favour.
After Australia's incredible chase, captain Aaron Finch had plenty of good things to say about both Stoinis and Wade.
Finch highlighted the importance of the partnership between the two finishers, adding that Wade's ice-cool state of mind in the tail end of the innings had been nothing short of amazing.
Remarking on the catches his teammates dropped, Finch said that the sloppy performance would have to improve. He added that although chasing had been the way to go under the conditions, he wouldn't have minded being put to bat first had he lost the toss.
Pakistan's Babar Azam also mentioned dropped catches — specifically Hasan Ali dropping Wade on the 3rd delivery of the penultimate over. He added that had that catch been taken, things may have gone very differently.
Babar also said that he was happy with Pakistan's first innings total, but confessed that giving a team like Australia so much space and scope in the most crucial moments of the match was just asking for trouble.
Arguably the best batter in the world right now, Azam praised his team's performance in the tournament, counterbalancing his statement with the admission of small but critical errors that had let a potential appearance in the final slip by.
Of course, Australia went on to make the best of the opportunity afforded to them by Pakistan, winning the tournament and bagging their first-ever T20 World Cup title, bringing their tally of world cup titles to an unparalleled 6, and ICC trophies to an also unassailed 8.
Australia currently await England's arrival for this year's 5-Test Ashes, while Pakistan are already in Bangladesh for a T20 series followed by two Tests.
For more cricket-related content, bring some cric-life.com into your life.
Similar articles