26.01.2022,16:01 531 0
Best Test Batsmen of All Time: Top Six Names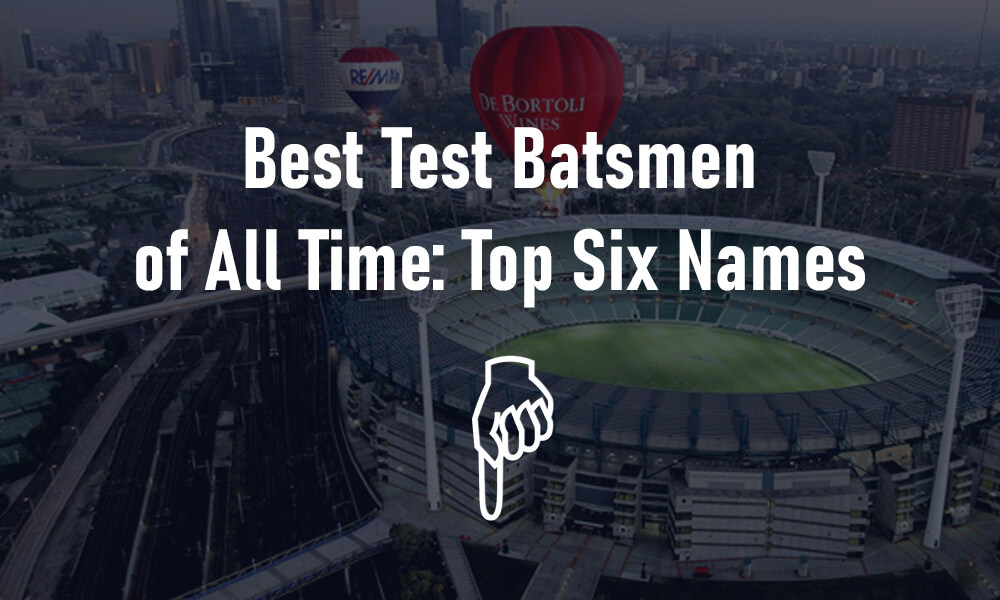 Test cricket is one of the toughest and longest formats of the game. Thus, it is understandable that cricketers consider their Test achievements so highly in their career. Test cricket is also the oldest format of the game, and several stalwarts have left their mark in this format. On that note, here are the greatest batsmen of all time in Test cricket.
#1 Sir Don Bradman
Any list of 'all-time great' is not even complete without a mention of the "Don."
The standards set by Bradman are so high and lofty that no player in the history of this sport has even come closer to replicating the legacy
.
His name is naturally associated with cricket, and you would hardly see a cricket expert not call him the finest.
Regardless how much we praise and talk about this stalwart, his stature will still not be justified. Sir Don Bradman held a batting average of a remarkable 99.94. In fact, at certain points in his career, his batting average went even beyond 100. Till today, he has the record for scoring the highest number of double centuries in the history of Test cricket (twelve). This Australian legend had also amassed two triple hundreds and 29 centuries. Thus, without a doubt, Bradman is one of the best Test batsmen of all time.
#2 Glenn McGrath
Glenn McGrath might be a comparatively recent name, but he is still the finest pacer of all time. Nicknamed 'The Pigeon,' McGrath made sure that he flew to newer heights of greatness. The Australian pacer had a knack of picking wickets simply for fun.
He took a whopping 563 wickets in Test cricket, which was the highest number of wickets taken by a pacer for the longest time. His strike rate and bowling average in the longest format are 51.98 and 21.64 respectively. What is even more astounding is the fact that the way he performed outside his home was much better than the record he held at home.
His away bowling average stood at 20.81 in comparison to his home bowling average that was 22.43. Thus, in more ways than one, he was one of the greatest Test cricketers ever.
#3 Courtney Walsh
There was an entire cricketing era that belonged to Courtney Walsh. It would not be an exaggeration to say that he was one of the finest bowlers of the game. In fact, his contribution to the world of fast bowling continues to inspire one and all. His strike rate and Test bowling average are 57.85 and 24.45 respectively. Similar to McGrath, his records were equally good outside his home turf. The overseas bowling average of this performer is only 25.
But more than the numbers, his name comes on this list because of the impact he left. His fierce and dominant bowling attack is something that even the youngsters of today idolize. It is hard to find a cricketer that is as good as him. Therefore, Walsh is the all-time great in the longest format of cricket.
#4 Sir Gary Sobers
Any discussion about the finest all-rounders in Test cricket history remains incomplete without a mention of Sir Gary Sobers. His success is something that inspires the all-rounders till today. He was an exceptional batsman, and he was pretty street smart and swift as a bowler. Now, think of his brilliant captaincy. Was anything ever impossible for him to do?
When considering his complete record, it might look somewhat unreal to anyone. How is it possible for someone to have a bowling average of 35 and a batting average of 57 simultaneously? This man was either a complete genius or a magician! Naturally, he was the main man of the West Indies team for the longest time. 
Do you want to know more about how good Sobers was? Well, he took 235 wickets with the ball and 26 centuries with the bat. When Jacques Kallis, Kapil Dev, Richard Hadlee, or Imran Khan were doing well, people used to ask questions like 'Can they be the next Sobers?' That was the impact of this stalwart. So, there is no denying that Sobers is one of the top Test batsmen of all time.
#5 Jacques Kallis
Kallis will always be regarded as the finest all-rounder of Test cricket. Though he was not the next Sobers, he was the first-ever Kallis. The list of achievements of this stalwart is as long as ever. He is one of the finest players of the game and there is no compliment ever that can do justice to the legacy of this great cricketer.
Kallis was as good a bowler as he was a batsman. On top of that, his fielding skills were pretty classy. All in all, there is nothing that he cannot do. His Test batting average and Test bowling average are 55.37 and 32.65 respectively.
#6 Muttiah Muralitharan
Muttiah Muralitharan is undoubtedly one of the greatest spinners and the greatest bowlers that this longest format of the game has ever witnessed. Also, he is the most accomplished Test bowler of all time. The fact that he has taken 800 wickets in the Test matches still remains an iconic number. Regardless of what the critics say, no one can deny that Muralitharan was the finest of all time. So, getting 800 wickets in only 133 games was not an ordinary feat. In addition to that, his 22 10fers and 67 5fers, and his records are matchless.
Muralitharan was not only a bowler, but also a cricket wizard who showed his tricks and magic on the field. This spin maverick wonderfully finished the iconic Test by picking a wicket in the final ball he delivered. Therefore, he is one of the greatest Test cricketers of all time.
And that's all! These were the six cricketers who have left their mark in the world of Test cricket through their skills and performance.
Similar articles