14.02.2022,16:02 5117 0
First Day-Night Test Match Ever Played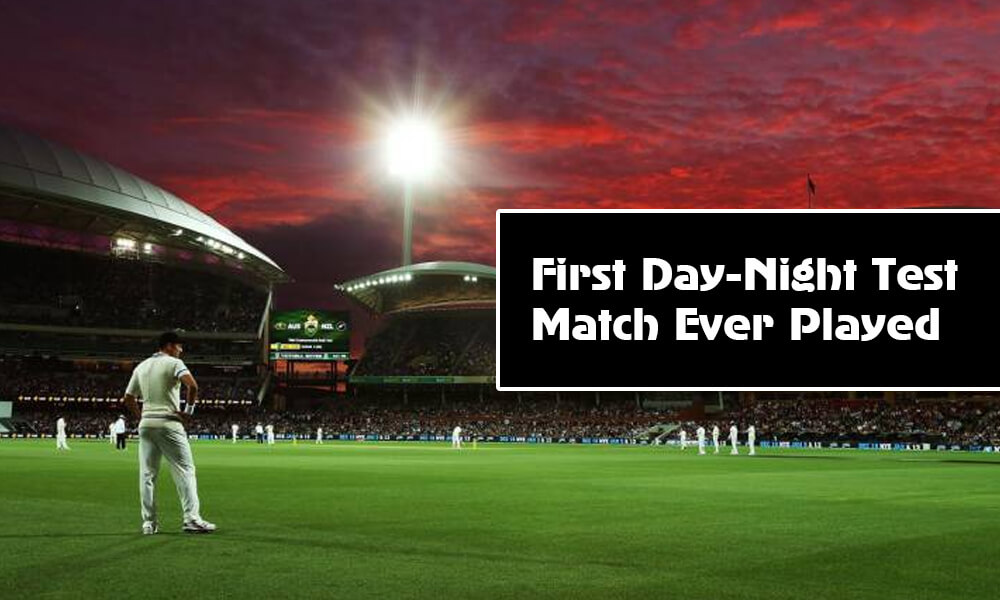 The first ever day-night Test match – the third match of a three-Test series during New Zealand's tour of Australia – was hosted at Adelaide between November 27 and 29, 2015. In this article, we discuss the history of day-night cricket and review the first day-night Test match.
Summary History of Cricket Under Lights
| | | | |
| --- | --- | --- | --- |
| Date | Venue | Match | Teams |
| 14 December 1977 | VLF Park, Melbourne | One Day Match | WSC Australia vs WSC West indies |
| 27 November 1979 | Sydney Cricket Ground | One Day International | Australia vs West Indies |
| 29 March 2010 | Abu Dhabi | County Championship | MCC vs Durham |
| 27-29 November 2015 | Adelaide | Test Match | Australia vs New Zealand |
FiFirst Day-Night Test Match href="https://www.cric-life.com/article/top-5-fast-bowlers-in-australia/" target="_blank" rel="noopener">Australia hosted the first day-night Test match at Adelaide in November 2015. It was the final match of a three-Test series on New Zealand's tour of Australia. New Zealand won the toss and elected to bat. NZ BNZ Bowled Out for Low Score the pink ball swinging a lot, New Zealand were soon a wicket down with seven runs on the board when Martin Guptill was dismissed by Hazlewood. Then came a 52-run stand between Latham and Williamson. However, without any substantial partnerships thereafter, a regular fall of wickets ensued, and New Zealand were bowled out for 202. Tom Latham top scored with 50 while Mitchell Starc and Josh Hazlewood took three wickets each for Australia. SlenSlender Lead for Australia Australia replied, they lost regular wickets. However, thanks to half centuries by Steve Smith and Peter Neville, they managed to sneak ahead of the New Zealand total. The hosts were eventually bowled out for 224. New Zealand's best bowler was who took three for 18. AnotheAnother Batting Collapse by NZg>When New Zealand batted a second time, Josh Hazlewood gave another great performance to keep the visitors down to 208. He took six for 70 in a New Zealand innings in which Mitchell Santner (45) was the top scorer. AustraAustralia Lose Seven Wickets to Achieve Modest Targetmodest target of 187 to win, Australia were themselves in a spot of trouble at 66 for 3 when Steve Smith was dismissed in the 14th over. Partnerships of 49 and 46, respectively, for the fourth and fifth wickets steadied the ship somewhat. And although they lost two more wickets, the home side managed to reach the target with a degree of comfort to register a three-wicket win. Trent Boult took 5 for 60 to emerge New Zealand's best bowler of the second innings while Shaun Marsh who made 49 was Australia's top scorer.
List of Day-Night Test Matches
| | | | | |
| --- | --- | --- | --- | --- |
| No. | Date | Venue | Teams | Result |
| 1 | 27 Nov 2015 | Adelaide | Australia vs New Zealand | Australia won by two wickets |
| 2 | 13 October 2016 | Dubai | Pakistan vs West Indies | Pakistan won by 56 runs |
| 3 | 24 November 2016 | Adelaide | Australia vs South Africa | Australia won by 7 wickets |
| 4 | 15 December 2016 | Brisbane | Australia vs Pakistan | Australia won by 39 runs |
| 5 | 17 August 2017 | Edgbaston | England vs West Indies | England won by an innings and 209 runs |
| 6 | 6 October 2017 | Dubai | Pakistan vs Sri Lanka | Sri Lanka won by 68 runs |
| 7 | 2 December 2017 | Adelaide | Australia vs England | Australia won by 120 runs |
| 8 | 26 December 2017 | Port Elizabeth | South Africa vs Zimbabwe | South Africa won by an innings and 120 runs |
| 9 | 22 March 2016 | Auckland | New Zealand vs England | New Zealand won by an innings and 49 runs |
| 10 | 23 June 2018 | Bridgetown | West Indies vs Sri Lanka | Sri Lanka won by 4 wickets |
| 11 | 24 January 2019 | Brisbane | Australia vs Sri Lanka | Australia won by an innings and 40 runs |
| 12 | 22 November 2019 | Kolkata | India vs Bangladesh | India won by an innings and 46 runs |
| 13 | 29 November 2019 | Adelaide | Australia vs Pakistan | Australia won by an innings and 48 runs |
| 14 | 12 December 2019 | Perth | Australia vs New Zealand | Australia won by 296 runs |
| 15 | 17 December 2020 | Adelaide | Australia vs India | Australia won by 8 wickets |
| 16 | 24 February 2021 | Ahmedabad | India vs England | India won by 10 wickets |
| 17 | 16 December 2021 | Adelaide | Australia vs England | Australia won by 275 runs |
| 18 | 14 January 2022 | Hobart | Australia vs England | Australia won by 146 runs |
Similar articles