14.02.2022,15:02 6196 0
Longest Winning Streaks in Test Cricket History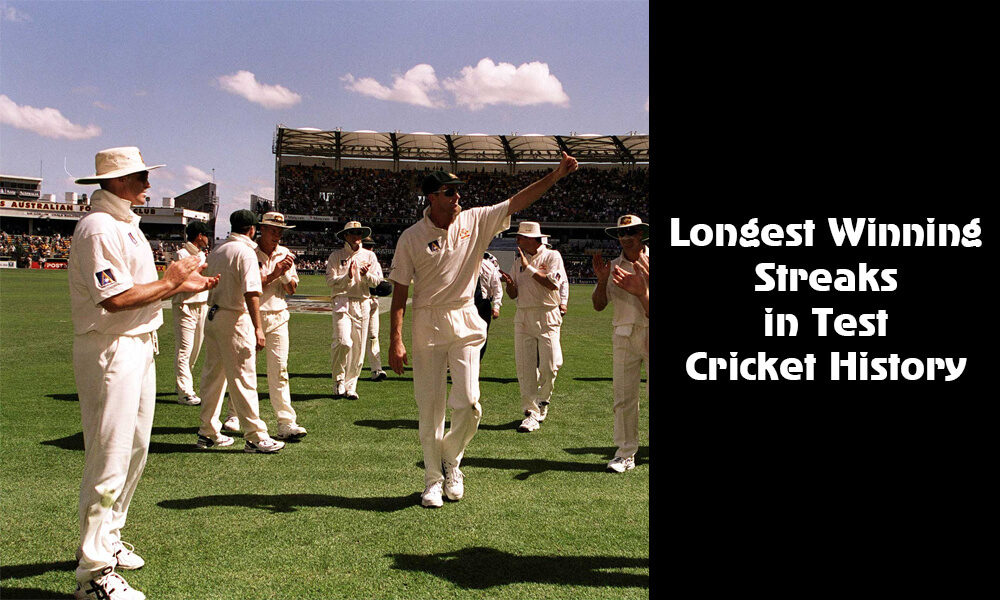 Test cricket is the longest format of the game. You can ask any player, and they will tell you that Test cricket is the most-renowned format of the sport when compared to ODI and T20. Due to such reasons, players [both past and present] love playing this format.
Apart from being the longest, it's also the hardest format to ace for all the teams when it comes to staying loyal over a full series or 5-days. It will be an outstanding achievement for those teams who get to stay undefeated over the years or even more.
There have been some of the teams with the longest unbeaten streak in Test cricket history. These teams have dominated Test cricket with their exceptional performance, and you will learn about them through this article. These teams are:
Contents
West Indies: 27 Test Matches [1982 to 1984]
p>The legendary Clive Lloyd captained West Indies in 26 games, and Sir Vivian Richards captained the side for one just match. Gordon Greenidge, Desmond Haynes, Sir Vivian Richards, and Jeff Dujon were part of all the 27 Test games. In those 27 matches, Gordon Greenidge scored 2087 runs at a strike rate of 59.62 along with 6 centuries. On the other hand, Larry Gomes scored 7 centuries in that longest winning streak in Test cricket, and Clive Lloyd and Sir Richards remained consistent. England: 26 Test Matches [1968-1971]p>In all the 26 matches, the English side had three captains, which were Beam Illingworth [for 19 Tests], Colin Cowdery [For 6 Tests], and Tom Graveney [For 1 Test]. During this long winning streak, John Edrich played all those 26 Test games and Basil D'Oliveira and Alan Knott.

Edrich was also considered a star batsman and scored 2055 runs in total. Geoffrey Boycott scored 1426 runs, and Basil D'Oliveira scored 1427 runs during that stage. In the bowling department, Derek Underwood was the leading wicket-taker in that era.

He had taken 91 wickets and had 8 five-wicket hauls in 20 matches. But the 26-game undefeated run was broken by Indians back in 1971 when India won the 3rd game of the Test against England 1-0 and created history. Ajit Wadekar was the skipper of the Indian team at that time.

Australia: 25 Test Matches [1946 to 1951]p>The team that was always hinted at as Sir Don Brandman's Invincibles is one of the dominating teams to ever exist. From 1930 to 1952, Australia gained victory in 46 out of the 70 Test games. The post-war era began with the Aussies not losing any matches till 1951.

This longest undefeated streak in Test cricket was kickstarted by the captaincy of Charge Brown. After that, Sir Don Bradman took over. He captained the Australian side in 15 matches until his retirement back in 1948. After Sir Bradman's departure, Lindsay Hassett was given the captain's role from 1949 for 9 Test matches. The all-rounder Keith Mill was the only player to accentuate in all 25 Test games.
AustAustralia: 22 Tests Matches [2005 to 2008] it comes to just rambling off victories after victories, no Test side can get any closer to the record that Australia holds. From 1999 to 2007, Australia had the most consecutive Test matches without defeat, where they won 72 out of the 93 Tests they played, and only 11 of them were draws. When Steve Waugh captained the side, they won 16 matches after tasting their defeat in India.
But it was the Ricky Ponting-led side that came pretty close to harmonizing the "Invincibles" in terms of their power. In the 22-match undefeated streak where Ponting served as the captain, Australia won 20 Test matches. The hub of that win-machine was shaped by Adam Gilchrist, Ricky Ponting, Brett Lee, and Matthew Hayden and all of them were part of those 22 matches.
India: 1India: 19 Test Matches [2015 to 2017]Sourav Ganguly brought in the "NO-FEAR" mindset into Indian cricket during Tests, but Virat Kohli managed the most flourishing era for the nation. He is known as the most thriving test captain for his national side, and his captaincy era began with a delightful start on Australian soil. Since MS Dhoni was no more in the scene, Virat's first-ever assignment was wiped out in Bangladesh and a defeat in Galle.
But defeat prompted India to do a lot better in the longest format of the sport. The 19-match undefeated streak was none other than Virat Kohlii. The only player apart from Kohli, who was included in all the 19 Test matches, was Ravichandran Ashwin. During that stage, Kohli made many changes to the playing XIs, and his efforts didn't go in vain.
Chesteshwar Pujara was the leading run-scorer in that streak, where he scored 1784 runs in 30 innings, followed by Ajinkya Rahane. In 36 innings, Ashwin took 120 wickets, followed by Ravindra Jadeja, who took 72 wickets. But India's undefeated run was broken by Australia's Steve Smith, who scored the greatest century during the 2nd innings of the Pune Test. Of course, Steve O'Keefe was awarded the "Man of the Match" crown for the 12 wickets.
But if anyone saw that particular test match, they will tell that Steven Smith [with a bit of luck] outclassed the Indian side. Even though they were defeated in Pune, the Virat Kohli-led side holds the world record now. From 2015 to 2017, India played 29 Test matches and lost just one.
Here is a table that displays the unbeaten winning streak of teams in Test cricket.
| | | | | | |
| --- | --- | --- | --- | --- | --- |
| Name of the Teams | Tests Undefeated | Matches Won | Draw Matches | Home Test Matches | Away Test Matches |
| West Indies | 27 | 17 | 10 | 10 | 17 |
| England | 26 | 9 | 17 | 15 | 11 |
| Australia [Don Bradman Era] | 25 | 20 | 5 | 14 | 11 |
| Australia [Ricky Ponting Era] | 22 | 20 | 2 | 16 | 6 |
| India | 19 | 15 | 4 | 13 | 6 |
Final Thoughts
Abo
Final Thoughts
gs to the West Indies side, and it's considered one of the longest undefeated streaks of all time. Ricky Ponting-led Australian side had 80% of the win in Test cricket. But India's unbeaten streak was built on the stunning home record under Virat Kohli.