15.02.2022,11:02 5336 0
Most 600+ Runs in Test Cricket by a Team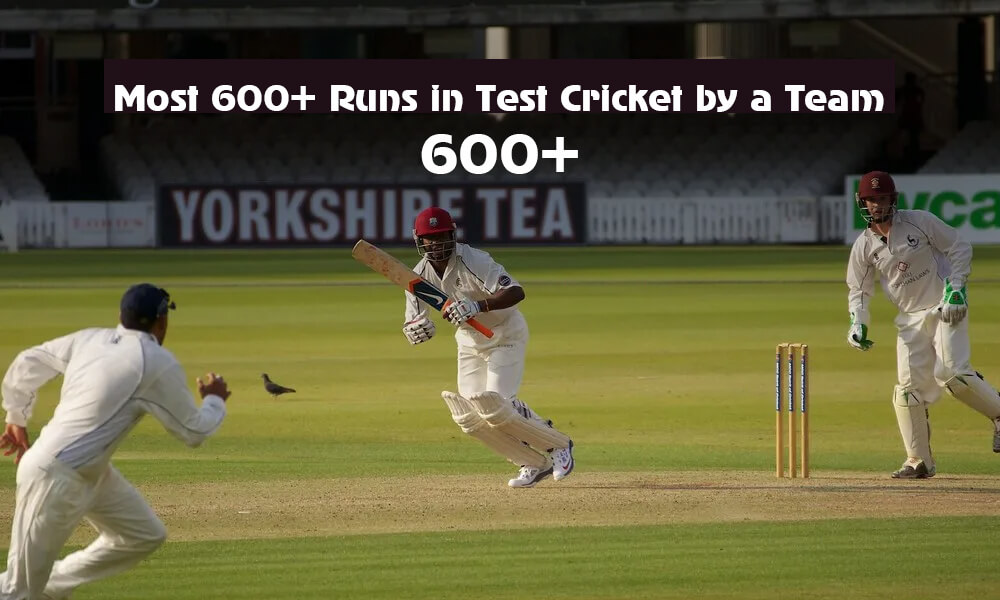 In 1877, the first-ever Test match was held between Australia and England. It was the onset of intimidating competition between the teams where they clashed to win the game and hold a dominant position.
Whenever a team scores more than 600 runs in a Test match, their chances of winning the game become amplified. Also, such a strong batting position encourages the captain to take risks and go aggressive against the opponent from the beginning.
The first-ever score of over 600 runs in a Test is registered under the name of Australia. They made this magnificent score against England at their home ground – Melbourne
.
It is rare to see teams scoring more than 600 runs in a Test match nowadays. With teams that aim to win at any cost, they certainly declare when they get sight of enough runs on the scoreboard. However, some captains still want to have strong numbers on the scoreboard to give sufficient backup to the bowlers. Home teams that mostly win the toss always prefer to have a strong lead on the scoreboard. With so many teams registering the most 600 runs in Test, it has been imperative to know who ranks what.
Below is a table and a list of teams ranked on the basis of who scored the most 600 runs in the Test.
| | | | | | | |
| --- | --- | --- | --- | --- | --- | --- |
| Rank | Team | No. of Most 600+ Runs | Highest Score | Matches Won | Matches Lost | Matches Draw |
| 5 | Pakistan | 15 | 765 | 4 | 0 | 11 |
| 4 | West Indies | 20 | 790 | 9 | 0 | 11 |
| 3 | England | 20 | 903 | 10 | 0 | 10 |
| 2 | India | 33 | 759 | 18 | 0 | 15 |
| 1 | Australia | 34 | 758 | 28 | 0 | 6 |
5. Pakistan – 15 Times
In the list of most 600 runs by a team, Pakistan ranks fifth. Although the Pakistan team may not be that famous for batting, they surpassed 600 runs in Test cricket 15 times. Since the debut of Pakistan in Test cricket in 1952, it has played over 750 innings and made its way into this ranking table.
The highest number of runs scored by the Pakistan side in a Test match has been 765 runs for six wickets. They made the highest score at their home ground – Karachi, against Sri Lanka in 2009. However, in 1958, Pakistan registered their first-ever 600+ runs in a Test match at Bridgetown while playing the innings against West Indies. The end result of the match was a tie, where the final score stood at 579/9 and 28/0 by the West Indies team against Pakistan's 657/8.
4. West Indies – 20 Times
Although West Indies may have lost their charm in the current era, their dominance for the last few decades has captivated the cricketing world immensely. This team was a terrifying opponent for many in Test as well as other formats.
In 1948, the Caribbean cricketers scored their first-ever 600+ runs against India. They racked up a total of 631 at the Delhi Test. For the next few decades or so, the West Indies side managed to add 19 more 600+ scores in their record book. The highest score made by the Caribbean Kings was 3-790 made against the Pakistan side. They registered the highest score in a Test inning in 1958, where Sir Gary Sobers had scored an unbeaten 365.
During the 20 instances of the Men of Caribbean scoring the gigantic score of over 600 runs, they only managed to win nine matches while the rest ended up in a tie.
3. England – 20 Times
The England cricket team ranks third in the list of most 600 runs by a team in Test cricket. The team has registered a score of over 600 runs 20 times in Test history. In 1928, England scored their first-ever 600+ runs at Sydney against the Australian team. In that match, England scored 636 and 16/2, which led them to victory against Australia by eight wickets.
With a total of over 1800 innings in Test history, England has managed to surpass 700, 800, and 900 runs for once each. In 1938, England scored the highest run in Test at the Oval ground against Australia by 903/7 (declared). After Australia, England won the second-highest number of Test matches.
2. India – 33 Times
There's not a single batting record list that misses the name of the eternal batting hustler – the Indian team. Popularly called the 'Men in Blue,' this team has managed to score a total of 33 most 600+ runs in Test history. In 1979, India scored a maiden 600+ runs against the West Indies side at Kanpur. The Indian side ended up scoring 7-655, and the game's end result was a tie.
The highest 600+ scores made by the team came against the England cricket team at a Test innings held at Chennai. This is a historical Test match due to the stupendous triple-hundred scored by Karun Nair. Within these 33 instances of scoring 600+ runs in Test, India only managed to win 18 games while 15 of them ended up in a tie.
1. Australia – 34 Times
In Test cricket history, Australia is known as the most successful team. This cricket team holds the maximum 600+ scores in Test history. The Australian team racked up their first-ever 600+ runs against their arch-enemy England. It was the starting point for Australia to scale up in Test format. In 1955, the team registered their highest Test score of 758 (declared) against West Indies at Kingston, Jamaica.
On 34 instances where Australia scored over 600+ runs, they have managed to win on 28 of those instances, whereas they ended up in a tie for the remaining six.
Final Words
With the remarkable performances made by these teams, Australia and India seem to be a thin line border from each other. It's just a matter of a few Test innings that can make India rank top in the list.
Similar articles